President Donald Trump has not formally proposed a 20 percent tax on Mexican imports to pay for his controversial border wall and is instead considering it among a series of options, White House spokesman Sean Spicer said Thursday.
"The goal today is not to be prescriptive. It's to basically say: Hey, here is a way in which the wall can be paid for extremely easy and not say 'this is what we're doing,'" Spicer told reporters. "This is not what we're rolling out."
Spicer's clarification came after an earlier statement signaling Trump favored the policy and had discussed the plan with congressional Republican leaders as part of a broader tax reform effort. Chief of Staff Reince Priebus said the 20 percent tax on Mexican imports is one of a "buffet of options."
"When you look at the plan that's taking shape now, using comprehensive tax reform as a means to tax imports from countries that we have a trade deficit from, like Mexico, if you tax that $50 billion at 20 percent of imports … By doing that we can do $10 billion a year and easily pay for the wall just through that mechanism alone. That's really going to provide the funding," Spicer said, calling it "ridiculous" to tax exports but let imports flow freely in.
Trump later was asked by NBC News about the 20 percent import tax and replied, "We're going to tax people coming in. Look, we cannot lose our companies to Mexico or any other place and then have them make the product and just send it across our border free. We're going to put a substantial tax on those countries."
The news came on the heels of the decision Thursday to scrap an upcoming meeting between Mexican President Enrique Peña Nieto and President Donald Trump in the wake of a fiery spat over which nation will pay for a border wall between the two countries.
"This morning we informed the White House that I will not attend the business meeting scheduled for next Tuesday with the @POTUS," Nieto tweeted.
Trump tweeted earlier Thursday that if Mexico refused to pay for the wall it might be best to cancel their upcoming meeting.
"The U.S. has a $60 billion dollar trade deficit with Mexico. It has been a one-sided deal from the beginning of NAFTA with massive numbers...," Trump tweeted. "If Mexico is unwilling to pay for the badly needed wall, then it would be better to cancel the upcoming meeting."
Trump later on Thursday, during his address to the GOP retreat in Philadelphia, said the decision not to meet was mutual.
Trump's comments were the latest in an increasingly tense back-and-forth. Nieto on Wednesday reiterated that "Mexico will not pay for any wall."
The deep divide over which country will fund Trump's promised wall along the U.S.-Mexican border — along with the White House's pledge to withhold federal funding from so-called "sanctuary cities" — has added tension to the relationship between the two countries.
Former Mexican President Vicente Fox in a video posted on Twitter implored Trump to rethink his position.
"Paisanos, @realDonaldTrump's reaction is one of fear," Fox wrote. "He's seen that México stands together and it's strong. Don't mess with us!"
A day earlier Trump, as he was unveiling his executive orders for ramped up immigration arrests and deportation and the border wall, threw in some praise for Mexico and Mexicans. He declared that the crisis on the border was due to a surge in Central Americans.
During the presidential campaign, Trump's inflammatory rhetoric included calling Mexican immigrants "rapists" and accusing them of "bringing crime."
But Trump has also been threatening to reopen NAFTA, the trade agreement between Mexico, Canada and the U.S., to get a "better deal." He made that along with other trade deals the culprit for manufacturing job losses and other economic ills in the U.S.
Mexico is America's third-largest trading partner.
Sen. John McCain, R-Arizona, expressed concerns over the Trump's positioning on NAFTA.
"I'm deeply concerned by President Trump's statements today reaffirming his commitment to renegotiate the North American Free Trade Agreement (NAFTA)," McCain said. "While re-negotiations could help to strengthen and modernize NAFTA to benefit American businesses and consumers, any effort to restrict or impose new barriers on our ability to trade with Mexico and Canada could jeopardize the future of this trade agreement and have serious consequences for Arizona and the country."
Related: Here's What the U.S.-Mexico Border Looks Like Before Trump's Wall
Nieto had expressed interest in exploring the renegotiation of the 1994 agreement that predates advances in social media, telecommunications and other industries, to modernize it.
Both leaders face record low approval ratings.
Just 38 percent of Americans held a positive view of Trump when he took office last week, while 48 percent have a negative one. This makes him one of the least popular incoming presidents in the history of the NBC/WSJ poll.
Nieto's own rating is very low in his home country. Just 12 percent of Mexicans approve of the job he's doing, according to the most recent poll by the Mexican newspaper Reforma. The most recent backlash he's faced is over soaring gasoline prices.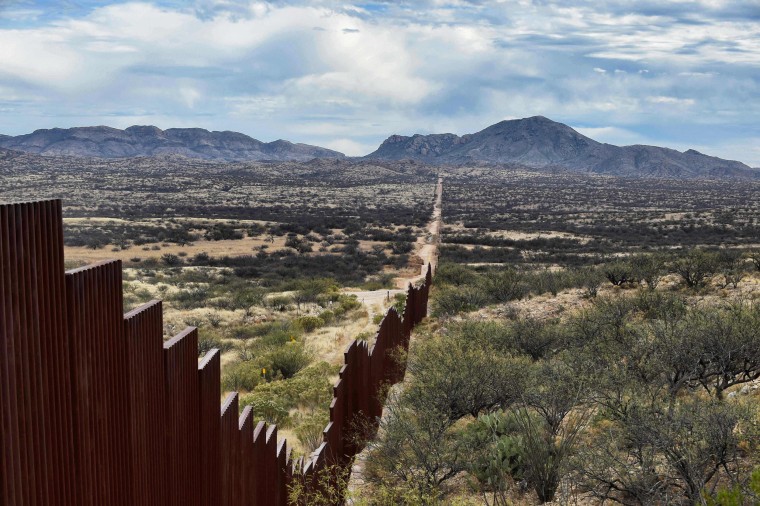 Facing some pressure at home and clearly disliking the orders from Trump, Nieto said in Spanish in a video posted on social media that Trump's wall was dividing the two nations.
Jon Barela, CEO of the Borderplex Alliance, a business border development group, spent this week, speaking and visiting with members of Congress to provide evidence of how NAFTA has benefited both counties and areas for improvement.
"The quickest and surest way to destabilize the border is to remove jobs and hope because people will always find ways to provide for their families," said Barela, a conservative Republican and former New Mexico secretary of economic development who narrowly lost a congressional race in Albuquerque.
Edward Alden, senior fellow at the Council on Foreign Relations, said Nieto had no other choice but to pull out of the visit with Trump, to do otherwise would appear to be kowtowing to Trump's threats.
Trump's goading of Mexico "is going to be extremely dangerous to U.S.-Mexico relations," Alden said. "Mexico is a proud sovereign country, to have the president of the United States bully Mexico into submission is not going to go over well."