WASHINGTON — The Trump administration is restricting members of Congress from making official visits as part of official delegations to the hurricane-battered U.S. Virgin Islands and Puerto Rico, congressional sources from both parties said Wednesday.
"It's very foggy and confusing, but, yes, [congressional delegations] haven't been given clearance to go" to Puerto Rico, a senior House Democratic aide told NBC News, confirming a report in The Washington Post.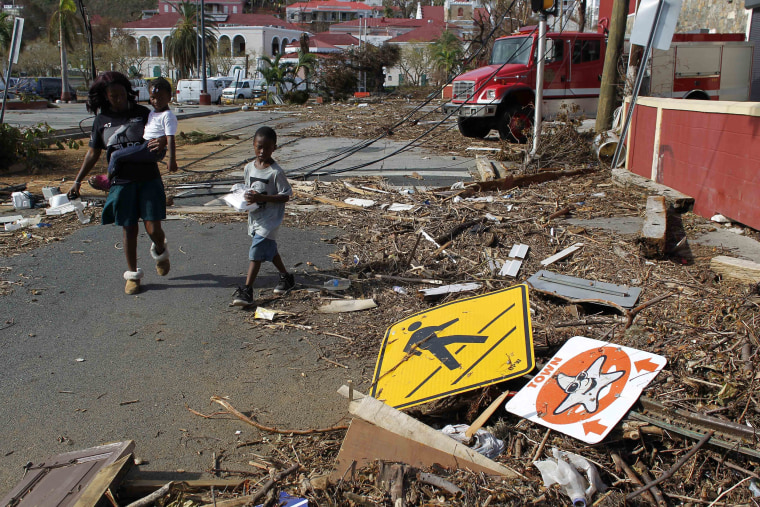 The administration was telling lawmakers that only "life supporting trips" could be made to the U.S. territories using official government resources, said a spokesperson for Rep. Darren Soto, D-Fla., who had been scheduled to join a delegation to the region after hurricanes Irma and Maria left large parts of the islands without power, running water, gasoline or cellphone service.
The office of Sen. Bob Menendez, D-N.J., who had been organizing a visit to Puerto Rico by several representatives and senators from both parties, "is now trying to figure out alternatives to make this happen, as the situation on the island is extremely dire," a spokesperson said.
"My boss is eager to get down there to assess the federal response thus far," the spokesperson said.
An administration official told NBC News, "The White House, DHS, and DOD, working together, are asking to hold on any Puerto Rico/USVI travel outside of missions directly related to lifesaving and life-sustaining relief."
President Donald Trump said Tuesday that he planned to visit Puerto Rico amid desperate pleas for more help. But he said even he couldn't go until next week at the earliest to avoid interfering with relief efforts.
"We have shipped massive amounts of food and water and supplies to Puerto Rico, and we are continuing to do so on an hourly basis," Trump said. "But that island was hit as hard as you can be hit."
Hallie Jackson and Alex Moe reported from Washington. Alex Johnson reported from Los Angeles.