The White House defended the 18 day wait time between a "heads up" about former National Security Advisor Michael Flynn's liaison with Russia and his firing — calling it "due process" done right — and questioned former acting Attorney General Sally Yates' partisan motives.
White House Press Secretary Sean Spicer illuminated a skepticism within the administration about Yates' warnings to White House Counsel Don McGahn about Flynn's actions, telling reporters Tuesday it's "important" to note her "rumored" partisan allegiances.
Spicer referred to Yates — a career Justice Department employee for over 25 years — as "someone who is not exactly a supporter of the president's agenda" and alleging that she was a strong supporter of Hillary Clinton.
Asked later what was informing that statement, Spicer spoke of "widely rumored" information that Yates would have a role at the Department of Justice if Clinton had won.
"Let's look at, again how this came down," Spicer said Tuesday. "Someone who is not exactly a supporter of the president's agenda. Who, a couple days after this first conversation took place, refused to uphold a lawful order of the president — who's not exactly someone that was excited about President Trump taking office or his agenda."
Related: Obama Warned Trump Against Hiring Mike Flynn, Say Officials
"You have someone who you have to wonder whether — why they are telling you something," Spicer added later.
But career lawyers who worked with Yates point out to NBC News that she has never had any interest in politics and will not run for office, despite urgings from politicians in her home city of Atlanta, Georgia.
Yates did refuse to enforce the first version of the president's immigration travel ban, and was subsequently fired. However, those events happened days after her initial meeting with McGahn on Jan. 26 and 27.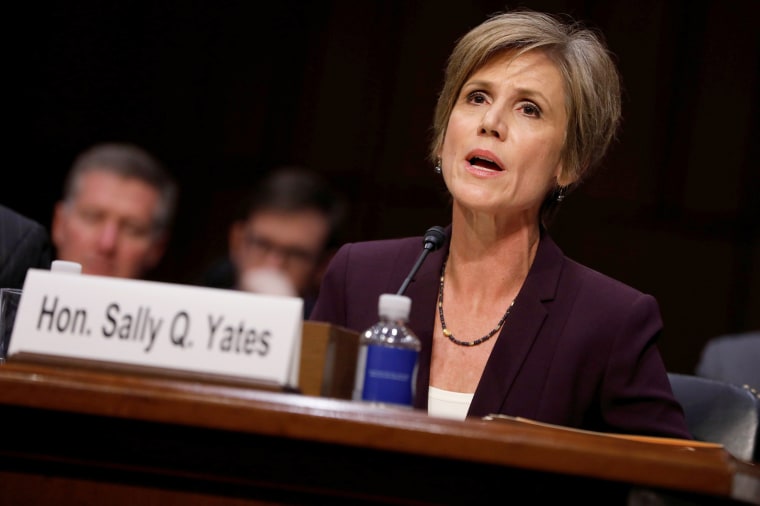 But Spicer argued that her actions vindicated the White House's assumptions — even retroactively.
"We were correct in the assumptions we made at the time," he stated.
Spicer repeatedly insisted that Trump's decision to fire Flynn, motivated by the fact that Flynn misled Vice President Mike Pence about his conversations with Russian diplomats, was the right call on the part of the president. But he also defended the decision to allow Flynn continued access to phone calls with world leaders in his capacity as national security adviser.
Related: White House Denies Claim That Yates' Testimony Was Blocked
Asked if it was the right decision to allow Flynn to sit in on a call between Trump and Russian President Vladimir Putin, Spicer said "at that moment, sure."
During the 18 days that the administration was processing Yates' initial warning that Flynn may have been compromised, the White House also allowed him to brief reporters that the United States was "putting Iran on notice," as well as continue his day to day duties as NSA.
Yates testified to congress on Monday that she told the White House Flynn could be "blackmailed by the Russians."
"We were concerned that the American people had been misled about the underlying conduct and what General Flynn had done," she said.
Spicer declined to "nitpick" what the tone of her warning was, saying there's not "100 percent agreement about how she described everything" at the Senate hearing, but as far as the timeline she provided goes "we're fine with it."