The White House is considering Nevada Gov. Brian Sandoval, a Republican centrist, as a potential nominee for the vacant seat on the Supreme Court, NBC News has confirmed.
Sandoval, a former District Court judge and state attorney general, was the first Latino candidate elected to statewide office in Nevada.
While he is a Republican, Sandoval's record does match President Barack Obama's on many key issues. He has said he supports the Supreme Court's same sex marriage decision of last year and backs abortion rights.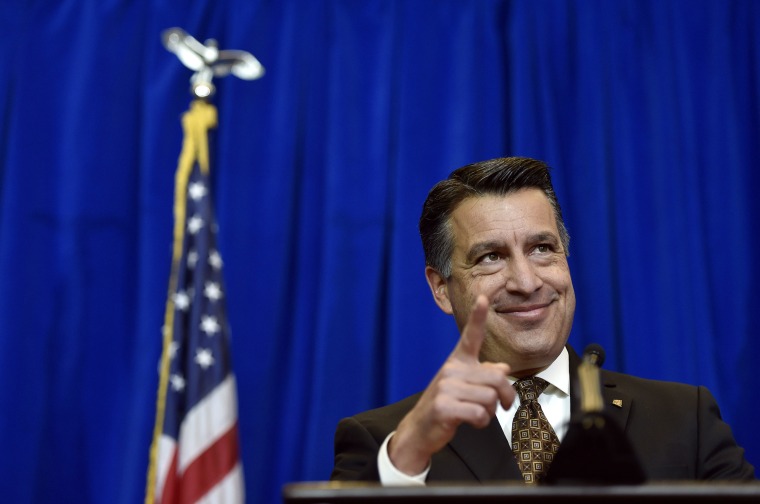 However, Sandoval also signed into law last year a measure that exempts school construction projects from having to pay contractors wages considered industry standard in the area. While he hailed the move as a cost cutting measure, labor unions rallied to decry the effort.
Related: President Obama Explains What He Wants in Supreme Court Nominee
The Washington Post first reported that Sandoval is under consideration.
A source close to the process confirmed to NBC News that Senate Minority Leader Harry Reid met with Sandoval on Monday and that the White House is considering the Nevada governor for the post.
It's unclear if the formal "vetting" process is underway. However, sources told NBC News that the governor as of right now is not objecting to the process moving forward.
Sandoval has not said he'd definitely accept if offered, but sources suggested he might be willing to hear out the White House if they move in his direction.
The news comes on the heels of Senate Majority Leader Mitch McConnell's announcement that the Senate would not hold hearings on any nominee in the wake of the death of Justice Antonin Scalia.
Related: Mitch McConnell Flatly Rejects Any Obama Pick to Supreme Court
"I can now confidently say the view shared by virtually everyone in my conference is that the nomination should be made by the president who the people elect in the election that is underway right now," McConnell said.
In a post published on the SCOTUSblog website Wednesday, Obama said he is looking for an intellectual, independent thinker with solid credentials.
"First and foremost, the person I appoint will be eminently qualified," Obama wrote. "He or she will have an independent mind, rigorous intellect, impeccable credentials, and a record of excellence and integrity. I'm looking for a mastery of the law, with an ability to hone in on the key issues before the Court, and provide clear answers to complex legal questions."
During Wednesday's press briefing, White House press secretary Josh Earnest did not confirm the Post account. However, the White House did confirm that the president has spoken with Reid about the court vacancy.
Earlier in the day, President Obama told reporters that he understood the politics surrounding the Supreme Court nomination, but that he has a job to do.
"We are going to go through a process as we have done in past vacancies to find a candidate with impeccable legal credentials," Obama said.