"White Lives Matter" will soon be added to a list of U.S. hate groups by the Southern Poverty Law Center, the watchdog group announced Tuesday.
The SPLC contends that White Lives Matter is frequently used by white supremacists as a counter-slogan to "Black Lives Matter," and the movement has been organized into a separate white nationalist group.
White Lives Matter will officially join the list of 892 other hate groups in the country when it gets its annual update in February, said Heidi Beirich, the Intelligence Project director at the SPLC.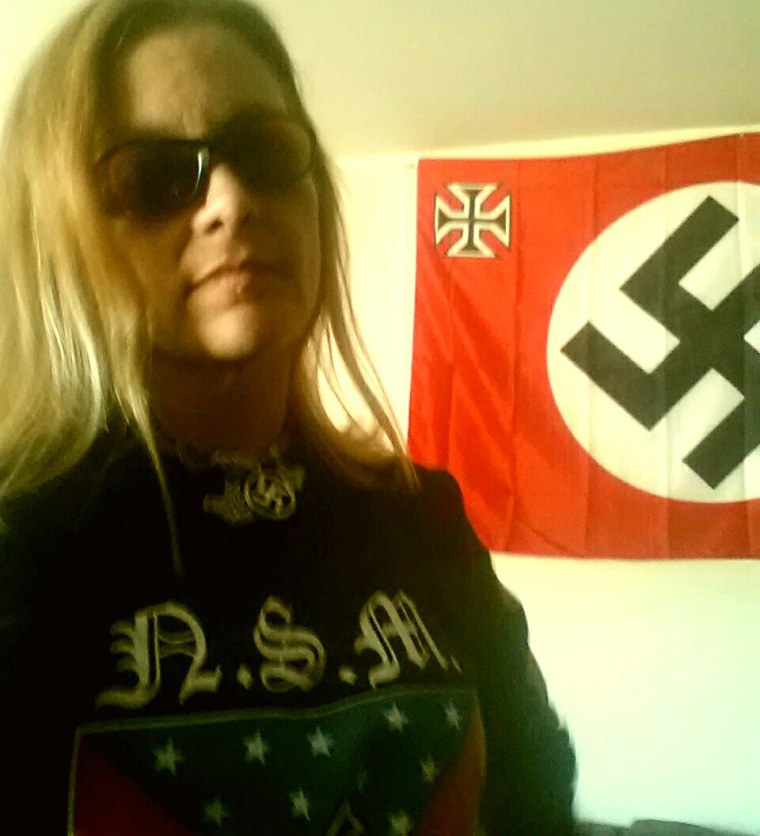 The group will also appear on the SPLC's Hate Map, which functions as a device to alert the public and law enforcement where "organizations spewing racism and hate are located," Beirich told NBC News.
White Lives Matter is headquartered in Tennessee, but could also be featured in other places on the map after the SPLC does more research on the group and there whereabouts of its members, Beirich said.
"Hate groups are, by our definition, those that vilify entire groups of people based on immutable characteristics such as race or ethnicity," SPLC's website says. "While it's no surprise, given our country's history, that most domestic hate groups hold white supremacist views, there are a number of black organizations on our hate group list as well."
Black Lives Matter is not on that list because leaders and founders of the group have done "nothing at all to suggest that the bulk of the demonstrators hold supremacist or black separatist views," the SPLC says.
The SPLC added that Black Lives Matter advocates that "black lives also matter" and is not in any way anti-white.
Meanwhile, the White Lives Matter website says the group "supports breeding practices that improve fitness, opposes dysgenic immigration, and takes a libertarian stance on other right wing gripes that don't directly turn the population non-White."
"The group is clearly white supremacist," Beirich said.
White Lives Matter denies that is a white supremacist group and challenged the hate group label.
"White Lives Matter is really about recognizing the contributions that people of European descent have made to civilization, and that we as a people and culture are worth preserving. We reject the notion that it is morally wrong for people of European descent to love and support their own race," the group said in a statement sent to NBC News. "We value Western civilization and believe that at the very least, immigrants should not make us dumber or poorer."
Beirich said there's no way to know how many members the group has, and the SPLC says it doesn't know when the group officially organized, but they believe "one of its key leaders, if not the leader" is Rebecca Barnette, 40, who has leadership roles in the racist skinhead group Aryan Strikeforce and the National Socialist Movement, a neo-Nazi group.
And the Texas-based Aryan Renaissance Society, a neo-nazi group which Barnette was once a member of, has described itself as "the leading force behind the WLM Movement," according the the SPLC.
Barnette's apparent profile on VK.com, a Russian social media site preferred by white supremacists for its leniency, features Nazi and Klu Klux Klan memes as well as racist and homophobic slurs.
Barnette has used White Lives Matter to attempt "to unite the broader white supremacist movement" with events like a march in Georgia and a rally in New York, according to the Anti-Defamation League.
Barnette did not respond to an email sent to an address posted on her VK.com page seeking comment.
"White Lives Matter" members are expected at an event to be organized by the Aryan Nationalist Alliance, an umbrella group of small white supremacist groups, on Sept. 10-11 in Quinlan Texas, according to the SPLC.
Besides spreading their message through marches and rallies, White Lives Matter fliers reading "It's Not Racist to Love Your People" have been posted all over the country, according to the SPLC.
Some of the handouts feature language about black-on-white crime, echoing the Council of Conservative Citizens website, which allegedly inspired Dylann Roof to kill nine black churchgoers in Charleston, South Carolina, last year, the SPLC reports.