The white supremacist accused of fatally stabbing a black man with a sword in New York City said he would have rather killed a younger — or older and more "successful" black victim.
"I'm sorry I killed that man," James Harris Jackson told the New York Daily News at the Rikers Island jail on Sunday. "It was pitch black, I picked a dark place. I didn't know he was elderly."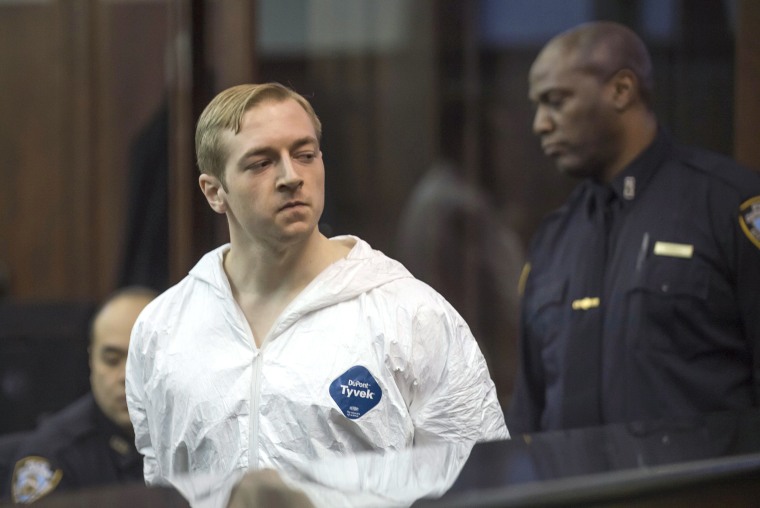 Jackson, 28, told the newspaper he would have killed "a young thug" or "a successful older black man with blondes ... people you see in Midtown."
The Baltimore man is accused of taking a bus to New York City specifically to kill black men. Police say he confessed to randomly picking out victim Timothy Caughman on the street and stabbing him to death with a 2-foot sword.
As 66-year-old Caughman bent over a trash bin around the corner from his home, Jackson attacked him from behind, fatally stabbing him, prosecutors said.
Related: Sword Killer Came to NYC to Attack Black People: NYPD
Caughman staggered bleeding into a police station and eventually succumbed to his injuries, authorities said.
Caughman had lived in a former motel in Manhattan for 18 years, sharing the building with tenants who were part of a temporary housing program, according to NBC New York.
He was "extremely respectful" of his neighbors, Svein Jorgensen, the program's executive director, told NBC New York. "He was a great tenant and someone that anyone would be glad to have as a neighbor."
"He was a gentleman," he added.
Jackson turned himself in to authorities about a day after the attack.
"I'm the person that you're looking for," Jackson told police, according to Assistant Chief William Aubrey.
Related: New York City Marches In Memory of Timothy Caughman
Prosecutors said Jackson, an Army veteran, intended the killing of Caughman to be "a practice run" and was planning on killing more black people in New York's Times Square.
Jackson told the Daily News his goal was to force women in interracial relationships to reconsider.
He said he hoped to make white women think: "Well, if that guy feels so strongly about it, maybe I shouldn't do it."
He said his drive to kill diminished after claiming his first victim, he said.
"I got depressed ... I saw it was too late. It's irreversible," Jackson said, adding, "I didn't want to put my family through any more pain."
Jackson said his family was liberal and his grandfather in Louisiana was "very pro-integration," but recalled feeling racist thoughts from the young age of 3.
New York City Mayor Bill de Blasio called the brutal killing "more than an unspeakable human tragedy" and "an assault on what makes this the greatest city in the world."
Jackson has been charged with murder as a hate-crime.
"The defendant was motivated purely by hatred," Assistant District Attorney Joan Illuzzi said Thursday, adding that the charges could be upgraded, "as this was an act most likely of terrorism."