The massacre that left at least 22 people dead and two dozen wounded Saturday in a city that hugs the U.S.-Mexico border will be treated as a domestic terrorism case, but many acts of white nationalism-fueled violence are not classified as such, stoking concerns that the government is not doing all it could to address an increasingly dangerous national security threat.
"There's no domestic terrorism law — we just treat it as either a hate crime or some other sort of criminal charge," said Clint Watts, a senior fellow at the Foreign Policy Research Institute. But white supremacists "are following an ideology the same way that other violent extremists that the U.S. designates as terrorists follow ideologies."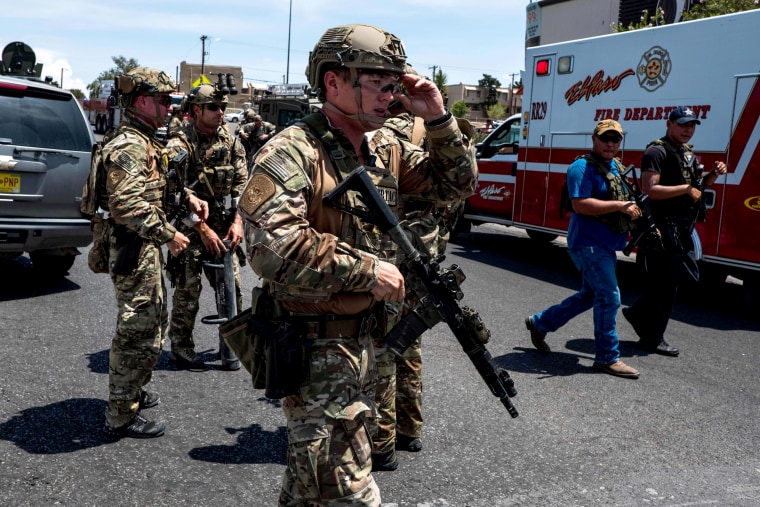 Investigators believe the man suspected of gunning down 22 people at an El Paso, Texas, Walmart Saturday posted an anti-immigrant screed on an anonymous extremist message board, citing the Christchurch, New Zealand, mosque shooter who left 51 dead in March, as an inspiration.
In April, a man suspected of opening fire at a San Diego synagogue, killing one person, also posted a note online that was almost identical to one written by the Christchurch shooter. The note, which was full of anti-Semitic language and lauded white supremacy, named the Christchurch shooter and the man accused of fatally shooting 11 people inside a Pittsburgh synagogue as inspirations for the attack.
And less than a week before Saturday's shooting, a 19-year-old man, suspected of killing three people at a Gilroy, California, food festival before killing himself, left a note on Instagram instructing followers to read a 19th-century white nationalist book.
Those attacks followed six worshipers killed at a Sikh temple in Wisconsin in 2012; three people gunned down at Jewish community center in Kansas in 2013; and nine slain at a black church in South Carolina in 2015.
Extremist-related murders spiked 35 percent from 2017 to 2018, "making them responsible for more deaths than in any year since 1995," according to the Anti-Defamation League (ADL). Last year, every one of those extremist-related murders was carried out by a right-wing extremist.
Meanwhile, white supremacist propaganda distribution nearly tripled from 2017 to 2018, according to the ADL, which also documented a rise in racist rallies and demonstrations.
According to the Southern Poverty Law Center, 2018 was also the fourth straight year of hate group growth, culminating in a 30 percent increase overall, "roughly coinciding" with President Donald Trump's campaign and presidency.
The Justice Department is documenting the same trends. Hate crimes in the country increased by 17 percent from 2016 to 2017, marking the third straight year of a spike in hate crimes, according to an FBI report released last November. More than half of the hate crimes reported in 2017 were motivated by racial or ethnic bias, while anti-Semitic hate crimes jumped by 37 percent.
While the FBI and Justice Department have clearly identified a white nationalist domestic terror problem, they have been slow to identify the crimes as such, which deprives the ensuing investigations of resources and fails to thwart subsequent acts of extremist violence, national security experts say.
"You don't have that domestic terrorism offense that allows it to be counterterrorism agents and prosecutors who are investigating it," said Mary McCord, who led the Justice Department's national security division under President Barack Obama.
Hate crimes, which white nationalist attacks are often classified as, "rank fifth out of eight priorities, and investigations tend to focus narrowly on a particular attack or attacker," Brennan Center for Justice fellows Michael German and Emmanuel Mauleón wrote in a report released last month.
Sometimes, white supremacist violence is classified as gang crimes, which ranks even lower on the FBI's priority list — in sixth place, the report said.
And when deadly hate crimes are not designated as terrorism, investigations often fall to state and local law enforcement, which "deprives the federal government of an intelligence base necessary to develop an effective strategy to target far-right violence," the report said. These agencies are also "often ill-equipped or unwilling to properly respond to these crimes."
However, terrorism investigations "are the FBI's number one priority and are well-resourced" and "tend to look broadly to determine if an ongoing criminal organization may have supported the attack or be planning new ones," German and Mauleón wrote.
"Justice Department policies de-prioritize far-right terrorism as a national security threat, ranking it behind cases it labels 'international' terrorism," the report said.
Obama weighed in Monday, writing in a statement that "the El Paso shooting follows a dangerous trend: troubled individuals who embrace racist ideologies and see themselves obligated to act violently to preserve white supremacy."
"Like the followers of ISIS and other foreign terrorist organizations, these individuals may act alone, but they've been radicalized by white nationalist websites that proliferate on the internet," Obama said. "That means that both law enforcement agencies and internet platforms need to come up with better strategies to reduce influence of these hate groups."
In international terrorism cases, the FBI frequently uses sting operations, ensnaring people who were prepared to use violence even if they had no actual access to weapons or bombs.
The Justice Department also prosecutes those who provide support to international terrorists, however small. A former Washington metro transit police officer was sentenced to 15 years in prison last year for providing $245 in gift cards to the Islamic State.
There is no statute outlawing material support to violent white supremacists.
In recent years, white supremacists have been killing Americans in public places with regularity, taking advantage of easy access to military-style weapons to inflict death and terror.
Yet the government response to the white supremacist threat has not come close to the level of resources and effort devoted to keeping the country safe from Jihadi terrorism in the years after 9/11.
Michael McGarrity, the FBI's counterterrorism chief, told Congress in May that 80 percent of field agents and analysts devoted to terrorism are working on matters of international terrorism, including home-grown Jihadist extremists. And 20 percent are working on domestic terrorism, including white supremacists, he testified.
Even with comparatively minimal resources dedicated to domestic terror cases, the FBI said last month that it has recorded about 90 domestic terrorism arrests, compared with about 100 international terrorism arrests. A majority of the cases involving racial motive were linked to white supremacy, an FBI spokeswoman told The Washington Post.
If the FBI is devoting more energy to international terror than to domestic terror, but arresting nearly the same amount of suspected domestic terrorists as suspected international terrorists "then we've got a resource problem," said Watts, who has served as the executive officer of the Combating Terrorism Center at West Point and a special agent on the FBI's Joint Terrorism Task Force.
"We need a change of law on this, but it's going to require a big debate on privacy and free speech," said Frank Figliuzzi, a former senior FBI official and NBC News analyst.
Watts noted that "free speech has boundaries" when threats of violence are involved.
The way the FBI went about combating ISIS and Al Qaeda was three-fold, Watts said. The strategy was to build awareness about indicators of radicalization and recruitment, counter extremist narratives and encourage community-led intervention.
When it comes to white supremacist terror, the response tends to be the opposite — "decrease awareness, don't counter the narrative and telling people 'don't worry about it,'" Watts said.
Why? "Because domestic extremists vote," Watts said.
Following the Christchurch shooting, Trump was asked if he thought white nationalism was becoming a worldwide threat. "I don't really. I think it's a small group of people that have very, very serious problems," he answered.
On Monday, during statements in response to the El Paso shooting, and the shooting in Dayton, Ohio, about 13 hours later in which a gunman killed at least nine people and injured at least 27, Trump said: "In one voice, our country must condemn racism, bigotry and white supremacy."
"We have asked the FBI to identify all further resources they need to investigate and disrupt hate crimes and domestic terrorism," Trump said.
Investigators are still trying to determine a motive in the Dayton shooting, in which the suspect's sister was among those killed.
On Monday, an FBI statement said the shooting in El Paso "underscores the continued threat posed by domestic violent extremists and perpetrators of hate crimes."
"The FBI remains concerned that U.S.-based domestic violent extremists could become inspired by these and previous high-profile attacks to engage in similar acts of violence," the statement said.
The investigation into the El Paso shooting is being supported by the FBI's Domestic Terrorism-Hate Crimes Fusion Cell, the bureau said. The unit was established in April.