A white nationalist who figured prominently in a right-wing rally in Charlottesville that ended in deadly violence earlier this month has turned himself in, University of Virginia police said Wednesday.
Christopher Cantwell was wanted on warrants for illegal use of tear gas on Aug. 11, police said, when white supremacists bearing tiki torches marched on campus. Cantwell has said he believes the warrants are for his use of pepper spray against a man, and said he acted in self-defense.
He appeared in court on Thursday morning and was denied bond. He will remain in custody at Albemarle-Charlottesville Regional Jail. His next scheduled court appearance is set for Oct. 12.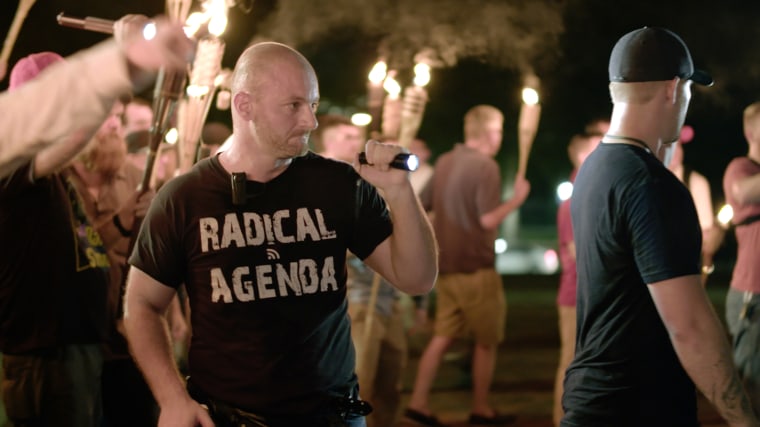 "The University of Virginia Police Department (UPD) was notified late this afternoon that Christopher Cantwell had turned himself in to the Lynchburg VA Police Department with regard to the warrants that UPD had on file for him," University of Virginia police said in a statement.
Cantwell said in an email Tuesday that he planned to turn himself in. University police announced Tuesday that they had obtained warrants for two felony counts of illegal use of tear gas and one felony count of "malicious bodily injury by means of any caustic substance or agent."
A day after the white supremacist rally on campus, violence and clashes erupted around a planned "unite the right" rally in Charlottesville. A 20-year-old Ohio man allegedly rammed his vehicle into a group of counter-protesters, killing 32-year-old Heather Heyer and injuring 19 others.
Related: 2 Charlottesville Confederate Statues Covered in Black to Mourn Heather Heyer
During the march by torch-bearing white supremacists there were clashes with counter-demonstrators. Chants of "You will not replace us!" and "Blood and soil!" were met with shouts of "No Trump, no KKK, no fascist USA!"
University of Virginia President Teresa A. Sullivan condemned the Aug. 11 demonstration on campus and said "those who gather with the intent to strike fear and sow division do not reflect the University's values" and reaffirmed the university's commitment to inclusion and diversity.
She said at the time that, in general, permits to access public and open outdoor spaces on campus are not required.