A torch-wielding mob chanting racist slogans descended on a Charlottesville, Virginia, park Saturday evening, to protest the removal of a Robert E. Lee statue.
Chanting "All White Lives Matter," and "No More Brother Wars," the crowd, which said they were protecting their "white heritage" from the Charlottesville City Council's decision to remove a statue in the Virginia town's park.
They also chanted "You will not replace us" and "Russia is our friend." Dozens of protesters also brought bamboo tiki torches to a second rally once it became dark out.
"I'm here to take part in this great celebration of our heritage and to say 'no' to the city of Charlottesville. You're not going to tear down our statue and you're not going to replace us," noted white nationalist Richard Spencer told NBC affiliate WVIR.
Spencer — who was famously punched in the face in D.C. on inauguration day — attended the University of Virginia, which is located in Charlottesville, and led both protests. He claimed that the demonstrations were a peaceful display of force. But when a counter protest appeared, scuffles soon broke out in the park and police got involved.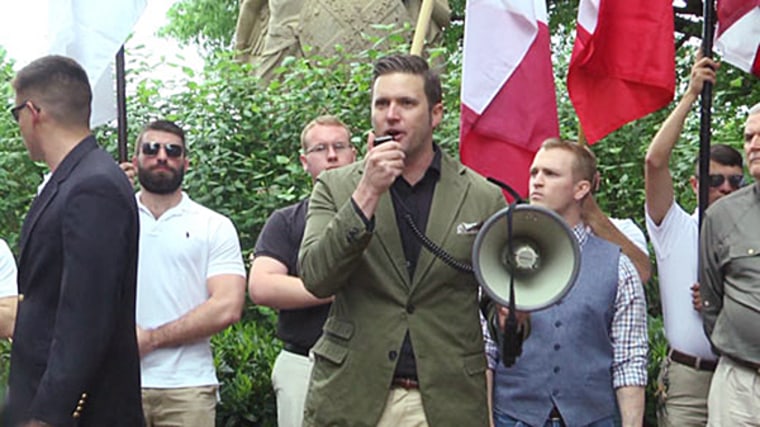 No arrests were made and there were no reports of injuries.
The demonstration, criticized as an intimidation tactic against people of color, received a fair amount of backlash from local community leaders.
"This event involving torches at night in Lee Park was either profoundly ignorant or was designed to instill fear in our minority populations in a way that hearkens back to the days of the KKK," said Charlottesville Mayor Mike Signer, who opposed removing the statues.
Some students at the University of Virginia agreed.
"The rally led by Richard Spencer and its accompanying ideology are a disgrace to the University of Virginia and the greater Charlottesville community, read a University of Virginia Student Council statement. "Staging a rally intended to intimidate minority members of our community is repugnant and a far cry from our values of equity and inclusion."
But participants of the eerie demonstration said the reproach and comparisons to white supremacists were unwarranted.
"We're not white supremacists," protester Orry Von Dize told WVIR. "We are simply just white people that love our heritage, our culture, our European identity."