Three men who traveled from Texas for white nationalist Richard Spencer's Thursday speech at the University of Florida were charged with attempted homicide for allegedly opening fire on protesters, authorities said.
No one was injured in the shooting after the Gainesville speech, which drew hundreds of protesters and a smaller group of Spencer fans, along with a massive deployment of police trying to prevent a repeat of the street violence that marked a Spencer-related rally in Charlottesville, Virginia, in August, police said.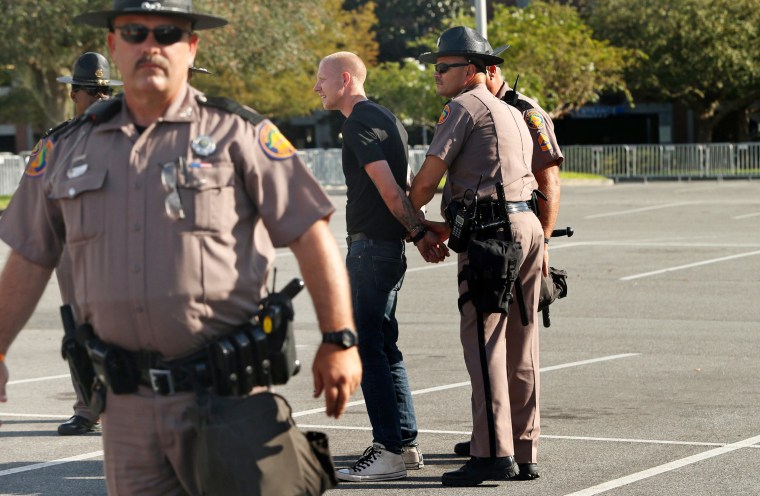 There was very little violence during the event itself, with one Spencer supporter getting pushed and punched by protesters.
The confrontation unfolded at around 5:30 p.m. Thursday, when the occupants of a silver Jeep stopped to argue with a group of protesters assembled near a bus stop, Gainesville police said. The men in the car displayed Nazi salutes and shouted chants about Hitler, and one of them, identified as Tyler Tenbrink, 28, pulled out a gun. The other two assailants, brothers William Fears, 30, and Colton Fears, 28, encouraged Tenbrink to shoot at the protesters. Tenbrink fired one shot, which hit a nearby building. Then the Jeep sped off, police said.
One of the protesters took down the Jeep's licence plate number and told police. The information was relayed to several law enforcement agencies with officers in the area.
Related: Protesters Converge at White Nationalist Richard Spencer's Speech
An off-duty deputy from the Alachua County Sheriff's Office was on his way home when he spotted the Jeep about 20 miles north of Gainesville. Police pulled over the Jeep on Interstate 75 and arrested all three men.
The three men were described by authorities of having connections to hate groups or espousing extremist views. That information came in part from a police review of interviews the men gave to the media before Spencer's speech, Gainesville Police Officer Ben Tobias said.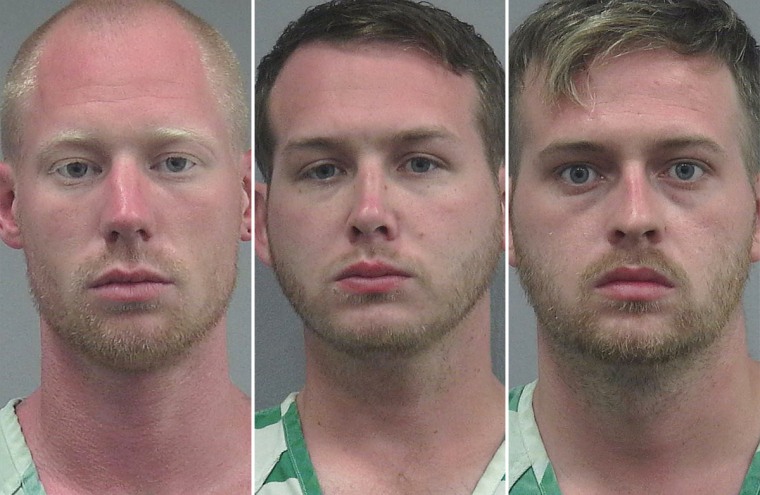 Tenbrink told reporters on camera that he admired Spencer ─ who speaks in favor of creating a white "ethno state" ─ because he was "not afraid to say the things that no one else will." Tenbrink went on to recite the "14 words" used as a motto by white supremacists: "We must secure the existence of our people and a future for white children."
William Fears told reporters he'd been in Charlottesville, and had come to Gainesville to hear Spencer because he agreed with much of what he said. "He's trying to make it, normalize the idea for white people to have an identity, to advocate for their own interests and to advocate for our own existence," Fears said.
The Fears brothers were held on $1 million bond, and Tenbrink, a convicted felon who was also charged with illegal gun possession, was held on a $3 million bond, police said.
It was not clear whether police or prosecutors are contemplating seeking hate-crime enhancements to the charges. The investigation remains ongoing, Tobias said.