In his four years enrolled at Syracuse University, Jalen Nash, who is black, said he has never felt so scared as in the past couple of weeks.
After a spate of racist and anti-Semitic incidents occurred on campus, Nash's fears culminated Tuesday when officials said there was an alleged attempt to share a white supremacist manifesto linked to mass shootings in New Zealand with Syracuse students in a library. While police in Syracuse, New York, said there was no direct threat, some professors have canceled classes and other students are avoiding the school entirely.
"People are afraid," said Nash, 21, who had been out with his girlfriend Tuesday night and was anxious to get home.
"We were like, 'Yes, we made it home and nothing happened,'" he added. "That's sad."
The foreboding mood engulfing Syracuse University comes at a pivotal moment for the private university. In response to the string of bias-related episodes and vandalism, students have camped out in a building for the past seven days to protest what they perceive is a lack of protection for students of color and insufficient action by the administration.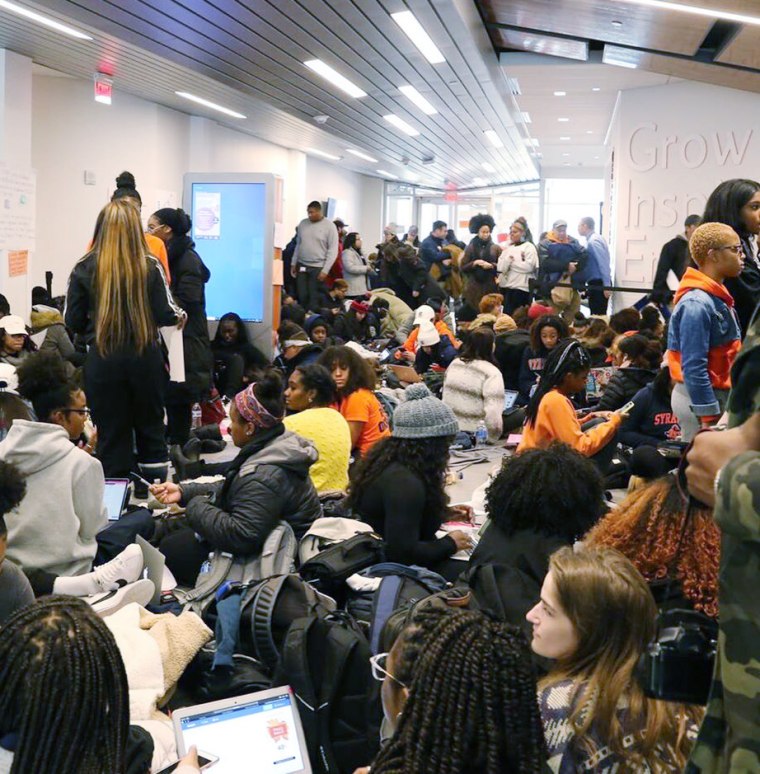 At a forum Wednesday evening, Syracuse University Chancellor Kent Syverud attempted to respond to student concerns after some students walked out in protest saying he must commit to all of their demands for action or resign.
Earlier, at a student senate meeting, Syverud said that nine officers, consisting of campus safety and Syracuse police, were dedicated to investigating the "hateful incidents." He also said a $50,000 reward was being offered to help find those responsible.
"But this is Syracuse, this is 2019," Syverud said Wednesday. "I do not accept this hatred here and now."
The school on Tuesday released a summary for a proposed action plan, including revising the Student Code of Conduct to make clear the consequences of spreading hate speech, requiring diversity training for new faculty and staff, and recruiting and training more international and multilingual resident advisers.
"What is disturbing is the degree to which it continues to be the case that many students do not feel at home on our campus, and that I've heard before here," Syverud told the independently-run student newspaper The Daily Orange. "Indeed, previous chancellors have told me that's been true for a long time, so I just think we have to keep working on it."
But for many, how this administration chooses to move forward will be crucial for not only combating any future racist incidents but also restoring a feeling of safety to the campus of more than 22,000 students.
"A lot of students of color are afraid to walk alone," said Feryal Nawaz, 20, a junior who is involved with the campus movement known as Not Again SU, which is being led by black students. "People need to understand this is not a joke and it does take a toll on people's emotional stability."
Students and faculty have used the hashtag #NotAgainSU to share stories on social media about how the recent events have shaken them.
On Wednesday, former Vice President Joe Biden, who graduated from Syracuse's law school in 1968, tweeted that he was "deeply disturbed" by the events, adding that "we must give hate no safe harbor."
The school's Department of Public Safety this week has stepped up security officer patrols, particularly around residence halls.
In one incident earlier this month, students reported seeing the N-word written in the bathroom of a residence hall. In a separate case, a slur against Asian people was written in the bathroom of another building. A student also reported seeing a swastika written in a snowbank near his apartment complex.
Syracuse police said a criminal investigation was opened into the swastika as well as the posting online of the manifesto, a racist and anti-immigrant screed, which was allegedly attempted to be shared with students via Apple's AirDrop feature. New York State Police and the FBI have joined the investigation.
Meanwhile, the university over the weekend suspended all fraternity social activities following claims that a group of fraternity members shouted a "verbal racial epithet" at a black student.
Concerns over the recent racist acts have empowered student organizations to come together and protest on a larger and more meaningful scale, students who spoke with NBC News said.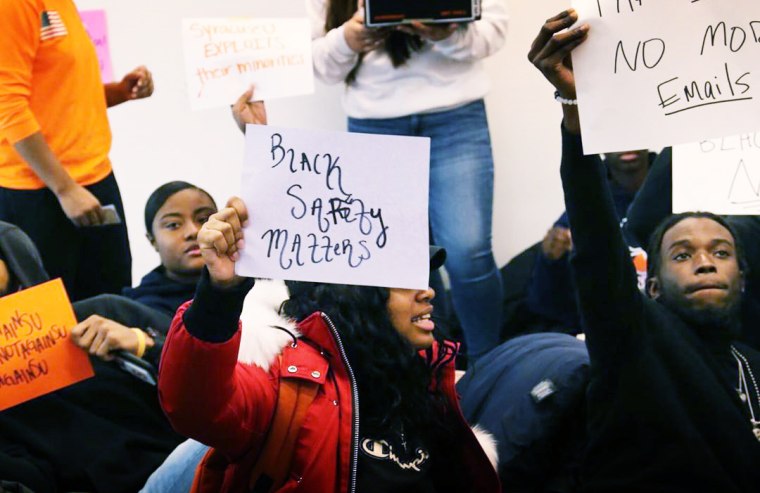 Jason Gruber, a biracial graduate of Syracuse, said he welcomes this reckoning after noting past incidents that took place last school year when he was still a student.
In March 2018, a fraternity filmed their use of racial slurs and mocking language as part of a satirical skit, causing an uproar. In one video, a person recited an oath to "solemnly swear to always have hatred in my heart," and referred to blacks, Latinos and Jews in derogatory terms. Fifteen students were ultimately suspended from the school.
"It seemed like everyone was taking these incidents as if they were isolated," Gruber, who graduated in May, said. "But it's clear there's a growing problem on campus."
He believes the divided political climate with the election of President Donald Trump has contributed to the racist ideologies being spread at the school.
As a freshman, he remembers being called the N-word. When he decided to join a fraternity at Syracuse, he opted for Phi Beta Sigma Fraternity Inc., one of the nine historically black fraternities and sororities at the university represented by the governing body known as the National Pan-Hellenic Council.
It was important for Gruber to belong to a fraternity with other black students for his cultural affirmation, particularly at a school where whites make up more than 52 percent of the student population, according to officials, while black students account for 7 percent.
Greek life remains one of the largest student activities at the school, with more than 30 percent of students joining a fraternity or sorority.
The actions of some fraternity members has been disappointing but not entirely shocking, Gruber added.
"SU does a terrific job of making clear to everybody they have a zero-tolerance policy for sexual assault, domestic violence and underage drinking," Gruber said. "I don't understand why they can't have the same zero-tolerance policy against hate speech that harms groups of others."