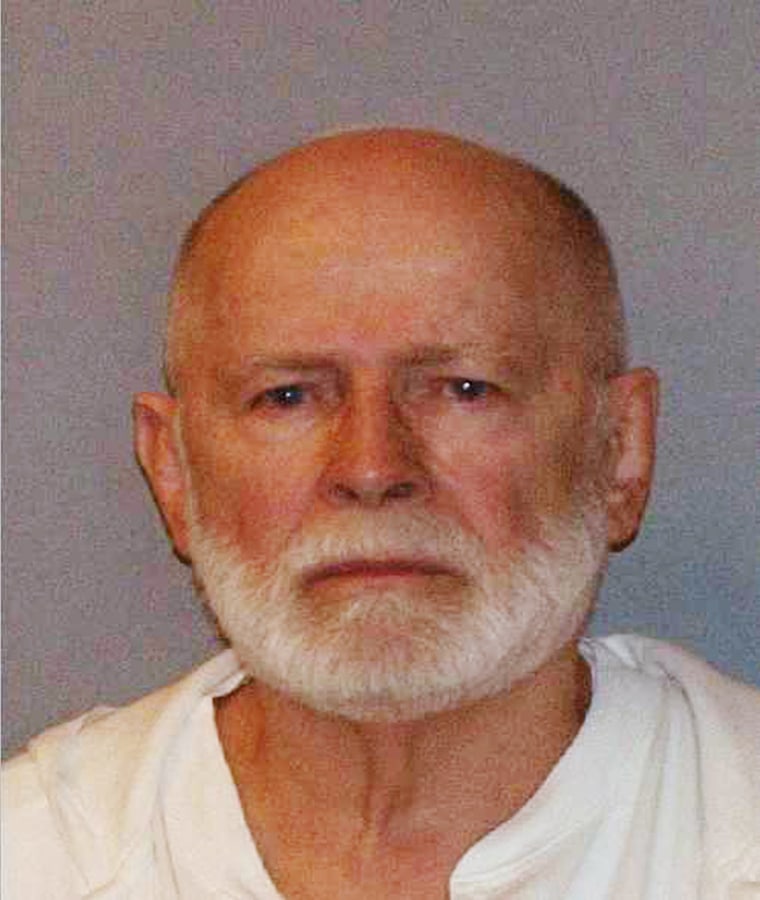 Whitey Bulger was convicted Monday of racketeering and conspiracy by a Boston jury that found he was involved in 11 murders and a raft of other crimes during his long reign as a blood thirsty crime boss in bed with rogue FBI agents.
The 83-year-old Winter Hill Gang leader, who has long denied he was an informant, took one more hit after the verdict: a spectator yelled out, "Rat-a-tat, Whitey" as he was led from the courtroom.
Bulger — who spent 16 years on the lam and was one of the FBI's 10 most wanted before being captured in California — will likely be locked up for the rest of his days.
"He will spend the rest of his life in prison, far away from the beaches of Santa Monica and far away from the streets of Boston," U.S. Attorney Carmen Ortiz said.
Bulger's lawyers insisted he was happy because the trial exposed government corruption. He intends to appeal on the grounds that he was not allowed to argue he had immunity from a federal prosecutor who has since died.
"Jim Bulger was very pleased with how the trial went and even by the outcome," defense attorney J.W. Carney said, noting that the jury found prosecutors did not prove his client had committed all murders detailed in the indictment.
"Mr. Bulger knew as soon as he was arrested that he was going to die behind the walls of a prison or on a gurney and injected with chemicals," Carney said. "This trial has never been about Jim Bulger being set free."
Another of his lawyers, Hank Brennan, said that while Bulger did not testify, the man who inspired Jack Nicholson's character in "The Departed" might break his silence now.
"James Bulger has wanted to tell his story from the moment he was arrested," Brennan said. "I don't think you've heard the last word from James Bulger."
Bulger was found guilty of 31 of 32 counts in the indictment by a panel of eight men and four women who deliberated more than 30 hours over five days.
To support the charge of racketeering, the white-haired gangster was accused of 19 murders and other crimes. The jury found prosecutors proved he had a hand in 11 of the slayings.
"It's been a long time coming," said Patricia Donahue, whose husband, Michael Donahue, paid with his life in 1982 when he gave a ride to a Bulger crony who had been marked for death.
She waited nervously as the jury's decision on the murders was announced and the first seven were found to be not proven. When the jury found Bulger responsible for her husband's death, she cried.
"That's a lot of emotions I've been holding in a long time that just came out," she said.
Her son, Tommy Donahue, who was eight when his father was killed, said some other families "were robbed" of the chance for closure.
"He should have been found guilty of everything," he said. "He's just a sick, psycho individual."
The jury was unable to reach agreement on the murder of Debra Davis, 26, who was strangled in 1981. Her ex-boyfriend, Stephen "The Rifleman" Flemmi, who was Bulger's partner, testified that he saw Bulger choke her to death with his bare hands because she knew too much about their activities.
Davis' brother, Steve Davis, attended the trial every day in the hopes of seeing Bulger convicted in his sister's death.
"I don't believe he hands-on himself killed my sister but I do know he was guilty of conspiring," Davis said outside the courthouse. "The 'no finding' is better than a not guilty."
Davis said he will ask state authorities to charge Bulger with the murder.
"It's not over until I'm in the ground," he said. Breaking down in tears, he said of his sister, "She knows I'm a fighter."
The jury did find Bulger murdered another young woman, Deborah Hussey. Flemmi, who was her stepfather, testified that Bulger strangled her in 1985 because she was on drugs and had become a liability to the gang.
Flemmi was was one of several admitted killers who took the stand against their old pal to describe in sometimes gruesome detail how he ruled South Boston with bullets and brutality before an FBI tip that he was about to be indicted made him skip town.
Hitman John "The Executioner" Martorano, who admitted killing 20 people, implicated Bulger in a series of underworld slayings, but jurors may have discounted his testimony, finding prosecutors did not prove those murder charges.
Ortiz said she hoped all families "find some degree of comfort in the fact that Bulger is being held accountable for his horrific crimes" even if he was not found guilty of killing their own loved ones.
The 41-day trial also featured testimony about the gang's corrupt relationship with the FBI, though Bulger insists he was not an informant and has cursed at witnesses who described him as a rat.
A few hours before the verdict, court papers revealed Bulger agreed to forfeit $822,000 seized from his California hideout, but he'll hang onto a Stanley Cup ring he got as a gift.
A court document did not say who gave Bulger the prized professional hockey memento, but he did have ties to Montreal Canadiens enforcer Chris Nilan.
Nilan, 55, who retired from the NHL in 1992, was married to Karen Stanley, the daughter of Bulger's longtime girlfriend. A photo released by the defense during Bulger's racketeering trial to depict him in a better light showed him posing with Nilan next to the Stanley Cup.