It was a gruesome murder carried out in a highly secure building filled with surveillance cameras.
But one year after the fatal beating of notorious Boston mob boss James "Whitey" Bulger inside a West Virginia prison, the central questions remain unresolved.
Who killed the 89-year-old gangster? Why was he placed in a general population unit in one of the nation's most violent penitentiaries? And who was responsible for authorizing his transfer there from another prison?
Even some of the prison staffers remain perplexed by the fact that no charges have been brought in the most high-profile prison slaying in recent memory.
"I don't get what's taking them so long," a corrections officer at the Hazelton federal prison in Bruceton Mills, West Virginia, said. "It happened in a housing unit. It wasn't some place hidden. With the cameras, they can see everybody who went into and out of that cell."
Bulger's battered body was found in his cell at 8:21 a.m. on Oct. 30, 2018. The wheelchair-bound mobster was beaten with a lock in a sock, then wrapped in a blanket and placed in his bed to make it look like he was sleeping, law enforcement sources have told NBC News.
The sources said the attack likely took place after the morning lockdown was lifted and the inmates headed out of the housing unit to the dining hall.
A group of prisoners were placed in solitary confinement in the hours after Bulger's body was discovered, including mafia hitman Fotios "Freddy" Geas.
Law enforcement officials have described Geas as the prime suspect in Bulger's murder. He was an enforcer for the New England mafia during the 1990s and the early 2000s, according to federal prosecutors, making him a direct rival of Bulger, who was the leader of Boston's Irish mob and a secret FBI informant.
Geas and his former cellmate at Hazelton, Sean McKinnon, are still being held in a special housing unit, known as the SHU, according to McKinnon's mother.
Geas is serving a life sentence for murder. McKinnon is serving eight years for stealing guns from a Vermont firearms store to trade for drugs.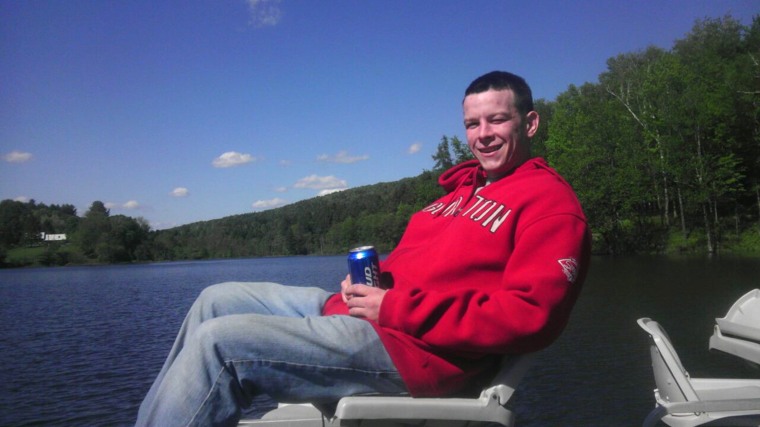 His mother, Cheryl Prevost, said she believes he's being held in solitary only because he was cellmates with Geas.
"He told me they're trying to get him for conspiracy," Prevost, who speaks to her son by phone once a month, told NBC News. "I said, 'Conspiracy for what?' I don't know if they're trying to get him to talk."
Prevost said her son won't discuss the case with her and he's not the type to dish to investigators. "Not in God's name would he rat anyone out," Prevost said. "I don't care what they offered him, he still would not do it."
The federal Bureau of Prisons referred questions about the case to the FBI and the U.S. Attorney's Office in the Northern District of West Virginia.
"To protect the integrity of the investigation, no further details will be released at this time," the Bureau of Prisons said in a statement.
Spokespersons for the FBI and the U.S. Attorney's Office declined comment.
Hazelton staffers told NBC News that FBI agents descended on the penitentiary, nicknamed Misery Mountain, in the days after Bulger's fatal beating. The workers said the surveillance cameras almost certainly recorded the assailants slipping into his cell.
The housing units are shaped like giant triangles, with cells lining each side and multiple cameras hanging from the ceilings.
But the presence of working cameras wouldn't make it a slam-dunk case, one retired federal prison special investigative agent said, because they don't capture images from inside the cell.
"Those cameras won't pick up who did it. They'll just pick up people going in and out of the cell," said Vito Maraviglia, who spent more than two decades investigating inmates for gang affiliations and other potential threats to determine where they should be placed inside federal prisons.
Maraviglia has also worked closely with FBI agents in criminal investigations inside penitentiaries. He said they'll want to speak to as many inmates as possible to develop a full picture of the circumstances around Bulger's murder.
"You have video, but you want to be able to put the weapon in the guy's hand," Maraviglia said. "You want to be able to say where the weapon came from. You want to be able to connect as many dots as you can to the person who did it."
Joyce Vance, a former U.S. attorney in Alabama who helped launch an investigation of state prisons, said criminal probes inside penitentiaries present particular obstacles.
Chief among them: finding witnesses who are willing to cooperate with investigators.
"The biggest impediment in a case like this is, potential witnesses to a crime are already in prison," Vance, who is also an NBC News legal analyst, said. "So what is their incentive to cooperate with prosecutors? They're already serving long sentences. And if they cooperate, and their cooperation becomes known, they, too, could face retaliation."
Bulger was found beaten to death less than 12 hours after he arrived at Hazelton from the Coleman II federal prison in central Florida. The transfer has drawn heavy criticism, with former wardens and other experts questioning the decision to relocate an ailing gangster with a target on his back to a violent penitentiary rather than a prison hospital.
Bulger, who ruled the streets of South Boston for 30 years and served as the inspiration for Jack Nicholson's diabolical gangster in the film "The Departed," received few infractions in his four years at Coleman II.
He was held in a unit known to provide a safe haven for gang dropouts, mob turncoats and other inmates likely to be preyed upon at other facilities.
But in February 2018, Bulger was cited for threatening a nursing supervisor and designated for a transfer, according to prison records obtained by NBC News. A request to send him to a prison hospital was denied for reasons unknown in April 2018.
Then something unusual happened. Despite the fact that he was 89 years old and suffering from aortic stenosis and high blood pressure, Bulger's medical care level was changed to a designation indicating his health had improved, prison records show.
The federal prison system has a limited number of hospitals, so that kind of change would have increased the chances that Coleman officials would get the green light to transfer Bulger elsewhere, current and former prison staffers have told NBC News.
A centralized federal prisons unit in Texas takes the lead in deciding where to transfer inmates, but regional directors also sign off on any moves, the current and former prison staffers say.
By the time Bulger rolled off a bus at Hazelton on the night of Oct. 29, 2018, two inmates had been killed in the past six months and prison workers were complaining of dangerous staffing shortages.
Charles Lockett, who was the warden at Coleman before Bulger's doomed transfer north, said investigators with the Justice Department's Office of Inspector General contacted him over the summer.
"I said over and over that he should have gone to some place like Rochester or Butner, a medium security hospital where they have more doctors on staff, where they can deal with someone in declining health," Lockett said.
"The man was 89 years old," Lockett added. "They transferred him to Hazelton, which is a hotbed institution. It's the full gladiator school. I just wouldn't have put that old guy in that type of [federal prison]."
Following Bulger's murder, his family filed a $200 million wrongful death claim against the federal government.
Three top officials at Hazelton, the warden, the associate warden and the complex captain, have either retired or been reassigned in the year since the killing, according to prison union officials.
The facility's staffing has returned to normal levels and violent incidents are down, according to Rick Heldreth, president of the local chapter of the AFGE union, which represents Hazelton workers.
"It's just night and day," Heldreth said, before referencing Bulger's murder. "If that wouldn't have happened, we'd probably still be understaffed and doing the same way we were."