James Mattis, the retired Marine general who is under consideration to be Donald Trump's secretary of defense, is beloved among military types for publicly proclaiming the things many of them whisper in private.
In 2005, for example, he was speaking at a panel discussion in San Diego, when he described how enjoyable it can be to kill the enemy in war.
"Actually it's quite fun to fight them, you know. It's a hell of a hoot," Mattis said, prompting laughter from some military members in the audience. "It's fun to shoot some people. I'll be right up there with you. I like brawling."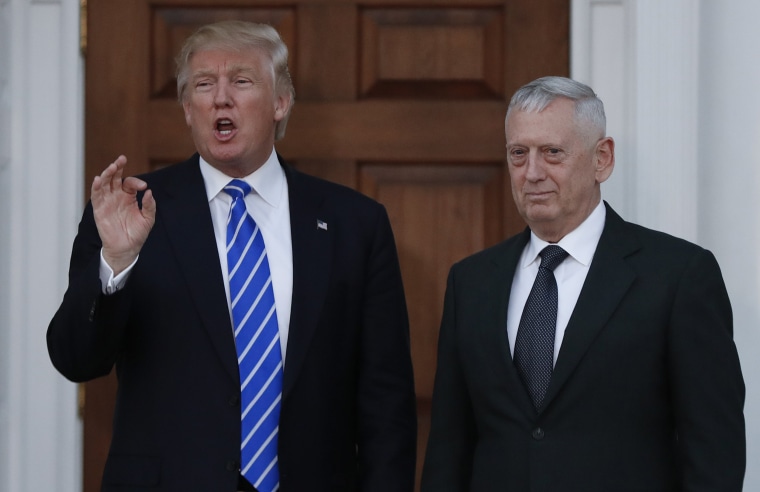 He continued, "You go into Afghanistan, you got guys who slap women around for five years because they didn't wear a veil," Mattis said. "You know, guys like that ain't got no manhood left anyway. So it's a hell of a lot of fun to shoot them."
That is the kind of rhetoric befitting a military leader with the nickname, "Mad Dog." But Mattis, who retired in 2013 and joined a conservative think tank, is more cerebral than his nickname -- which he dislikes – would suggest. He is also known as a "warrior monk," who has devoted his life to the military (he is unmarried) and has thought deeply about military strategy. Now 66, the Pacific Northwest native graduated what was then Central Washington State College in 1972. He became famous for leading the 1st Marine Division's lightning fast movement into Baghdad during the U.S. invasion of Iraq in 2003.
That is one reason his possible selection has drawn praise from multiple quarters, including Democrats, traditional Republicans and Trump loyalists.
"General Mattis is a storied and much respected military thinker," Michele Flournoy, who by all accounts would have led the Pentagon had Hillary Clinton become president, told NPR Monday. "He would be an outstanding candidate."
Like Rep. Mike Pompeo -- Trump's pick to be CIA director -- Mattis is known as a hardliner on Iran. Before he retired he was commander of U.S. Central Command, which covers the Middle East, and he alienated the Obama White House with a confrontational approach to Iran, current and former U.S. officials have said.
Shortly after he left, he criticized the administration over what officials charged was a plot by Iran to assassinate the Saudi ambassador at a Washington, D.C. restaurant. Mattis said the plot was orchestrated "at the highest levels" of the Iranian government, and he criticized the fact that the U.S. treated it as a law enforcement matter.
"I don't know why [it] wasn't dealt with more strongly," he said.
Mattis, whose gravelly voice and steely eloquence is right out of central casting, has become known for a series of frank quotes that underscore the brutal nature of war. At least one has ended up on a not-safe-for-work t-shirt.
According to a compilation published by the San Diego Union-Tribune, Mattis once said he believed the U.S. should "Find the enemy that wants to end this experiment (in American democracy) and kill every one of them until they're so sick of the killing that they leave us and our freedoms intact."
In 2003, according to the book "Fiasco," an account of the Iraq War by journalist Tom Ricks, Mattis told a group of Iraqi commanders: "The first time you blow someone away is not an insignificant event. That said, there are some assholes in the world that just need to be shot."
But Mattis is also famous for telling his Marines: "The most important six inches on the battlefield is between your ears."
Another famous Mattis story is the time he worked on Christmas in 1998.
Charles Krulak, who was the Marine Commandant at the time, told Stars and Stripes newspaper that when he arrived to deliver holiday cookies to a Marine command at Quantico, Virginia, he was told that the duty officer was Mattis, then a brigadier general.
"So I said to him, 'Jim, what are you standing the duty for?' " Krulak told the military newspaper. "And he said, 'Sir, I looked at the duty roster for today and there was a young major who had it who is married and had a family; and so I'm a bachelor, I thought why should the major miss out on the fun of having Christmas with his family, and so I took the duty for him.' "