House Majority Whip Steve Scalise, wounded Wednesday after a gunman opened fire on an Alexandria, Virginia baseball field, has stepped up to the plate for Republicans many times since taking office in 2008.
His first year playing in the annual congressional baseball game, he wore a jersey repping his alma mater, Louisiana State University. In 2011, he repped Southeastern Louisiana University.
And in Congress, Scalise represents Louisiana's 1st Congressional District made up of the suburbs of New Orleans, where he was born. Scalise was preceded by Republican Bobby Jindal, who left the post to become the state's governor in 2008.
In a statement Wednesday morning, current Louisiana governor, Democrat John Bel Edwards, called Scalise a "friend, colleague, and fighter for the people of Louisiana" and said he was praying for the congressman and his family.
Friends, colleagues and political reporters recalled Scalise's devotion to baseball throughout the morning on Wednesday.
According to a statement from his office issued just before 10 a.m., Scalise was stable and "in good spirits" prior to undergoing surgery at MedStar Washington Hospital Center. He "spoke to his wife by phone. He is grateful for the brave actions of U.S. Capitol Police, first responders, and colleagues," the statement continued. However, a later update from MedStar said, "Rep. Scalise was critically injured and remains in critical condition."
Related: Congressman Steve Scalise, Three Others Shot at Alexandria, Virginia, Baseball Field
Scalise, 51, describes himself on his website as a strong conservative and constitutionalist whose platform issues include "advocating for the principles of fiscal discipline, lower taxes, an all-of-the-above national energy strategy, a robust national defense, and conservative values."
The congressman is also known as a staunch supporter of gun rights and the 2nd Amendment, as well as an outspoken opponent of the Affordable Care Act who would drive the House's efforts to repeal and replace it after President Donald Trump won the White House in November.
Scalise was elected as the Republican Study Committee leader in an upset victory (the committee's founding members had recommended Tom Graves) in 2012. After that election, he pledged to "pull our leadership to the right" and to "move a conservative agenda forward." In 2014, he was elected as Majority Whip, making him the third highest ranking Republican in the House.
In May, he brought together a divided GOP after several false starts to pass the American Health Care Act, the party's measure to repeal and replace Obamacare.
Shortly before the successful vote began, Scalise told MSNBC, "We were elected to do this."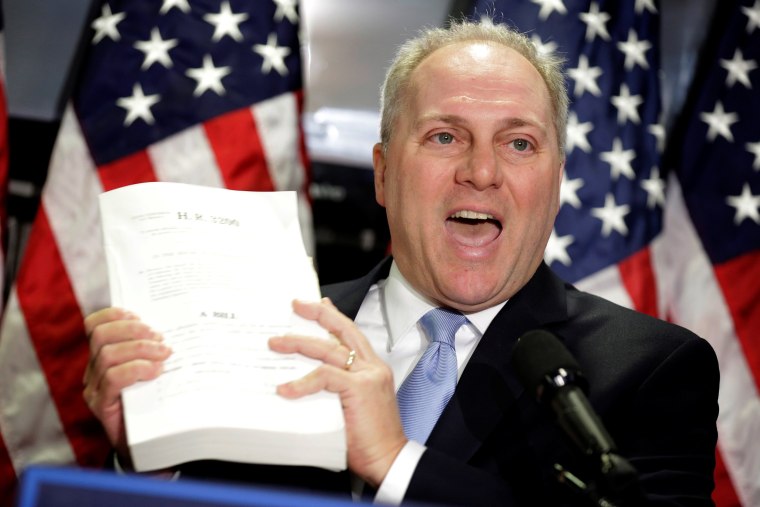 Along with nearly 200 other members of Congress, Scalise is a member of the Italian-American Congressional Delegation. His great-grandparents were Italian immigrants, and Scalise has said that he carries a fava bean with him everywhere he goes "to remind me of my faith and Italian heritage." Scalise is a practicing Catholic.
Scalise studied computer science and political science at LSU before graduating in 1989. He has been married to Jennifer Letulle Scalise since 2005, and the couple has two young children: Madison Carol Scalise and Harrison Joseph Scalise.
A frequent guest on Fox News, Scalise is a staunch supporter of Trump. On the political data website FiveThirtyEight.com, Scalise has a 100 percent score of voting in line with the president's priorities.
Upon learning of the shooting Wednesday morning, Trump praised Scalise and said he was watching closely for developments.
"Rep. Steve Scalise of Louisiana, a true friend and patriot, was badly injured but will fully recover," Trump said in a statement. "Our thoughts and prayers are with him."
Just before the November election, Trump announced he was forming a Second Amendment Coalition, and named Scalise to the gun-rights advisory group. The coalition failed to reappear after the election, and the Trump campaign's announcement of the group has since been removed from the website.
Including Scalise, four were wounded Wednesday, including one Capitol Police officer. Another Capitol Police officer, earlier believed to have been wounded by the suspect, sustained an ankle injury. The suspected shooter, identified as 66-year-old James Hodgkinson originally from Illinois, was shot after engaging in a gunfight with police before being taken into custody.
The attacker later died, Trump announced.