There are three county clerks in Kentucky who have refused to issue marriage licenses to same-sex couples. But only one of them, Rowan County's Kim Davis, has been thrown in jail, celebrated by presidential candidates and become a national symbol of opposition to gay unions.
The other two continue to resist, but with far less fanfare — and relatively little legal trouble.
Whitley County clerk Kay Schwartz told NBC News her office is granting licenses for heterosexual couples, but not for those of the same sex. In fact, she said, no gay and lesbian couples had bothered to ask.
Casey County clerk Casey Davis isn't issuing any marriage licenses at all — similar to the approach taken by Kim Davis (no relation) before she was jailed. He has crossed the state on a bicycle as a show of support for Kim Davis, but that stunt arguably drew more attention than his refusal to give licences to same-sex couples.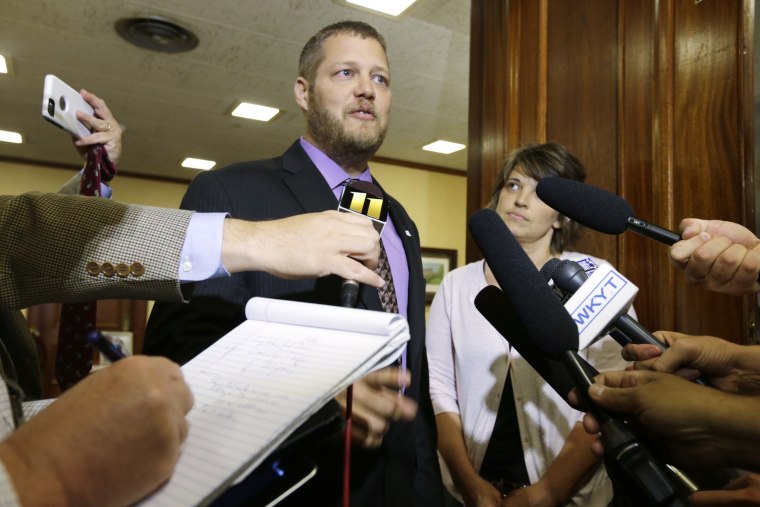 Casey Davis told NBC News that he has received phone threats in response to his turning away same-sex couples, but no one has sued him.
"I imagine it's possible, I know that there is a very real possibility, and if it comes, we'll deal with that when it comes," he said.
Allison Steinberg, a spokeswoman for the American Civil Liberties Union — whose lawsuit against Kim Davis led to her being found in contempt and thrown in jail — said the organization had no plans to take legal action against Schwartz or Casey Davis.
"We're focused on the Rowan County case at this time," she said in an email to NBC News.
There are a number of potential explanations for the focus on Kim Davis. It could be that Rowan County was the only place where same-sex couples were willing to file a legal challenge that could draw national attention. It also could be that same-sex couples in Casey and Whitley counties chose to seek license from others jurisdictions. Some couples in those counties may be waiting to see what happens in Rowan County before seeking licenses.
"The action in Rowan County maybe be in part due to the availability of plaintiffs for a case," University of Kentucky political science professor Ellen D.B. Riggle said in an email.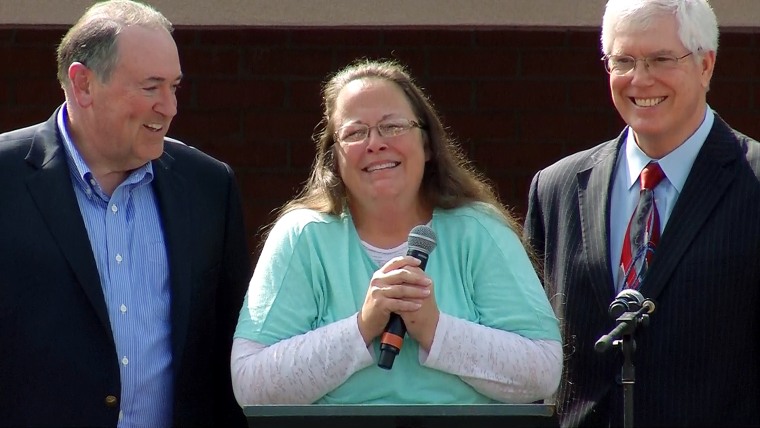 Kentucky isn't the only state with local officials resisting the Supreme Court ruling. At least nine counties in Alabama have stopped issuing marriage licenses altogether.
In Washington County, Probate Judge Nick Williams said he stopped issuing licenses altogether so as not to discriminate against anyone.
"I completely disagree with the authority the Supreme Court has," Williams told NBC News. "I'm quite sure they broke several constitutional amendments in that ruling."
The Alabama counties, too, have not drawn the attention that Kim Davis has — perhaps because a legal challenge hasn't reached federal courts.
Asked if a lawsuit would cause him to reconsider, Casey Davis said absolutely not.
"I started out with nothing, and I'm surely gonna leave with nothing, so that's not a threat to me," he said.