The resistance to confirming Betsy DeVos as education secretary has reached a crescendo on the eve of a likely close confirmation vote on Tuesday.
Senate Democrats pulled an all-night talkathon to oppose placing the Michigan billionaire and school choice advocate in the post. Across the country on neighborhood blogs, PTA listservs, social media, emailed petitions and protesters feverishly denounced DeVos' nomination.
Hundreds turned out in her hometown of Holland, Michigan, recently to vehemently oppose DeVos taking the reins of the nation's schools.
The automated Capitol Hill switchboard was so flooded with calls last week that it caused delays in the Senate's voicemail system.
And hundreds from her alma mater, Calvin College, signed a scathing open letter last month saying she is "not qualified for the position."
The unprecedented level of backlash speaks to deep concerns that DeVos just doesn't understand the nation's public education system and has used her family's massive fortune to help undercut it, public school advocates say. They worry that, if confirmed, her attempts to re-envision how America's school children are educated will be short-sighted.
"She is missing the biggest piece of the puzzle, which is to wholeheartedly support public school as well as the needs and dilemmas of all kinds of students," said Lily Eskelsen García, president of the National Education Association, the largest educator's organization in the country.
Supporters, including 20 of the nation's governors who wrote a letter to the Senate Committee on Health, Education, Labor and Pensions, said she is an "inspired choice" and reform advocate who has the experience to creatively push schools toward the changes needed to equip kids to succeed as part of a modern workforce.
So far, the tally of legislators for and against DeVos stands deadlocked at 50-50,with Republican Senators Susan Collins of Maine and Sen. Lisa Murkowski of Alaska saying they will oppose the confirmation.
If no one wavers, the tiebreaker may come down to Vice President Mike Pence.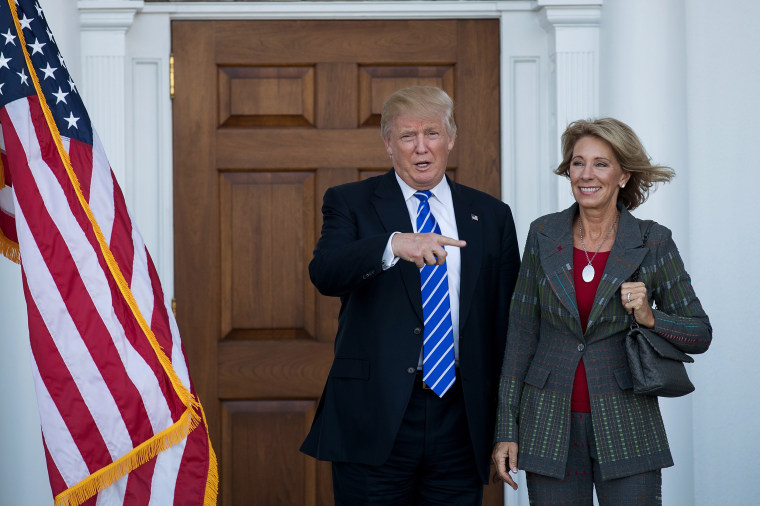 Here's why opponents and defenders are so riled up over DeVos.
DeVos has never worked in education
Holding the highest education position in the country would be DeVos' first job in the field.
DeVos did not attend public school, never worked in education and does not have any academic background in education. She could potentially make decisions affecting nearly 100,000 public schools and over 50 million children.
Ninety percent of U.S school children attend public schools.
Related: Trump Selects Charter School Advocate Betsy DeVos as Education Secretary
During her hearing, she struggled to answer questions on relevant federal law pertaining to education, including the Individuals with Disabilities Education Act (IDEA), which guarantees federal right of public education to children with disabilities. DeVos said the enforcement of federal law should be deferred to state and local districts.
"In her hearing DeVos really did not demonstrate preparation and knowledge for the responsibility of the nations' schools," said Daria Hall, who is the interim vice president for government affairs and communications at Education Trust, a non-profit education advocacy group.
When asked about gun control on school grounds by Sen. Chris Murphy, D-Connecticut, who has been vocal on gun control since the Sandy Hook massacre, DeVos said potentially having guns in a wildlife-plagued Wyoming school could protect against attacks from grizzly bears.
Such examples prove why decisions on these matters should be left up to states and local districts' needs, she said.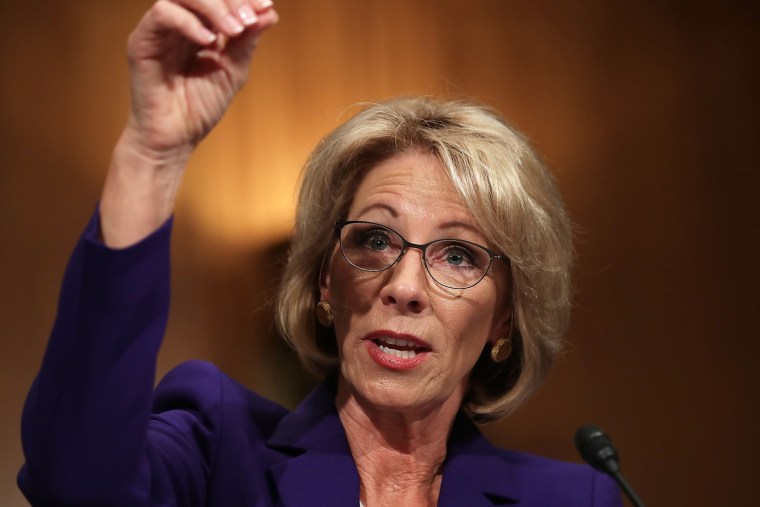 Her Views on Education
DeVos has poured millions of dollars through the DeVos Family Foundation into strongly supporting and heavily lobbying for charter schools and vouchers. She believes firmly that charter schools provide excellent options for school choice and has aligned herself with the voucher movement.
This puts her at odds with several large teachers' associations.
Related: Nomination of Betsy DeVos, Trump's Pick for Dept. of Education, in Peril
"She is regarded as an enemy to public education" since she has associated herself so closely to the private school choice program, said Jon Valant, a fellow at the Brown Center for Education Policy at the Brookings Institution.
Supporters say she cares about kids and wants to come up with the best solutions to improve education.
"We all want high academic standards and we all want consistent standards and Betsy Devos will do that," former Arizona Gov. Jan Brewer told MSNBC on Friday.
Her Charter School Push Didn't Fare Well in Michigan
DeVos faced fierce criticism from Michigan parents and educators for her role in the charter school boom, who say her passion project resulted in unregulated schools and poor education performance.
The state has 300 charter schools, and more than 80 percent are run by for-profit companies — the highest rate in the nation.
"For-profit schools are money makers and only care about a bottom line," said Arlyssa Heard, a mother of two children and parent advocate with 482 Forward, a grassroots education network in Detroit. "They entice you like any business would entice a customer, except the customers are our kids."
But Heard, whose children went through a number of unsuccessful charter school rounds, said once they sign you up, there is no guarantee the school will fulfill its promise or even stay open through the school year.
Michigan charter schools remain largely unregulated, which means there is zero accountability, said Lamar Lemmons, who sits on the Board of Education for the Detroit Public Schools.
"If you're getting federal dollars to run your charter school, then you should be held to some standard. But that hasn't happened in Detroit," said Ivy Bailey, president of the Detroit Federation of Teachers.
A 2016 state bill that included a provision to create a body, called the Detroit Education Commission, that would oversee school accountability did not pass a vote. The measure's failure is attributed to DeVos' hefty lobbying dollars, said Bailey.
Related: Senate Dems Grill Betsy DeVos, Trump's Education Secretary Pick
Charter school students in Michigan actually scored lower on performance tests than students at more traditional schools, according to an investigation by the Detroit Free Press. The investigation found that roughly 150 Michigan charter schools have been around for 10 years or more and 64 percent are in the bottom half of ranked schools.
"Both traditional and charter schools can coexist, but the policy DeVos advocated has been destabilizing to both," said Michigan state representative Sherri Gay-Dagnogo.
Stability through choice and local control is exactly what DeVos is looking to bring back to public education, supporters say.
She "understands the need to bring back education control to state and local boards," and will "empower our parents, teachers, students, and local education officials," said Sen. Dean Heller, R-Nevada, in a statement Thursday.
In the meantime, public education advocates hope to find one other vote to derail the confirmation.
"If there is anything we learned from this election, it's not to make assumptions," said Garcia, who has been an elementary school educator for three decades.