A company that made a blood-clot filter associated with 27 deaths and hundreds of problems replaced the device with a modified version that it knew had similar and potentially fatal flaws soon after it was put on the market.
Confidential company records obtained by NBC News show that New Jersey-based medical device giant C.R. Bard was concerned about reports of failures for its G2 series filters, designed to replace the company's Recovery filter, within four months of being cleared to sell the G2 by the Food and Drug Administration.
But instead of recalling the G2 filter, and the virtually identical G2 Express, the medical device manufacturer decided to keep them on the market for five years, until 2010, selling more than 160,000 of them.
At least 12 deaths and hundreds of problems are now linked to the G2 series filters, according to Bard and FDA records.
Read NBC News' original reports on the Recovery filter here and here.
"All of the data that we've seen in our own studies, as well as other clinician researchers', is that this device consistently fractures, consistently causes major complications," said Dr. William Kuo, a interventional radiologist who runs Stanford Health Care's IVC Filter Clinic, which specializes in removing failed blood clot filters. "The number of complications, the frequency of severe failures makes it obvious that it was never safe to be implanted."
The spider-shaped Bard filters, implanted in the largest vein in the body — called the inferior vena cava — were designed to stop blood clots from moving to the heart and lungs, where they could be fatal.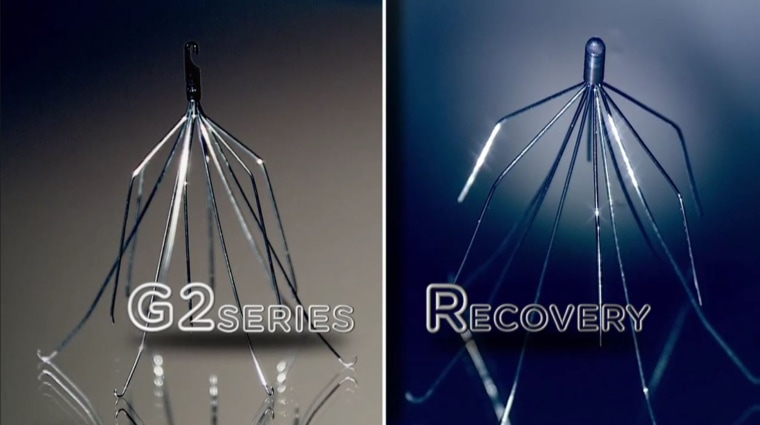 Blood clot filters are implanted in an estimated 250,000 people in the U.S. each year, most without incident. In the last decade, millions of filters have been implanted in Americans. Bard is one of 11 manufacturers that make these devices.
Bard had hoped to gain a new foothold in the lucrative filter market when it introduced the Recovery filter. But after it received FDA clearance to market the device in 2002, reports of deaths and injuries associated with it moving and breaking steadily climbed.
A confidential study commissioned by Bard showed that the Recovery filter had higher rates of relative risk for death, filter fracture and movement than all of its competitors. An outside doctor hired to conduct the study wrote that "further investigation…is urgently warranted."
But Bard decided not to recall the Recovery from the market. In 2005, after the device had been sold for three years, the company replaced it with the similar G2 series of filters. Internal Bard records and hundreds of reports to the FDA show that the G2 series did not solve the filter's problems.
A confidential memo written in December 2005 by a Bard vice president soon after the G2 was cleared by the FDA shows his concern about "problems with...migration," "tilting" and "perforation." He also noted that Bard had another filter on the market that had virtually no complaints. "Why shouldn't doctors be using that one rather than the G2?" he asked.
Another document written later that includes data through 2010 showed the G2 series filters had more fractures, migrations and reported problems than any of its competitors.
Bard kept the G2 series filters on the market until 2010, the same year that Chris Svedise had a Bard G2 Express implanted in him because he was prone to blood clots. Svedise, 69, a manager at a wholesale fish company in San Francisco, asked his doctor last October to check on the filter. He was alarmed to learn it had moved.
"He said, 'It is dangerously close to your heart,'" Svedise said.
After two surgeons declined to remove the filter because of its precarious position, Svedise turned to Kuo, whose team has developed an advanced technique to remove failed filters and filter pieces.
During emergency surgery, Kuo discovered three legs had already broken off of Svedise's filter and traveled to his lungs. Kuo also said that two partially broken legs completely broke away during the operation. One, he said, could have killed Svedise.
"It floated off right in front of our eyes," Kuo said. "First into the right atrium and then into the right ventricle. He's very lucky."
Kuo estimates that in the last 10 years he has removed 1,000 failed filters. Many of the cases were referred to him by other surgeons who deemed the procedure too complex and dangerous. Kuo said he has removed more Bard filters than any other single make of filter.
The Recovery and G2 series filters should have been pulled from the market, Kuo said. "Whether it's an ethical reason, a moral obligation, in the interest of public safety and patient safety, absolutely these devices should have been recalled," he said.
Bard declined NBC News' repeated requests for an interview. In a letter, the company said that "all medical devices carry some level of risk," and in a separate statement said its filters are "an important clinical option for physicians."
"We steadfastly believe in the safety and efficacy of these devices when used as instructed," the statement said.
Kuo said that along with device companies, the FDA also needs to take stronger action to protect patients.
"What we've learned the hard way is that we can no longer rely on medical device companies to do what's in the best interest of the patient. And we can no longer rely on the FDA to properly regulate these devices," he said.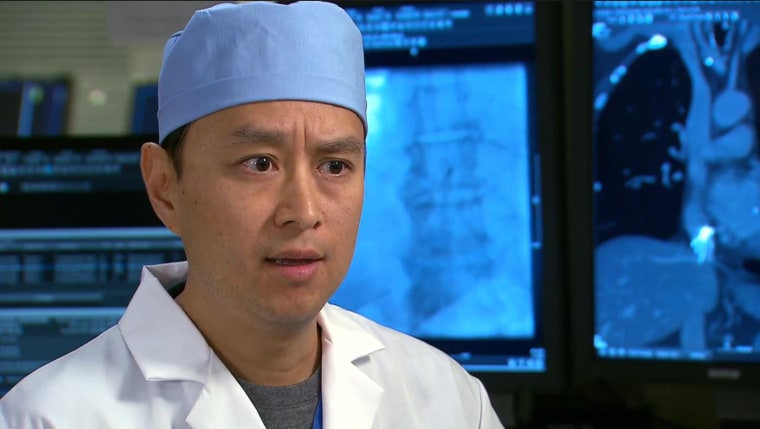 In response to NBC's original broadcast report about the Recovery filter, Sen. Charles Grassley (R-Iowa), chairman of the Senate Judiciary Committee, sent a letter to the FDA inquiring about the agency's oversight of the filter. One of his questions was about the actions the agency takes when new information about the performance of an already cleared medical device becomes known.
"FDA's only got one responsibility. It's not the company, it's John Q. Public — to protect the American public from two standpoints: safety and effectiveness," Grassley said.
Grassley told NBC News that the FDA's response was incomplete and he has more questions as he decides what steps to take next.
Watch the original NBC News reports on the Recovery filter here and here.
Asked about Grassley's concerns and why Bard's Recovery and G2 filters were not recalled, the FDA declined to answer. The agency said in a statement that it has "investigated the risks of all of these devices," not just Bard's, and "issued safety communications" about "risks associated with IVC filters."
In 2010 and 2014, the agency recommended in those safety alerts that doctors should consider removing the filters from patients as soon as protection from blood clots is no longer needed.
The Society of Interventional Radiologists, Society for Vascular Surgery, and blood clot filter manufacturers, including Bard, have just begun a large clinical trial called PRESERVE to examine how safe and effective filters now on the market are. The study, which the FDA helped organize, is expected to enroll 2,100 patients over the course of five years, the most ambitious filter study ever in the U.S.
In the meantime, Kuo worries about the steady stream of patients coming into his clinic whose filters have failed and risk injury or death.
"It's upsetting to see the patients who have actually suffered from a system that appears to be broken," he said.
***
To download a free app that has information about more than 20 blood clot filters cleared by the FDA, click here.