Workers continued clearing rubble from the catastrophic collapse of a Miami footbridge on Friday as federal investigators prepared to find out what went wrong — and whether a deadly design flaw or human error was to blame.
Robert Sumwalt, chairman of the National Transportation Safety Board, said a 15-member team of experts in civil engineering, materials science and human factors would begin trying to determine "what happened so we can keep it from happening again."
Officials declined to speculate on a cause after Miami-Dade Mayor Carlos Giménez raised the possibility that a "stress test" of the 950-ton bridge section was underway Thursday afternoon when the structure pancaked onto at least eight cars on the roadway below.
Sen. Marco Rubio, R-Fla., also tweeted Thursday that the cables that suspended the walkway were loose, and that as they were being tightened, the walkway collapsed. At least six people were killed, according to authorities.
Civil engineering experts say NTSB investigators and forensic engineers will have their hands full with several tasks, including reviewing the drawings of the bridge and corresponding calculations, and looking at how much concrete was used to support the cables.
NTSB investigators said Friday night that it remained unclear what caused the bridge to suddenly collapse, and added that their onsite probe could last as long as a week — but their departure from the scene would only be the beginning of the investigation.
Chief NTSB investigator Robert Accetta said construction workers were working on the north end of the structure, tightening internal cables that were meant to strengthen the walkway's diagonal members, when the incident occurred.
"This is a different design type of bridge," said Accetta, who noted that investigators were not close to coming to a conclusion. "It's not something we've encountered before and I'll go on to say that it's not uncommon in other bridge structures to put members under tension to strengthen them."
The bridge was built over a multilane roadway and was meant to connect the campus of Florida International University, in Miami, to the city of Sweetwater, where about 4,000 students live.
"I believe it will be found that it will not be just one thing that happened — it almost never is," said Ralph Verrastro, a principal of Florida-based Bridging Solutions and a specialty structural engineer for more than 500 bridges across the United States.
The bridge section that collapsed is designed to hold its own weight until the entire span is assembled into place, Verrastro said. It was built under a method called accelerated bridge construction, which FIU helped to popularize beginning in 2010 but has been around in some form for about 30 years.
With accelerated bridge construction, prefabricated bridge elements are made in a factory, then shipped to the site and put together at the scene. It's just as safe as the traditional method, Verrastro said, and it minimizes the impact that construction can have on traffic.
The 174-foot section of walkway had been installed in six hours on Saturday, but the entire bridge project wasn't due to open until 2019. At 320 feet long, it would have included 9,900 square feet of event space that did not cross the roadway, Southwest Eighth Street.
When finished, the $14.2 million bridge would have been supported from above, with a tall, off-center tower and cables attached to it. That tower had not yet been installed, and it was unclear what builders had been using as temporary supports.
New bridges are designed so precisely and under such scrutiny by teams of engineers that it would be rare for an error to result in such a deadly outcome, said Ming Wang, a distinguished professor of civil and environmental engineering at Northeastern University in Boston.
But additional temporary support is crucial in keeping a bridge in place before construction is complete. The stress test process is "very, very dangerous," Wang said, adding that "additional redundancy" such as some sort of support in the middle of the bridge would have helped to prevent abrupt failure.
"If one element fails, everything fails," Wang said. "As you can see, there is one section that started to buckle."
He said cables can lose tension over time, the way a rubber band can soften, as a bridge is installed. The cables must be re-evaluated and tightened.
A stress test typically involves using calibrated weights to measure the span's response. Over-tightening can have an effect on a bridge, but the cables should not have affected the structural integrity of the span, Verrastro said.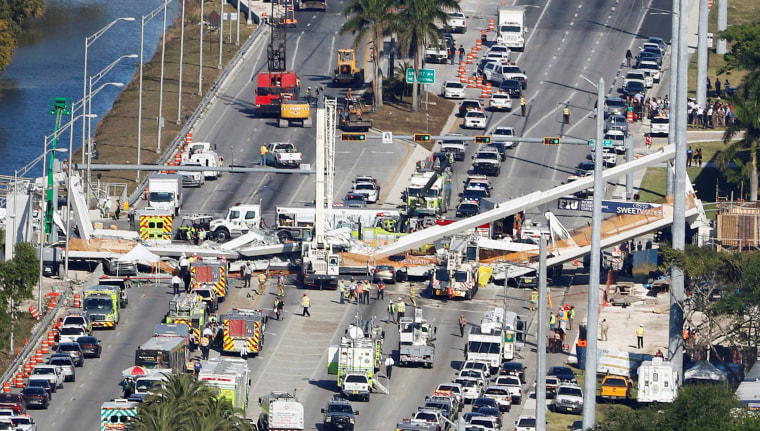 Officials on Friday also said they were looking at why traffic on the heavily traveled roadway below remained open during the bridge work, although there was no immediate indication that it should have been shut down.
Without the additional support installed in the middle of the bridge, every precaution should have been taken, Wang said, adding that the deaths "could have been prevented."
The engineering company monitoring the project, BDI of Louisville, Colorado, said in a statement that it was "deeply saddened" by the collapse.
Miami-based contractor Munilla Construction Management and Tallahassee-based Figg Bridge Design said in separate statements that they will cooperate with investigators.
"Multiple agencies have already begun an extensive review to determine what caused the collapse, and we will work closely with all appropriate authorities in this effort," Figg Bridge Design said.
State officials vowed to pursue charges against those found to be negligent, but stressed that the FIU bridge was a local agency project, and not overseen by the Florida Department of Transportation.
The U.S. Department of Transportation said it awarded the university $11.4 million for the project out of its Transportation Investment Generating Economic Recovery fund in 2013, aiming to improve pedestrian safety.