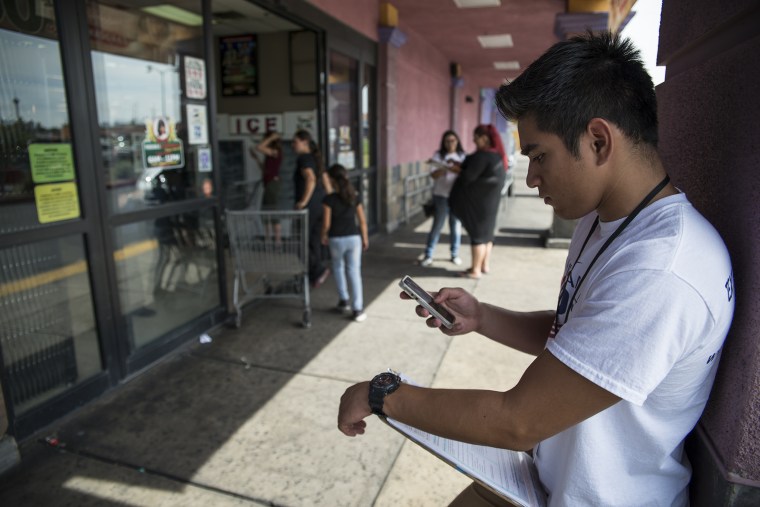 Editor's Note: This report is part of a project on voting rights in America produced by the Carnegie-Knight News21 program.
LAS VEGAS — From behind the wheel of a black Chrysler minivan, Joseph Paul Gloria surveys the sun-scorched streets of Las Vegas. Gloria is the registrar of voters for Clark County, home to Las Vegas and nearly three-fourths of the Silver State's population. On this day in June, as he visits various polling locations, the two-week early voting period for the state's primary election is only a day from wrapping up. Suddenly, his phone rings.
One of the county's early voting locations, inside a library, has been hit with a power outage. The library staff has closed up and gone home. Gloria's poll workers will do no such thing. Within 30 minutes of the outage, an emergency response team brings in everything the polling location will need to keep going: a generator, fans, water, ice and lights.
"We need to do everything we can to make sure that as people are driving up they're aware that we're still open despite the library," says Gloria. His subordinate agrees and positions herself in front of the library to reassure people that the polls are still open. Through all the chaos, not a single voter is turned away.
Click here for the complete News21 project "Voting Wars – Rights | Power | Privilege."
This is representative of a state where registration and access to the polls has been made exceedingly easy. Nevada offers two weeks of early voting before each primary and general election. Nevada residents may request absentee ballots for any reason, without having to provide a specific, qualifying excuse, something required by several other states. Nevadans overseas on military duty or for any other reason may obtain an electronic ballot and return it by fax or email.
There are no voter ID requirements at the polls in Nevada. In addition to registering to vote through their county registrar's office or at the Department of Motor Vehicles, residents can register online, including via cellphone app. Clark County uses mobile voting trailers to bring polls closer to people who might not have easy access.
Yet, in the 2012 general election, only 57.9 percent of eligible voters cast a ballot in Nevada — below the national average that year of 61.8 percent. Nevada even lagged behind Georgia, a state with a strict voter ID law.
Why isn't there higher voter turnout in Nevada?
"Some people say because we're such a transient state. You know, people come and go. They move here and they leave," said Barbara Cegavske, Nevada's secretary of state. "We have so many different shifts, you know, because of the hotels. We have a lot of different shifts. I mean, those are just anecdotal things that people say."
Gloria echoes Cegavske, while advancing a theory of his own. "With the economic downturn all of our tourism industry jobs became difficult to find and so we had quite a bit of turnaround in the population here."
Whatever the cause, election officials like Gloria and Cegavske are determined to turn the situation around. Cegavske and her deputy secretary of state for elections, Wayne Thorley, spend a great deal of time on voter outreach that includes visiting middle and high schools.
"We encourage the kids to go home and talk to their parents, because we know their parents are of age. They're able to vote. So we ask them go home and talk to your parents about voting. Tell them about how important it is that their voice be heard. Tell them how important it is for you that they vote because it's your future," said Cegavske, who also noted the voter outreach efforts of community organizations in the state.
One such organization, Mi Familia Vota, sits in a nondescript office park a few miles from the Las Vegas Strip. The organization, founded with the goal of building Latino political power, currently operates out of six states, including Nevada, where it engages in public relations campaigning and canvassing for voter registration.
In 2012, 52 percent of Latinos in Nevada cast a vote in the general election. That was 4 percentage points higher than the national average of 48 percent for Latino Americans, but lower than the average for all eligible Nevada voters. Latinos make up just over 28 percent of Nevada's population of 2.9 million people. The goal of Mi Familia Vota is to marshal those people and their considerable potential influence by getting them to the polls.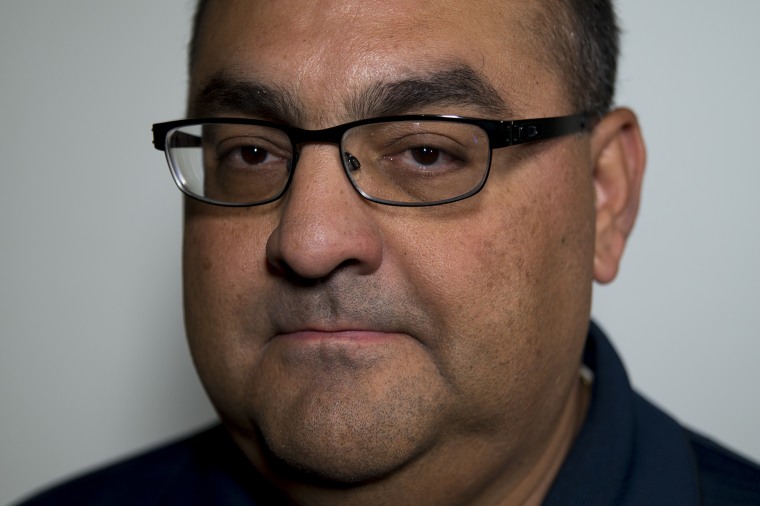 "It's not that hard to get involved in politics in Nevada. Especially here in Clark County. The elections department is very easy to work with. They definitely give out the resources they can in order to ensure that people are engaged," said Jocelyn Sida, state deputy director of Mi Familia Vota for Nevada. "They help organizations like ours be aware of early voting dates so that we can inform our community to be able to participate in the election."
A few miles north of Mi Familia Vota's office, 19-year-old Michael Gonzalez stands in the shade outside a Mexican supermarket, clipboard in hand, in 100-degree-plus heat. Gonzalez is a canvasser for Mi Familia Vota. He has been working with them since January. Interested in politics from an early age, he was drawn to Mi Familia Vota and its engagement of Latino voters. He happily endures the scorching temperatures, but not everyone shares his passion.
"There's a lot of bad days doing this job. There's people that will ignore you, or they just won't acknowledge that you're there. But you just — you have to keep going. Remember why you're doing this," said Gonzalez. "Coming to Hispanic supermarkets, we get a lot of people who just became citizens, so it's really a good feeling when you get those people who just became citizens and they're able to finally register, and it changes their lives in that they now have a voice that they didn't have before."
On the other side of the state, Jesse Ochoa attends the University of Nevada, Reno. He has witnessed the power of gaining voting rights firsthand, and it has shaped his attitude toward electoral participation.
"We have so many different shifts, you know, because of the hotels."
"My mom came into this country illegally and had me, and eventually became a United States citizen. And watching her struggle to make that happen with her kind of gave me the sort of motivation to want to be able to engage in this process and be able to go out and vote," said Ochoa. "So for me it's always something where it's a source of pride to say that 'yes, I voted in this election.'"
"It's not because the want is not there. It's because of the opportunity. A lot of these folks work all day and they are afraid to take time off from work to go and vote and participate," said Sida. "Sometimes they feel like they are not informed enough to make a proper decision, so they are afraid of making a mistake at the polls."
Cory Hernandez, founder and current president of the Northern Nevada Latino Alliance, which engages in Latino community outreach in the Reno/Carson City area, believes that the problem may, in a way, be hereditary.
"Unfortunately with parents — like with older generations, especially parents who migrated to the United States from another country — they don't believe in the process," said Hernandez. "They try to stay away from politics because they come from countries where there is no democracy, and so it's unfortunate that these parents, who are the first role models for their children to register to vote and vote — they don't do it."
In March, Mi Familia Vota partnered with voting rights groups Demos and Project Vote to issue a pre-litigation letter to the state claiming a violation of national Voting Rights Act requirements that an application to obtain or renew a driver's license at the DMV needs also to serve as an application for voter registration. In Nevada, the DMV was using a second form.
Since receiving the pre-litigation letter on March 7, the state has been cooperative in resolving the issue, according to Sida, who does not see it as discrimination.
"I don't think they've purposely tried to disenfranchise Latinos from being able to register and vote," said Sida. "They want to make it accessible, and I think that's the best part of the conversations they're having with Project Vote and Demos and Mi Familia Vota. I think that's where everyone is working hand in hand. 'How do we make it accessible? How do we make it easier? How do we make sure that we are abiding by all the rules and regulations?'"
Victor Diaz, a freshman at Truckee Meadows Community College in Reno, said that registering to vote was easy, not just for him, but for a friend as well. "I actually did it when I was renewing my ID at the DMV. Really quick," said Diaz. "I've been through it when a friend registered online. Just as easy."
There are also people trying to make casting a ballot is just as simple. Donald McLeod, a team leader at one of Clark County's mobile voting trailers, was one of those working to make voting easy during early voting for the Nevada primary in June. Sitting off in the corner of a Target parking lot, the trailer's signage proclaimed the opportunity to "vote early here!" As a woman walked up to the trailer, McLeod greeted her with an enthusiastic smile and a firm handshake.
"Nevada is a unique state in that we've got a lot of transient people."
"How you doing, ma'am? Are you here to vote?"
When she said yes, McLeod pointed her up a ramp into the trailer, promising to give her the "VIP treatment."
"I think that all citizens should give something back to the public," said McLeod. "So it means a lot to me that I can come and work and make this process easy and meaningful for the citizens of Nevada."
During early voting, the trailers change locations every two to three days. On election day, the trailers are kept on standby in case of difficulties at one of the regular polling places in the county.
"I think with early voting, the absentee process, our military and overseas voting application, I think we're really giving a lot of folks a great opportunity to participate," said Thorley, the deputy secretary of state for elections. "Nevada is a unique state in that we've got a lot of transient people. You know, the big cities are 24/7. There's three full shifts that people work, and so it's not always convenient for everybody to just vote on election day during a set time period, and I think a lot of that has been a driving force behind expanding those voting opportunities."
Some of Nevada's legislators have tried unsuccessfully to enact a law requiring voters to show ID to vote. Cegavske, the secretary of state, would not oppose it.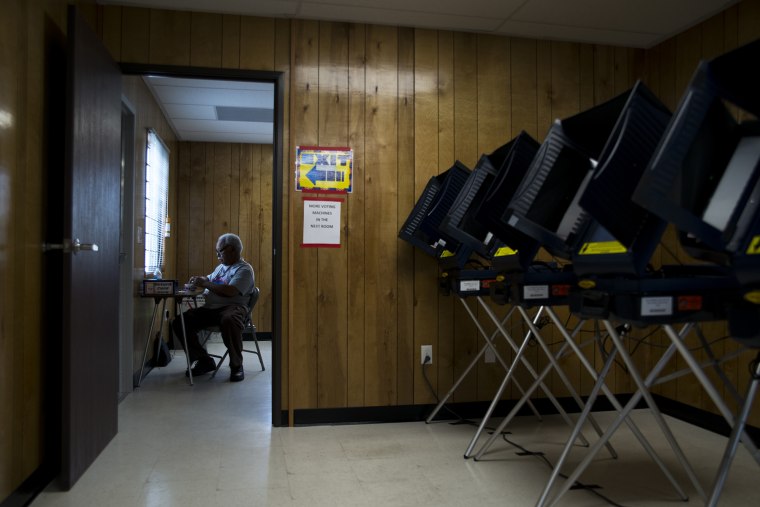 "I don't have any problem with showing my identification at all," said Cegavske. "I don't think that's an issue, to show your identification. When I talk to different groups I have not found a group that has said they thought that it impedes or harms them in any way to show their identification. So I don't have an issue with it personally, but it's up to the Legislature to pass that."
Republican state Sen. James Settelmeyer has sponsored voter ID legislation that failed to pass, he said, because of the state's conservative fiscal policy.
"In the original bill it said that individuals who did not have photo ID could get a free photo ID for purposes of voting," said Settelmeyer, who is the co-majority whip. Finding the money in the budget to pay for those free IDs proved to be a stumbling block for the bill. "Money is always the fundamental factor. If you look at the state of Nevada, almost any bill that has a system load of over $100,000 basically goes into what we refer to as 'the black hole of death,' which is effectively what we call our money committees. ... If you can't find the money for a program, it just goes away."
Gloria, Clark County's registrar of voters, is expecting high turnout for this year's election. He credits this not just to the efforts of his office or of community outreach groups, but also to the nature of the election itself.
"I think every presidential election is a unique election," said Gloria. "Not just because of what the groups in the community do, like [...] Mi Familia Vota, League of Women Voters, any number of groups that do good work here in the county. President just brings people out."
This report is part of the project titled "Voting Wars – Rights | Power | Privilege," produced by the Carnegie-Knight News21 initiative, a national investigative reporting project by top college journalism students across the country and headquartered at the Walter Cronkite School of Journalism and Mass Communication at Arizona State University.