It's a case that has drawn comparisons to George Zimmerman's: A man is on trial for killing an unarmed black teenager in Florida, claiming self-defense. But the case of Michael Dunn, which the jury is now deliberating, is only similar to Zimmerman's on a superficial level, experts say.
"When the details are broken down, there are significant differences, which make this much more of an uphill case for the defense," said Kendall Coffey, former U.S. Attorney and an NBC legal analyst.
After Dunn fired ten shots on an SUV full of teens in November 2012, killing Jordan Davis, 17, he drove back to the hotel he was staying at that night. In the Zimmerman's case, the defendant stayed at the scene.
And in Zimmerman's February 2012 fatal encounter with 17-year-old Trayvon Martin, Zimmerman was the only true eyewitness; in Dunn's, there is numerous other eyewitness testimony. Also unlike Zimmerman, who had injuries from his scuffle with Martin, Dunn's confrontation didn't result in him getting hurt.
In their closing arguments, prosecutors painted Dunn, 47, as overreacting to an argument over loud music and then coldly driving away as if nothing had happened after he killed Davis, of Marietta, Ga.
Defense lawyer Cory Strolla said in his closing arguments that Dunn had a right to act as he did, and argued that the state hadn't disproved his assertion that he acted in self-defense.
"He had every reason to stand his ground," Strolla said.
Dunn has pleaded not guilty to one count of first-degree murder and three counts of attempted murder, claiming he fired at the Dodge Durango out of self-defense. He faces up to life in prison.
Dunn told the court on Tuesday that he thought he saw the barrel of a shotgun pointed at him after he got in a dispute with the teens over the "loud thumping bass" they were playing from their SUV on Nov. 23, 2012, in a convenience store parking lot in Jacksonville.
Dunn and his fiancee, Rhonda Rouer, were visiting Jacksonville for Dunn's son's wedding at the time. He said he and Rouer had stopped at a convenience store after the wedding and parked next to the SUV while Rouer went inside to buy white wine and chips.
"It got really loud," Dunn told the court on Tuesday. "My rear-view mirror was shaking, my eardrums were vibrating. It was ridiculously loud."
He said the teens turned off the music after he asked them to turn down the volume. He said he thanked them, but a short while later, heard someone inside the vehicle yelling "cracker," "white boy," and expletives.
"He had every reason to stand his ground."
The teens then turned up the stereo again, Dunn said. In an effort to "de-escalate" the situation, he asked the boys if they were talking about him, he told the court.
"This defendant was disrespected by a 17-year-old teenager, and he lost it. He wasn't happy with Jordan Davis' attitude. What was his response? 'You're not going to talk to me like that,'" Assistant State Attorney Erin Wolfson said. "He took these actions because it was premeditated. It was not self-defense."
Dunn, a software engineer, alleged that one of the teenagers in the backseat appeared to reach down for an object, which was pressed against the car door. He also said a teenager got out of the SUV, which he perceived as "clear and present danger."
"I said, 'You're not gonna kill me, you son of a bitch,'" Dunn told jurors Tuesday.
Dunn, who has a concealed weapons permit, then got his pistol out of his glove box and fired ten shots at the SUV, according to an affidavit.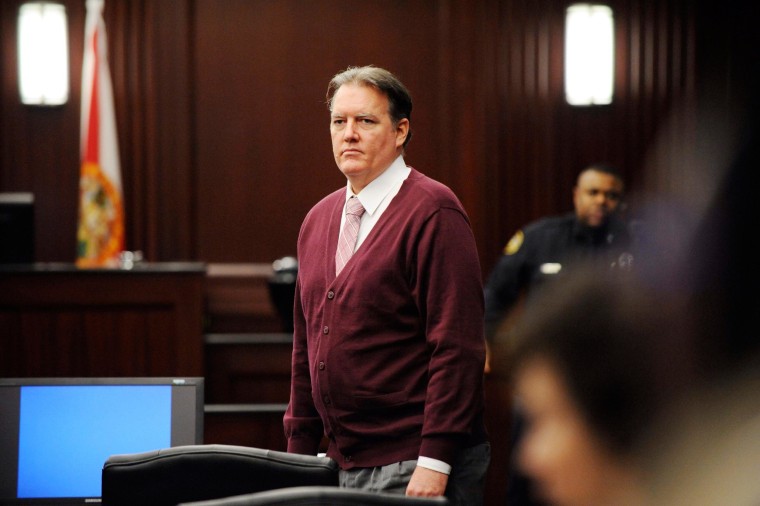 Wolfson pleaded with jurors to find Dunn guilty.
"This defendant does not get to claim self-defense," Wolfson said. "This defendant may have forever silenced Jordan Davis, but he cannot silence the truth. He cannot silence this jury from rendering a fair verdict."
Later Wednesday, Dunn's attorney said Dunn felt threatened and was acting out of fear.
"This defendant does not get to claim self-defense."
"He's had that gun for 20 years and never pulled it once," Strolla said. "He told you that nobody has ever scared him, no one has ever threatened him like that."
Coffey, the NBC legal analyst, said an acquittal in this case would be far more likely to prompt a re-examination of stand-your-ground laws than the acquittal in the Zimmerman case.
"There were many fair-minded observers who thought Zimmerman had a plausible case for reasonable doubt," Coffey said.
"In this case, there is a sense that if someone who's not injured, where no weapons were found, who took off after the shooting — if that defendant can successfully invoke stand-your-ground, then it really suggests the law is becoming a convenience vehicle for shooters anytime someone wants to claim they felt threatened."
Meanwhile on Wednesday, after a few last-minute questions for the judge, the jurors took their break for the night at about 8 p.m., without a verdict.
They will reconvene Thursday morning at 10:00.
NBC News' Dan Shepherd contributed to this report