Though President Barack Obama's administration has moved at a steady clip to transfer detainees from Guantanamo Bay and has hopes of closing the detention facility before leaving office, he will likely fall short of this hotly-debated goal.
The reasons, international law experts say are complicated and include congressional opposition to transferring any detainees to U.S. soil and difficulties in finding a host country for roughly 20 detainees eligible for transfer.
Related: Fifteen Guantanamo Bay Detainees Released to United Arab Emirates
"What it means is that a system of indefinite detention will continue as a blight on our human rights record," said Thomas McDonnell, an international law professor at the Elisabeth Haub School of Law at Pace University and the author of "The United States, International Law and the Struggle against Terrorism."
The White House expressed optimism this week about the plan to close the facility.
Press Secretary Josh Earnest this week reiterated the administration's goal and urged congressional action. Vice President Joe Biden, during a press conference in Sweden on Thursday, said closing Guantanamo Bay remained his "hope and expectation."
The latest round of transfers includes fifteen detainees who will be sent to the United Arab Emirates, the Defense Department confirmed on Monday. That transfer — the largest during Obama's presidency — whittles the detention facility's population to 61.
Thus far, the Obama administration's strategy has consisted of transferring as many detainees as safely possible and exploring prosecution for others, according to a White House official.
But while there are 20 detainees—most from Yemen— currently cleared for release, the U.S. has yet to find a host country willing to accept them. The 2016 National Defense Authorization Act made it illegal to transfer detainees to Yemen due to its instability.
Transferring the detainees who are cleared to leave Guantanamo is extremely time-consuming, defense officials said. The process includes finding a country willing to take the detainee and that will provide the U.S. adequate assurances that the individual will be monitored or kept in detention, depending on the situation.
And while it is possible that the 20 who are eligible for transfer may leave Guantanamo before Obama's term ends, it is not likely the detention center will close before the end of this year, the Pentagon official said.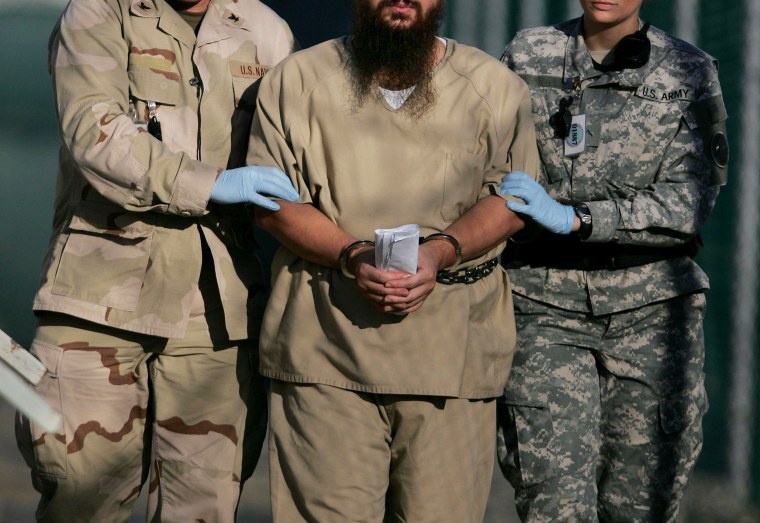 The administration has stressed that even after those measures are taken there will remain an "irreducible minimum" number of prisoners that officials would like to move to a maximum security facility in the U.S.
Defense officials put the number of detainees who will be held indefinitely or sentenced to life in prison at between 30 to 40.
Of those detainees who are likely to be held indefinitely, Khalid Shaikh Mohammed, commonly known as KSM, is the most notorious.
A Pakistani national, KSM was the mastermind behind 9/11. In the late 1990s he met with Osama bin Laden in Tora Bora, Afghanistan, and presented his ideas for hijacking U.S. aircraft and crashing them into American landmarks. These ideas became the foundation for the terrorist attacks on September 11, 2001.
KSM was captured by Pakistan's ISI (their version of the CIA) in March 2003 and turned over to the U.S. soon after, but he did not arrive in Guantanamo until September 2006.
Several years later, then-CIA Director Michael Hayden acknowledged that KSM was among the al-Qaeda prisoners who was waterboarded during detention and questioning at a secret CIA site.
Mohammed was also one of the planners of 1993 World Trade Center bombing and one of the chief operational planners for al-Qaeda. The U.S. military has declared he presents a high risk to the US and allies.
Abd al Rahim al Nashiri is another of the high value detainees who Hayden acknowledged was waterboarded at a secret CIA site. Another of bin Laden's close confidants, al Nashiri planned the 2000 attack on the USS Cole in Yemen and worked closely with the most senior al-Qaeda leaders until his capture in UAE in 2002.
Another of the high-value detainees held at Guantanamo is Ramzi bin al Shibh, who is considered a planner and coordinator of the September 11 attacks.
A Yemeni national, officials say bin al Shibh made numerous attempts to go to flight school and serve as one of the 9-11 hijackers, before bin Laden assigned him to be the coordinator for the attacks, operating out of Germany.
Bin al Shibh was also known to be a close confidant of Osama bin Laden and other senior al-Qaeda operatives.
Moving those prisoners require congressional approval—something that has thus far proved unlikely.
Lawmakers previously passed legislation blocking the transfer of the detainees to U.S. facilities.
When Obama unveiled his long-awaited proposal to close the prison at Guantanamo Bay to Congress earlier this year, Sen. Pat Roberts, R-Kansas, crumbled up the president's plan and threw it into a wastebasket. He also held up the confirmation of Eric Fanning to become secretary of the Army for months as the lawmaker sought assurances from the White House that detainees would not be sent to Ft. Leavenworth, Kansas.
"Congress has made this far more difficult than it needs to be," McDonnell said.
The most recent Director of National Intelligence assessment as of January of this year found that more than 200 of the detainees who have been transferred or released from Guantanamo may have become active in terrorist activities after their release.
According to the report, 17.5 percent of those released were confirmed to have re-engaged in terrorist activities and another 12.7 percent are suspected of re-engaging in such activities. More than 30 of those who re-engaged have since been killed or died.
Some lawmakers have argued the president's plan needed to be "fundamentally reassess[ed]."
"Dangerous jihadists are being released to countries with little intention of controlling them," Republican House Foreign Affairs Committee Chairman Ed Royce said in a statement last month. "How many more innocent people have to die before the administration wakes up?"