JERSEY CITY, N.J. — On Martin Luther King Drive, JC Kosher Supermarket had become the center of a small but growing Hasidic community.
The store, which some residents endearingly referred to as no more than a bodega, was where the Jews who lived in the neighborhood would go if they forgot to pack a lunch or needed some groceries before Shabbat.
It was the only kosher grocery in Greenville, a historically black neighborhood where around 80 families who were members of the Satmar Hasidic sect, priced out of rapidly gentrifying Brooklyn, had moved here in the past few years. If you were religious, JC Kosher was where you went, sometimes more than once a day.
When the store opened, residents no longer had to cross the Hudson River just to buy food — and people really liked the kugel.
But that all changed Tuesday when David Anderson, 47, and Francine Graham, 50, stormed the store with rifles, beginning an hourslong standoff with police that ended in both of their deaths along with three other people in the store.
Authorities believe Anderson and Graham intentionally targeted the store, and say the pair is believed to be responsible for the death of Jersey City Police Detective Joseph Seals, who was killed shortly before they attacked the store. Anderson was a one-time follower of the Black Hebrew Israelite movement, sources told NBC News, and his social media pages pushed anti-Semitic conspiracy theories. The Black Hebrew Israelite movement has been designated a hate group by the Southern Poverty Law Center.
The victims in the store were identified by authorities Wednesday as Mindy Ferencz, 32, who ran the store with her husband; Miguel Douglas, 49, who is believed to have worked at the store; and Moshe Deutsch, 24.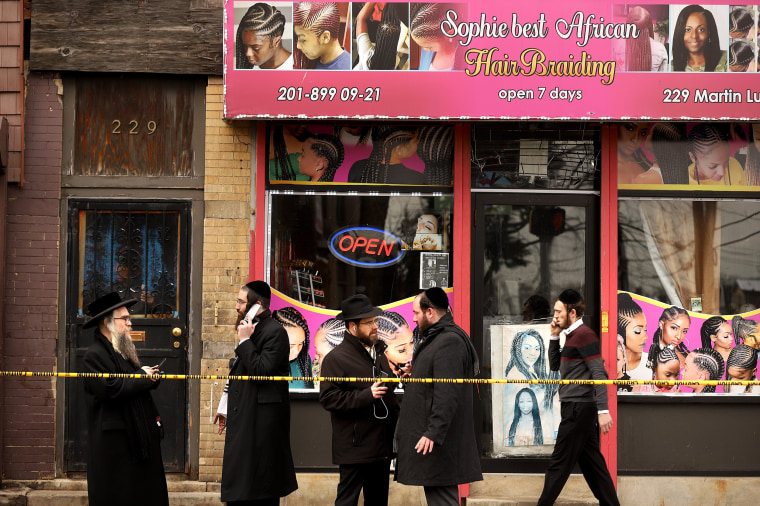 Community members said JC Kosher had become the community's de facto hub, with Ferencz operating at the center. "She was a wonderful woman," said Mark Silberstein, who shopped there frequently, saying Ferencz, a mother of three, would often bring her children to the store when they were done with school.
Lourdes Saldana, who has lived in the neighborhood for 12 years, said even though she isn't Jewish she loved going to JC Kosher, where the food was healthy and she would always buy the challah.
During the shootout Tuesday, Saldana hid in her nearby apartment. "The police told me not to leave," Saldana said. "It was horrible, like a movie."
Residents said the shootout made the street lined with shops feel like a war zone. Next to JC Kosher is a local synagogue, where the community members would go to pray. As police officers tried to stop Anderson and Graham, children were only a building away, with community members who were there praying trying to keep them calm and safe.
"It's such a nice, tightknit community," said Rabbi Shmully Levitin of the Jersey City Chabad, a Hasidic organization, who goes to the nearby synagogue almost every day to pray and would often shop at the JC Kosher.
"It's the only kosher grocery store in Jersey City," Levitin said, "It's devastating that something like this happened to them."
On Wednesday, as authorities worked to piece together Tuesday's events, Greenville Jews gathered around the neighborhood to mourn and pray. Many members of the Hasidic community had scrambled Tuesday in the wake of the shooting, using WhatsApp to check in on loved ones, and communicating with their family throughout New York and the world to let them know they were all right.
Placed in the context of the rising anti-Semitic attacks around the country, of which Hasidic Jews often find themselves the victim, the small community was left frightened.
"Nobody ever imagined this would be the place where any terrorist will come," Silberstein said. "It's the last place anybody would have thought was dangerous. ... Why this small bodega?"
Jersey City Mayor Steven Fulop called the attack a hate crime on Wednesday, saying in a tweet it is clear the Jewish community in his city was targeted based on surveillance evidence.
"We shouldn't parse words," Fulop said. "To stop hate and anti-Semitism, we need to call it out quickly for what it is."
As the community mourned, JC Kosher's facade, which was destroyed in the shootout, was boarded up on Wednesday. But many are hoping that in time, the store will reopen.
"Without a grocery store, there is no community," Silberstein said.