The online harassment and humiliation of "Saturday Night Live" star Leslie Jones has become a national story — with the Department of Homeland Security investigating the hacking of her personal website, and even Democratic presidential candidate Hillary Clinton expressing her support for the actress.
It appears that the invective directed at Jones began as part of a wave of antipathy towards the reboot of the "Ghostbusters" franchise, of which she is a star, but then metastasized into something arguably even more insidious — a sustained misogynist and racist attack on her character and physical appearance.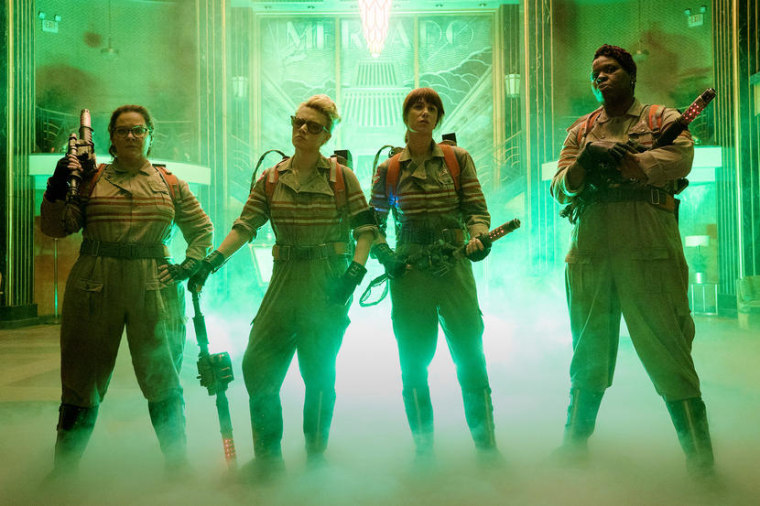 If some of the most prominent architects of the anti-Jones campaign are to be believed, the actress herself is to blame for calling out her haters on social media. But for advocates for victims of cyberbulling, some of whom have been subjected to cruelty online themselves, the attempts to tear down Jones reflect an all-too-common intersection of hatred directed at women who are also people of color called "misogynoir."
"It hurts even more because you can't escape it. They're either attacking you for one identity or they're attacking you for another," said Renee Bracey Sherman, a reproductive rights activist who has co-authored Speak Up & Staying Safe(r), a multi-lingual digital guide on handling online harassment.
Because of her positions on abortion rights, Sherman is used to being a target of hateful messages and even racially insensitive language, but what made the Jones case unique was the fact that she seemed to be targeted simply for wanting to exist in a public space.
It appears that Jones' perceived resilience in the face of initial attacks, the support she received from her peers and the public, as well as the joy she displayed with her popular run of social media posts from the Rio Olympics, only emboldened her haters to go even further.
"They couldn't let [it] stand," lamented Bracey Sherman. "Her happiness upsets them so much."
And while Bracey Sherman is grateful that the Jones story has sparked a national conversation about the emotional and cultural toll that trolling can take, she regrets that it took the abuse of celebrity to have it.
"It's bittersweet," she said. "It hurts me that it has come on the back of a black woman. It is so hard to watch it come at the expense of humanity and her dignity."
One of the biggest challenges that Bracey Sherman and other outspoken anti-cyberbullying advocates face are dismissive comments from people who think that this is all much ado about nothing — and that includes lawmakers (with the notable and outspoken exception of Rep. Katherine Clark) who have often been unmoved by calls for legislation to crackdown on hate speech online.
Part of the problem is that the people in power are far too often not part of a constituency that is routinely being bullied and threatened — people of color, women and members of the LGBT community — and therefore they are more susceptible to flawed arguments that regulating social media could be a slippery slope.
Related: Celebs Stand With Leslie Jones After Hackers Publish Nude Photos
"It should not feel like a violation of your rights not to be able to call someone a C-word or an N-word online. You should not be able to threaten people because you're moved to in the morning," said Bracey Sherman. But she, like many activists, can feel disheartened by the pervasive ennui of public officials.
"They don't see it as a problem, they look at it as this 'boys will boys' kind of thing," said Bracey Sherman. "How is it that I am going to ask a politician that has endorsed Trump to call out this kind of behavior?"
"It needs to end. I just don't know when it will," she added.
Dr. Sameer Hinduja, the co-director of the Cyberbullying Research Center and a professor of Criminology and Criminal Justice at Florida Atlantic University, has spent years studying the bullying phenomenon, especially among the younger population, and he has drawn the conclusion that our culture may not be able to legislate its way out of this problem.
"Laws and sanctions, whether they are in a school for kids and a society for adults, are not going to deter someone from being a jerk," he told NBC News. "We just have to take a step back and hear the voice of targets."
Hinduja has spent a lot of time talking with young people, and he's drawn the conclusion that the prevalence of online bullying can sometimes be overstated and that the nature of this kind of cruelty more often than not emanates from deep-seated insecurity and self esteem issues.
Still, he knows firsthand how uniquely painful race-based attacks can be — as a person of color he was bullied in his youth because of his background — and when he works with schools, parents and children he wants them to feel empowered and equipped to gauge when something can be resolved through one-on-one communication, and when something crosses the line into hate crime territory.
Related: Leslie Jones Launches #LOVE4GABBYUSA to Show Support
According to Hinduja, social media sites could be more proactive in putting in place security measures and content controls based on reasonable standards of decorum to protect their users. If not, they run the risk of seeing their business suffer.
He also believes the public needs to do some soul searching as well. Celebrities can't be the only ones to drive the situation. Hinduja points out that the hacking of a bevvy of female celebrities last year (which briefly flooded the Internet with private personal photos of stars like Kate Upton and Jennifer Lawrence) also led to an outcry, but little longterm action.
"What happened to Leslie Jones seems to have promoted the CEO of Twitter and others to make some changes and that's positive," he said. "I hope this leads to a sea change."
There are several organizations, spearheaded by women, that are taking matters into their own hands and putting users and gatekeepers on notice, while offering encouragement to those who are being ostracized.
One of those initiatives — HeartMob — which was founded in January, is a first-of-its-kind platform to address online harassment that provides real-time support and guidance for anyone who is being attacked.
Debjani Roy, the deputy director of Hollaback, a nonprofit committed to ending harassment in public places and the organization behind Heartmob, told NBC News: "Let's be clear, this is not about hurt feelings, it is a full on assault and pile on of hate and threats to people's lives."
"More often than not the targets are successful women of color because these harassers and abusers don't believe in our full and equal humanity," she added. "This is a deeper problem, and the various expressions of it online are repugnant. These people who are doing this are not trolls, they're harassers, abusers and in the case of rape and death threats, criminals."