A major winter storm dumped several feet of snow on parts of the Northeast, knocking out power at one point to more than 250,000 customers, with more snow on the way Wednesday, forecasters said.
No deaths have been reported in the nor'easter that has been hitting New England and other states.
Many in New England woke up to neighborhoods blanketed in white Wednesday morning with 3 feet of snow recorded in Moriah, Stony Creek and Palenville, New York, as well as in Marlboro, Vermont, and Colrain, Massachusetts.  
The nor'easter is expected to move away Wednesday but morning snow showers will linger across parts of the Northeast and New England. Gusty winds of 30 to 40 mph are forecast to last through Wednesday afternoon.
Strong winds have ripped across the Northeast in the storm with top winds of 71 mph recorded in Frenchboro, Maine, followed by 62 mph winds in Atlantic City, New Jersey. 
"This isn't over," Vermont Gov. Phil Scott said Tuesday. "We have some concerns about what the high winds are going to bring and more snow to other parts of the state. A lot of power outages in the southern part."
More than 20 inches of snow was recorded in Rutland County, Vermont, by 10 p.m. Tuesday, according to the National Weather Service.
The agency had warned Tuesday afternoon that 6 to 12 more inches of snow was possible into Wednesday. Forecasters in Boston said another 1 to 3 inches was possible overnight into Wednesday.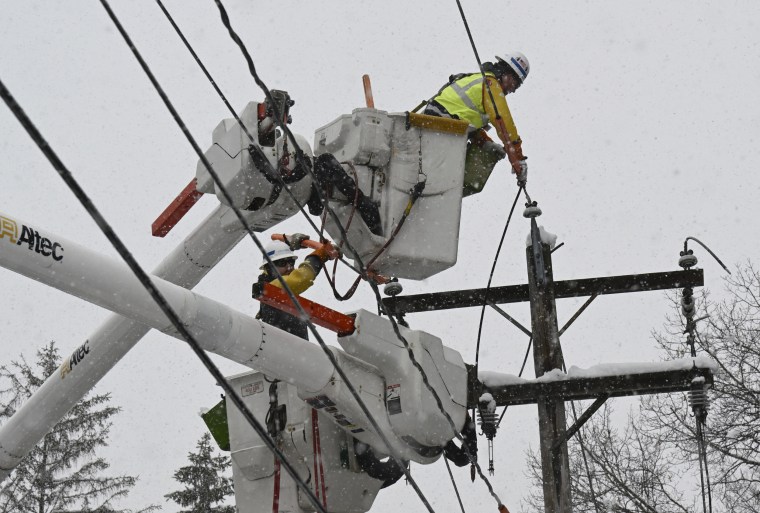 Nearly 200,000 customers were still without power in New York, Massachusetts, Vermont, New Hampshire and Maine as of early Wednesday, according to the tracking website PowerOutage.us. The utility National Grid said heavy, wet snow and winds caused widespread damage to its systems.
More than 700 flights to or out of LaGuardia Airport in New York, Newark Liberty International Airport in New Jersey and Logan International Airport in Boston were canceled Tuesday, according to the flight-tracking website FlightAware.
By early Wednesday, just a few dozen flights were listed as canceled for those airports, with a total of just over 165 flights within, to and out of the United States canceled. More than 440 flights were delayed, according to FlightAware.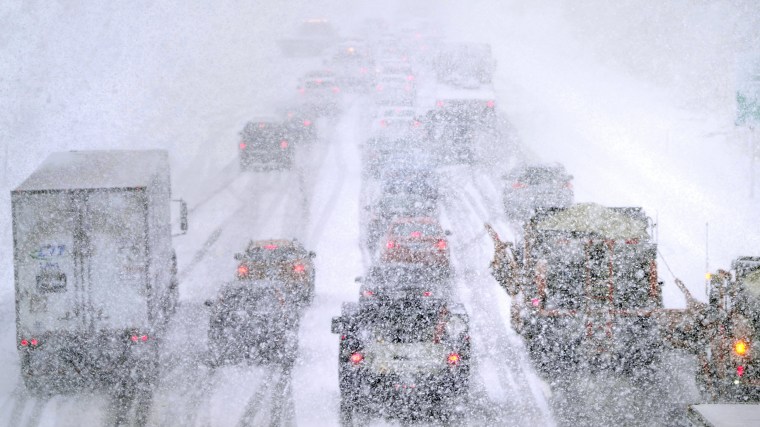 In Derry, New Hampshire, where around a foot of snow fell, a child was trapped by a falling tree, the fire department said. Firefighters and police officers used chain saws and their bare hands to free the child, who was taken to a hospital and had minor injuries, the department said.
"Please stay off the roads if possible," New Hampshire State Police tweeted Tuesday, warning of whiteout conditions. There were more than 120 crashes and vehicles off the road from 5 a.m. to noon, it said.
Meanwhile, in California, more than 189,000 homes and businesses were without power early Wednesday local time as an "atmospheric river" continued to affect the state, according to PowerOutage.us and the weather service.
More than 800,000 people in the western U.S. were under flood warnings late Tuesday, the weather service said.
The rain had mainly ended in San Francisco, but forecasters there had warned of high winds.
At San Francisco International Airport, where wind gusts of up to 77 mph were reported, strong winds forced a ground stop, which was lifted later. The mountains just outside the Bay Area saw wind gusts of up to 88 mph. 
A windowpane was blown off a San Francisco high-rise building, which caused the fire department to tell people to shelter in place because of falling glass, according to the agency and NBC Bay Area. No injuries were reported.
"The wind was blowing extremely hard. It was tough to even walk, and you really had to kind of lean into it," San Francisco resident Andrew Bowers told the station. "And then benches started tipping over, and I just heard a loud boom."
Bowers said that people ran when the glass shattered on the street and that they took cover beneath an overhang of a building.
In Monterey County, crews worked to finish filling the width of a 400-foot breach in a levee by the Pajaro River, which opened during heavy rains late Friday and flooded the town of Pajaro, officials said.
That will slightly reduce the flow out of the river, but work to build up the wall to levee height is expected to take one to two weeks, Monterey County said. A second breach that opened near the river mouth was letting water flow to the ocean and lowering flood levels, it said.
A mudslide caused major damage to a home in Colfax, in Placer County, northeast of Sacramento, said the California Department of Forestry and Fire Protection, known as Cal Fire. There were no injuries and everyone was accounted for, it said.
Part of Oceano, a community of around 7,000 in San Luis Obispo County, was under an evacuation order Tuesday evening, the county said. The area was south of the Arroyo Grande Creek levee and near the Oceano Lagoon, it said. Residents in other areas were warned to be ready to leave.
The atmospheric river is weakening Wednesday as it moves across southern California, but flood watches remain for 25 million people, many of which are anticipated to be dropped over the course of the day.
Some heavy rain will move across San Diego through midmorning and into Arizona, with local flooding expected.
This storm is forecast to move east later this week with the threat for severe storms Thursday in the southern Plains and the lower Mississippi River Valley, with some locally heavy snow impacting the Upper Midwest on Thursday and Friday.
As many as 21 million people will be under risk for severe storms Thursday in parts of Oklahoma, Texas, Arkansas and Louisiana with the main risks being very large hail — larger than the size of a golf ball, damaging winds and a few tornadoes. The threat is forecast to shift east Friday to include 4 million people along the Gulf Coast.