Eighty-year-old Rita Lucey has been a military wife, a foster parent and a great-grandmother. But one title she coveted was off-limits because she's a woman: Roman Catholic priest.
That, the Florida golden-ager says, all changed Saturday when she was ordained by a renegade group in a ceremony steeped in church ritual but wholly rejected by the Vatican.
With her family watching, Lucey joined a small but growing group of convention-busting women who have branded themselves priests despite the threat of excommunication.
"It's such an injustice within the Catholic Church that women are not treated equally," Lucey told NBC News.
The ceremony in a borrowed Unity church had many hallmarks of a regular Catholic ordination: Lucey wore white robes and received a red stole. A female bishop laid hands on her, and she prostrated herself in the aisle. Afterward, she gave out Communion.
To the Catholic Church, the entire rite is bogus because canon law says only men can be priests. Even liberal Pope Francis has ruled out the prospect of women priests.
That hasn't stopped Lucey and 200 other women worldwide — 160 of them in the United States — who have undergone unsanctioned ordinations since an excommunicated Argentinian father bestowed the priesthood on seven women on the Danube in 2002.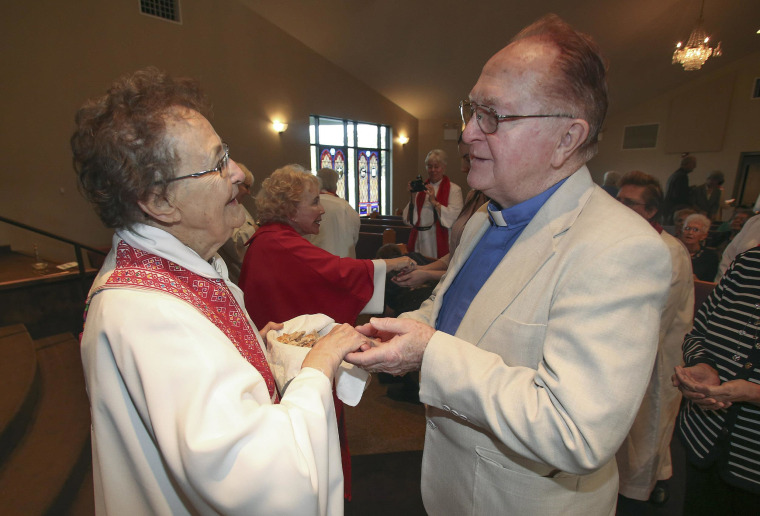 "It's the Rosa Parks movement of the Catholic Church," said Bridget Mary Meehan of the Association of Roman Catholic Women Priests. "The Vatican cannot continue to discriminate against women and blame God for it."
Meehan, an excommunicated nun who was made a bishop by the movement in 2009, said the priests come from all walks of life: "We have a lot of grandmothers, we have some women who are lesbians...we are starting to attract some younger women."
The group even includes what Meehan calls "catacomb nuns" — anonymous sisters from orders overseen by the Vatican who are worried they would be forced out if their names were made public.
They celebrate Mass in spaces rented from friendly non-Catholic churches and administer sacraments. "I've confirmed children," Meehan said. "We anoint the sick. We do gay marriages."
None of that is sanctioned by Rome, though the U.S. women priests insist they are bona fide because a clergyman in good standing — referred to only as Bishop X — ordained the first female bishop.
The church hierarchy gets hot under the collar over these activities. Last week, the Kansas City bishop sent a certified excommunication letter to 67-year-old Georgia Walker, days after her ordination.
George Weigel, the author of "Evangelical Catholicism," likened the movement to "Republicans for Socialism," and questioned why the women think being a priest is the most important role.
"That's clericalism of a very old-fashioned sort," he said.
The church maintains that only men can be ordained because priests act "in the person of Christ," who was a man and had only male apostles.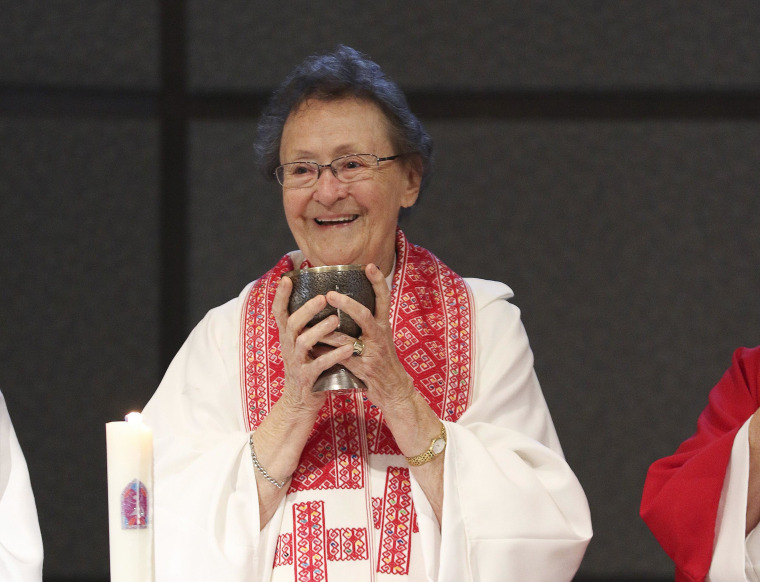 In the pews, however, there is widespread support for the idea of women priests. A Pew Research poll in March found 68 percent of American Catholics think the gender barrier should be demolished.
"The joke among priests my age is we're in favor of the ordination of women as long as they take the 6 a.m. Mass," said Father Tom Reese, a senior analyst for the National Catholic Reporter, who took his vows in 1974.
Reese, who is progressive, said he thinks the Vatican should open the priesthood to women, but even he is conflicted about the rebel ordinations.
"A couple of individuals can't make the rules up for themselves," he said.
"Some people who support the ordination of women feel we should not do these ordinations because it's divisive and these things take time and you move with consensus," Reese added. "On the other hand, this is sometimes the way change happens."
While Pope Francis has shown himself to be a big-tent Catholic, making overtures to gays, divorced Catholics and even atheists, he hasn't warmed to the idea of female fathers.
"The door is closed," he said four months after ascending to the throne of St. Peter.
The women priests think that door isn't locked, though.
"Like Obama, he has to move slowly in making some of these radical decisions, but I think if he lives long enough he will be making some of these changes," said Lucey, a longtime social-justice activist. "Jesus broke many of the taboos of his time."
Meehan, who says between 30 and 100 people attend her services in Sarasota, isn't sure she will see female priesthood recognized in her lifetime.
"We may be long gone, but at least we were pioneers," she said. "These gutsy women are laying it down for equality.
"I call it a holy shakeup," she added. "We are not second class. What's second class about our souls?"