The wife of the notorious Mexican drug trafficker Joaquin "El Chapo" Guzmán Loera was arrested Monday at a D.C.-area airport on drug trafficking charges, federal authorities said.
Emma Coronel Aispuro, 31, was taken into custody at Virginia's Dulles International Airport near Washington and faces charges of conspiracy to distribute cocaine, methamphetamine, heroin and marijuana for importation into the U.S., the Justice Department said in a news release.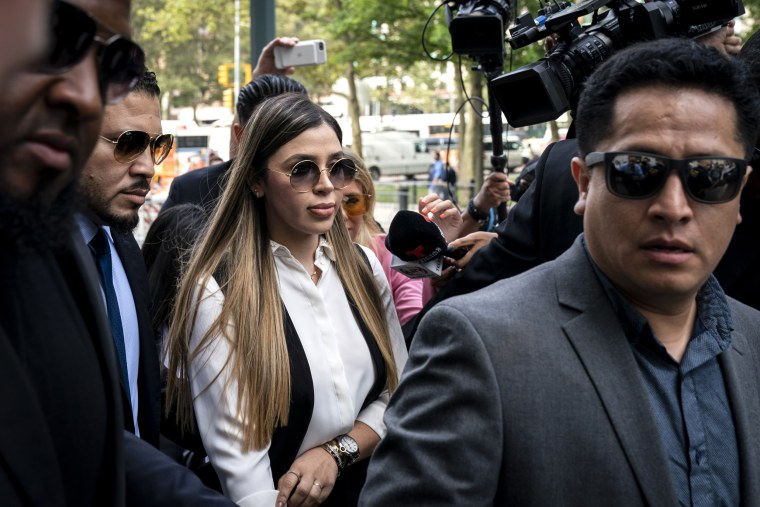 Coronel Aispuro, a dual U.S.-Mexican citizen, allegedly helped Guzmán escape from a maximum security prison in Mexico in 2015. After he was caught, she allegedly plotted another escape from the same facility two years later, authorities said.
Guzmán was convicted in 2019 on 10 charges of engaging in a continual criminal enterprise and multiple counts of distributing tons of cocaine into the United States. He was sentenced to life in prison plus 30 years.
In federal court documents unsealed Monday, authorities said Coronel Aispuro's father was a member of the Sinaloa Cartel, the drug trafficking organization that Guzmán led for nearly three decades before he was extradited to the United States in 2017.
The couple met in 2007 and were married while she was still a teenager, the documents say.
Coronel Aispuro was allegedly "aware" of the Sinaloa Cartel's massive shipments of cocaine, heroin and other drugs, and "understood the drug proceeds she controlled" were "derived from these shipments," the document say.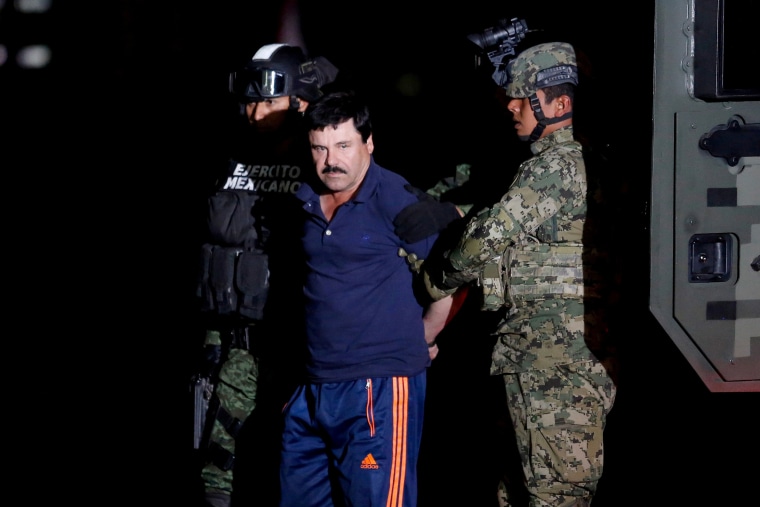 The documents cite more than 100 current and former members of the Sinaloa cartel as sources, as well as intercepted wire and electronic communications.
Coronel Aispuro also allegedly relayed messages related to the cartel for Guzmán while he was behind bars in Mexico, according to the documents, which accuse her of acting as a "go-between and messenger" for her husband and cartel associates and lieutenants.
Download the NBC News app for breaking news and politics
Citing a former high-ranking cartel member who became a cooperating witness, an FBI agent alleged in the documents that Coronel Aispuro helped organize the construction of a 1,600-yard tunnel beneath the maximum security prison, Altiplano. The tunnel included ventilation ducts, stairs and a motorbike on rails.
The former cartel member also participated in the plot, which was executed successfully on July 11, 2015, the documents say.
After Guzmán was caught six months later and sent back to Altiplano, Coronel Aispuro allegedly paid the former cartel member roughly $1 million to help execute another escape.
When Guzmán was moved to another prison, Coronel Aispuro allegedly told the cartel member that $2 million in bribes had been paid to a top Mexican prison official to get him transferred back to Altiplano.
A lawyer for Coronel Aispuro , Jeffrey Lichtman, confirmed that he is representing her but declined to comment on the charges.