A large crowd turned out in Fox Lake, Illinois, Wednesday to honor the life of a police officer who was killed after chasing three suspects the day before — as the manhunt for the men who gunned him down continued.
Lt. Charles Joseph Gliniewicz, 52, a 30-year veteran, was found dead in a marshy area of Fox Lake at 8:09 a.m. Tuesday. Gliniewicz reported he spotted three suspicious individuals at 7:52 a.m.
"Joe was my best friend, my world, my hero, the love of my life for the last 26 and a half years," his widow, Mel Gliniewicz, said through tears at a vigil Wednesday, standing on a stage surrounded by their four sons. "He was my rock as much as I was his rock. Every night, he came home to me."
"He was the most wonderful, caring and loving father to our boys," she said. "My world got a little smaller with his passing, and he will truly be missed by all of us. Thank you, everybody."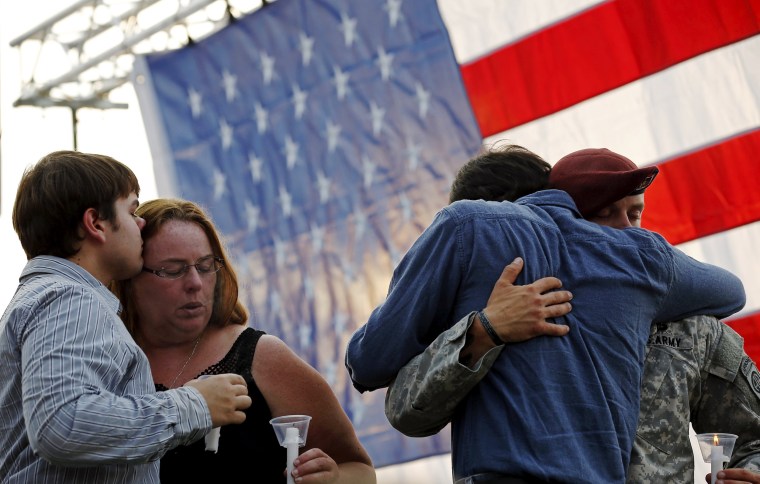 Hundreds of people, some wearing police and fire uniforms, others holding American flags, turned out in the vacation town of Fox Lake, located about 60 miles northwest of Chicago, to honor the slain officer.
Meanwhile, the manhunt for three suspects wanted in his death continued.
And in his last police radio transmissions revealed Wednesday and confirmed by NBC Chicago, Gliniewicz says, "I'm going to be out checking the old concrete plant checking on two male whites, a male black." And he says later, "they took off toward the swamp."
Asked whether he needed a second unit, Gliniewicz responds, "Go ahead and start somebody."
Authorities said the call for backup was made at 7:55 a.m. and it arrived at 8:01 a.m. He was discovered with a gunshot wound eight minutes later.
Around 400 law enforcement officers from several departments, as well as the FBI and ATF, scoured a two square mile area after Gliniewicz was found dead.
The intense grid search of that area ended Tuesday night, but the search continued in and around Fox Lake Wednesday. Officials said the manhunt would continue for as long as it takes.
"I have a murdered colleague — a police officer — and we're not going to stop," George Filenko, chief of the Lake County Major Crimes Task Force, said Wednesday.
Filenko appealed to the public to report anything suspicious. "All it takes is one tip or one good lead, to break a case wide open," he said. Authorities had received hundreds of leads off social media by Wednesday, and were searching for surveillance video and conducting a door-to-door canvass.
At the vigil in Fox Lake Wednesday evening, those who knew Gliniewicz, known around the village of around 10,000 people as "G.I. Joe" because of his military service, said he was a dedicated family man who gave back to the community.
Retired Fox Lake Police chief Mike Behan served with Gliniewicz for 30 years. Behan said they'd written poems for two former chiefs who died, and Gliniewicz and Behan promised each other to compose a poem to be read if the other passed away.
"A fallen hero, my friend in blue, strong and brave, his heart ever true," Behan's poem began. It went to say," a soldier and a policeman, he knew what it could cost. Tonight, a piece of America we have lost."
The day before he was killed, Gliniewicz spoke with Fox Lake Mayor Donny Schmit about his upcoming retirement, and wanted to make sure the Explorer program would continue after he left the police department, Schmit said.
"He helped out so many young men and young women reach their goals and become better human beings," Schmit said. "That's what Joe was all about."