WikiLeaks founder Julian Assange told NBC News on Monday that "there is no proof whatsoever" that his organization got almost 20,000 hacked Democratic National Committee emails from Russian intelligence —adding it's what's in the emails that's important, not who hacked them.
In a Skype interview with Richard Engel for "NBC Nightly News," Assange rejected that it hadn't even been proven that it was WikiLeaks that published some email messages that have been analyzed in outlets like The New York Times.
Information in some DNC email messages led to the ouster of DNC Chairwoman Debbie Wasserman Schultz.
Related: Trump: Claim That Russia Hacked DNC to Help Him Is a 'Joke'
Three cybersecurity experts have told NBC News that the DNC's servers were hacked by Russian intelligence. But Assange said Monday that DNC servers have been riddled with security holes for years and that many sets of documents from multiple sources are now in public hands.
"The emails that we have released are different sets of documents to the documents of those [that] people have analyzed," he said.
"I have seen Hillary Clinton apologists talk — or some experts talk — about other material, and not the material that we have released," Assange said.
Related: DNC to Sanders: 'We're Sorry'
In any event, the provenance of the documents is irrelevant, Assange contended. What commentators should be focusing on is what the documents say about Clinton, Bernie Sanders and the Democratic Party.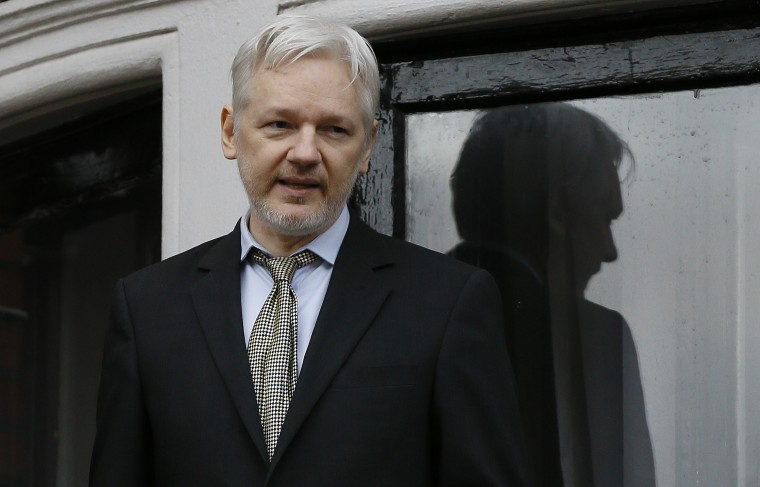 "The real story is what these emails contain, and they show collusion at the very top of the Democratic Party" to derail Sanders' campaign, he said.
Related: Top DNC Official Apologizes for 'Insensitive' Email After Leak
"Would Hillary Clinton have won anyway?" Assange asked. "Maybe, maybe not. I think that it's completely up in the air now, and so the result of the nomination process has no political legitimacy."
Assange remains in exile in the Ecuadorian Embassy in London to avoid prosecution on sexual assault charges in Sweden. He denies the charges.