LOS ANGELES — A wind-whipped wildfire in the San Fernando Valley grew to nearly 5,000 acres overnight, damaging dozens of homes and prompting swift evacuations for more than 100,000 people.
Nearly 13,000 homes near the San Fernando Valley were under mandatory evacuation orders due to the so-called Saddleridge Brush Fire, which had ballooned from 60 acres to 4,700 in about 11 hours, officials said Friday. The fire was 0 percent contained at about 8 a.m.
Low humidity and high winds were fueling the fire, which was moving at about 800 acres an hour, Los Angeles Fire Department Fire Chief Ralph Terrazas said during a Friday morning news briefing.
The affluent neighborhood of Porter Ranch was under mandatory evacuation orders, as were Granada Hills and Sylmar. People in areas in the projected path of the fire were told to be ready to leave their homes at a moment's notice.
Download the NBC News app for breaking news
"Do not wait to leave. If we ask you to evacuate, please evacuate," Terrazas urged residents.
He said one man died Thursday night from cardiac arrest as the fire burned. One firefighter trying to quell the flames suffered an eye injury.
About 1,000 firefighters were on scene, and officials expected they would be fighting the blaze for days to come. Investigators have determined that 25 homes have been damaged, but Terrazas said further damage assessment would take place throughout Friday.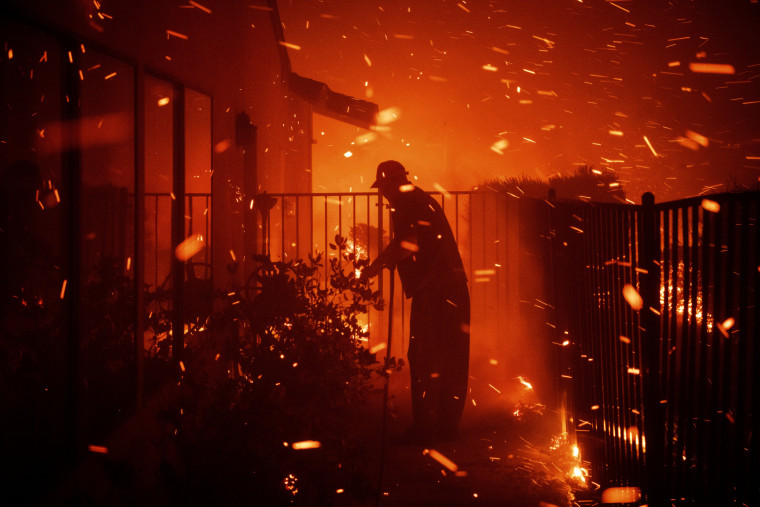 Parts of major highways were shut down and more than three dozen schools were closed Friday. California State University Northridge, which has about 30,000 undergraduate students, announced that the campus would be closed Friday due to the fire.
In an earlier blaze that tore through a mobile home park Thursday, 74 structures were destroyed and 16 others were damaged in Calimesa in Riverside County, about 70 miles east of Los Angeles, officials said. Cal Fire spokeswoman Cathey Mattingly told The Associated Press that one person died in that fire, and other people were injured.
Hours later, the fire in Los Angeles started in Sylmar in the San Fernando Valley north of downtown.
Christie Lugo Leigh, a resident who evacuated, told KTLA in a phone interview that "the glow that surrounded us was so bright orange, it looked like it was in our back yard." Leigh said she got her daughter and dog and not much else and fled.
Nearly 300 children living at a juvenile hall were among those evacuated, NBC Los Angeles reported.
Thursday's fires came as so-called Santa Ana winds, which blow down from mountains in the northern part of the state into the south, began gusting strongly Thursday afternoon. Maximum winds of 46 mph were recorded in Sylmar on Thursday night, the National Weather Service said.
Power companies on Thursday began expanding fire-prevention blackouts to the southern part of the state, but neither of the blazes were said to have been caused by power lines. The fire in Calimesa was caused by a trash truck that dumped a load of burning trash that spread into vegetation, officials said.
In Ventura County, the so-called Wendy Fire burned 90 acres near Newbury Park but was moving away from homes, and there were no injuries and no structures lost, according to the Ventura County Fire Department. It was 25 percent contained.
Power utilities had already instituted rolling power blackouts for about 2 million people in Northern California to prevent faulty power lines from sparking wildfires amid strong winds and low humidity.
Forecasters had predicted strong winds in the north would create Santa Ana conditions in the south on Wednesday and Thursday. Southern California Edison said Thursday night that it had begun shutting off power to about 45,000 people across its service area.
SCE said that it hadn't cut off power to Calimesa but that parts of the community were in an area where such blackouts might be necessary this week.
In Northern California, Pacific Gas & Electric said Thursday night that power had been restored to more than half of the 738,000 customers impacted by the "public safety power shutoff."
An account can be a single-family home or a large business, and generally represents about 2½ people. Under that estimation, the 312,000 customers PG&E said remained without power represents around 780,000 people.
PG&E has said it could be several days before all power is restored because all 24,700 miles of distribution lines and 2,443 miles of transmission line must be visually inspected before it can turn the power back on — a process that can't get widely underway until the threatening fire conditions have passed.
Many Californians, including Gov. Gavin Newsom, have harshly criticized PG&E for the blackouts.
"They're in bankruptcy because of their terrible management going back decades," Newsom said Wednesday. "They created these conditions."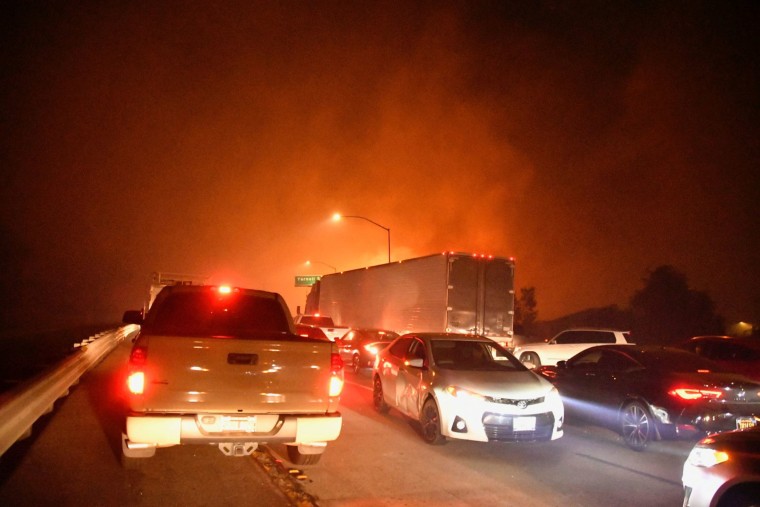 PG&E's energy unit declared the largest utility bankruptcy in U.S. history in January as it faced massive liabilities from its role in several highly destructive fires that burned hundreds of thousands of acres of Northern California in 2017 and 2018. One of them, the Camp Fire, killed 86 people in Butte County.
The governor doubled down on Thursday, calling the blackouts "unacceptable" at a news conference at the state emergency operations center in Mather.
"If they had de-energized this time last year and a year ago, a lot of people would be alive," he said. "A lot of people's lives were lost because they did not do the right thing."
PG&E told NBC News this week that because the blackouts are a planned safety measure, customers wouldn't be reimbursed for lost business, housing alternatives or spoiled food and medicines. Newsom said that he thought customers should be compensated and that he was in discussions with the company.
At PG&E's daily update on Thursday evening, Chief Executive William Johnson declined to comment on Newsom's remark, but he apologized for what he called the company's failure to keep its customers in the loop.
Acknowledging that PG&E's website had crashed for more than a day, that its phone lines were frequently jammed and that some blackout maps might have been inaccurate, Johnson said, "To put it simply, we were not adequately prepared to support the situational event."
At the same time, he warned that because the goal was "zero spark," similar blackouts are likely in the future under similar weather conditions. When they do, he said, "we've got to get more surgical."
Alex Johnson and Phil Helsel reported from Los Angeles and Elisha Fieldstadt from New York.