A wildfire that led to the closure of Yosemite National Park's Mariposa Grove in California, home to over 500 towering sequoias, prompted hundreds to evacuate from the nearby community of Wawona on Friday, a park spokesman said.
Roughly 500 people were fleeing a community known for its historic hotel, campground and dozens of privately owned cabins and homes after embers from the Washburn Fire landed nearby, Yosemite National Park spokesman Scott Gediman said.
The blaze had grown from roughly 46 acres on Thursday to 466 acres by Friday afternoon, Yosemite Fire and Aviation said.
None of the grove's massive sequoias — one of which is an estimated 2,700 years old — have burned and no injuries or deaths have been reported, Gediman said. The cause of the fire remains under investigation.
The hot, dry weather in the area was expected to continue with temperatures getting even higher in the coming days, he said.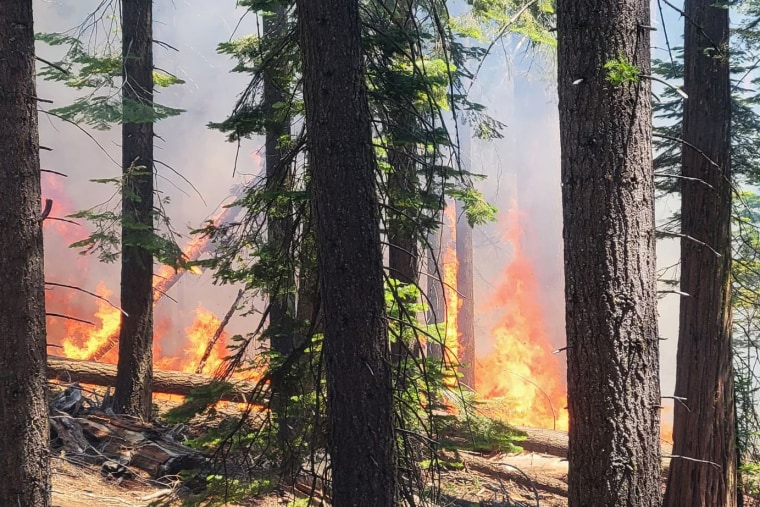 Park officials said that Mariposa, a popular destination and the largest of the park's three groves, is home to "over 500 mature giant sequoias," which can exceed 200 feet in height. 
President Abraham Lincoln signed legislation in 1864 protecting Mariposa Grove as a site for "public use, resort and recreation," according to the park's website.
California has been ravaged by wildfire seasons that last year burned more than 2.5 million acres in over 8,800 incidents and killed three people, according to Cal Fire's 2021 data. 
Experts have attributed the state's increasingly combustible wildfires to climate change and decades of forest management practices that turned the state into a tinderbox.
Other blazes are currently raging in the state. The Electra Fire, in Amador and Calaveras counties, has scorched 4,428 acres and was 60% contained as of Thursday. The Rices Fire, in Nevada County, spans 904 acres and was 98% contained as of Thursday, according to Cal Fire's incident tracker.