The pilot of an air tanker was killed Tuesday when the plane crashed near a part of Colorado where crews have been battling a wildfire, officials said.
The single-engine plane was reported to have crashed around 6:30 p.m. Searchers found the crash site at 9:50 p.m. near Hermit Park, close to the town of Estes Park, the Larimer County Sheriff's Office said.
The pilot, who was the sole occupant, did not survive and was not immediately identified. The sheriff's office did not say to whom the plane belonged.
The crash site was not far from the Kruger Rock Fire that broke out Tuesday, and appeared to be in an area that is under a mandatory evacuation order because of the fire.
Officials have not said if the plane was fighting the fire when it crashed.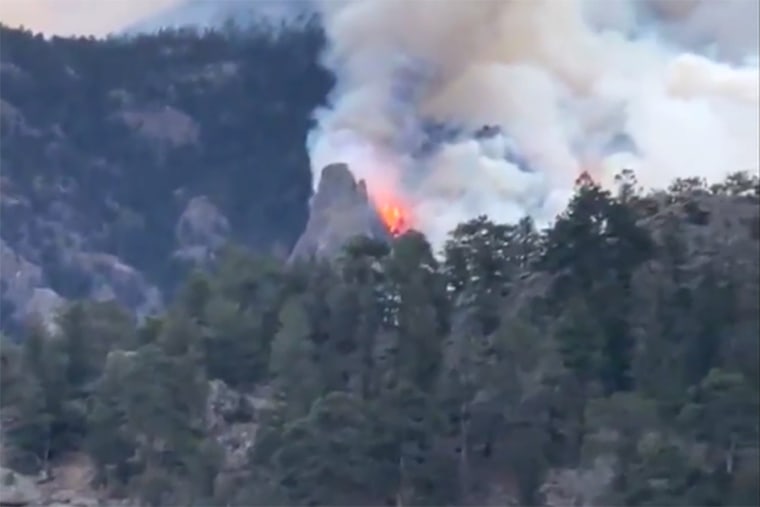 The Kruger Rock Fire broke out Tuesday morning southeast of Estes Park, the sheriff's office said. The town of around 6,000 residents is approximately 50 miles northwest of Denver.
The fire was fueled by gusting winds and steep terrain, which helped it quickly spread, the sheriff's office said.
By Tuesday evening, the wildfire had grown to 133 acres and was 15 percent contained. No structures have been reported damaged, but the fire prompted evacuation orders.
A section of nearby Rocky Mountain National Park was closed out of an abundance of caution, the park service said. Sections of the Roosevelt National Forest were also closed, the U.S Forest Service said.
The Kruger Fire was started by high winds that blew a tree onto a power line, causing it to arc, the sheriff's office said.
The late-season fire comes amid warmer-than-normal temperatures and drought conditions in much of Colorado and the West.
There was also an elevated risk of wildfires as forecasters predicted high winds would hit a large swath of the state Tuesday, including the area along Interstate 25, where most of Colorado's population is concentrated.
Winds near the fire were gusting at 25 to 30 mph with low humidity, according to the National Weather Service.