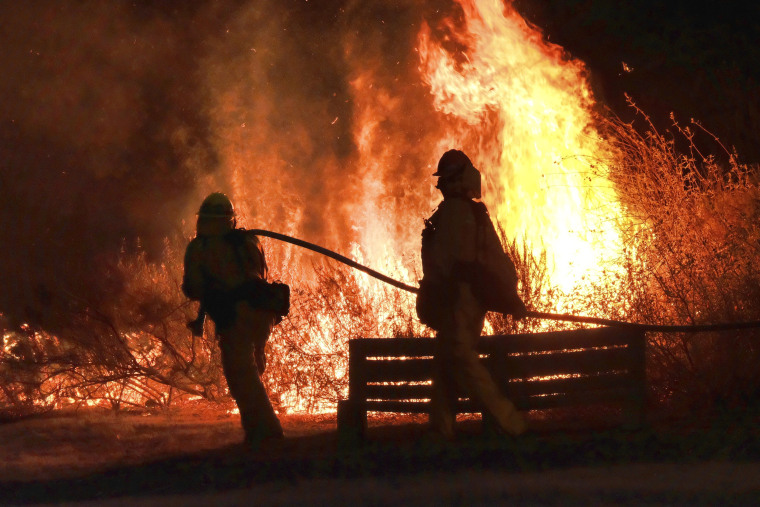 Brush fires fed by a heat wave and tinder-dry conditions tore through the suburban hills north of Los Angeles on Saturday night, chasing hundreds of residents from their homes.
Fire crews fought at least two blazes separated by only a few miles in West Hills and Calabasas, two wealthy suburbs above the San Fernando Valley.
The West Hills fire was tamed by early evening, but the Calabasas blaze — dubbed the Old Fire — had grown to 516 acres with 15 percent containment just before midnight local time.
That led to mandatory evacuations of 3,000 homes, according to fire officials. Three water-dropping helicopters worked to put out the fires, KNBC reported, and a Los Angeles County Fire department spokesman told the Los Angeles Times more than 500 firefighters were involved in containment.
"This is a fast-moving, dangerous fire," Los Angeles County Fire Chief Dennis Cross told KNBC. "It's hard for people to see where this fire is because of the dense canopy and the canyons."
The Los Angeles County Fire Department reported that one firefighter suffered a minor injury while battling the blaze, according to NBC Los Angeles.
The fire is believed to have sparked after a truck struck a utility pole, downing power lines.
Temperatures crept into the upper 90s on Saturday in the area, a third consecutive day of high heat that forecasters expected to break Sunday.
Calabasas is a city of about 24,000 residents in the hills west of the San Fernando Valley and northwest of downtown Los Angeles.
The city is home to several affluent gated communities and numerous celebrities. The Los Angeles Times reported that singer Justin Bieber sold a Calabasas home to reality TV personality Khloe Kardashian for $7.2 million in 2014.