Shifting winds gave firefighters battling Northern California's Ponderosa Fire a break, but thousands of homes remain threatened by the wildfire sparked this weekend by lightning strikes. The fire reached the edge of three small towns.
Nearly 1,900 firefighters are attempting to gain control of the blaze about 170 miles north of Sacramento. At least 3,500 homes are at risk in the towns of Manton, Shingletown and Viola, Calif., The Associated Press reported.
"These are the largest number of homes we've had threatened so far this year," state fire spokesman Daniel Berlant told the AP. "The grass, brush and timber up here are so dry, and once the lightning with no rain struck, the flames began to spread quickly."
By late Monday, the fire covered 25 square miles, and has destroyed seven homes since it started Saturday.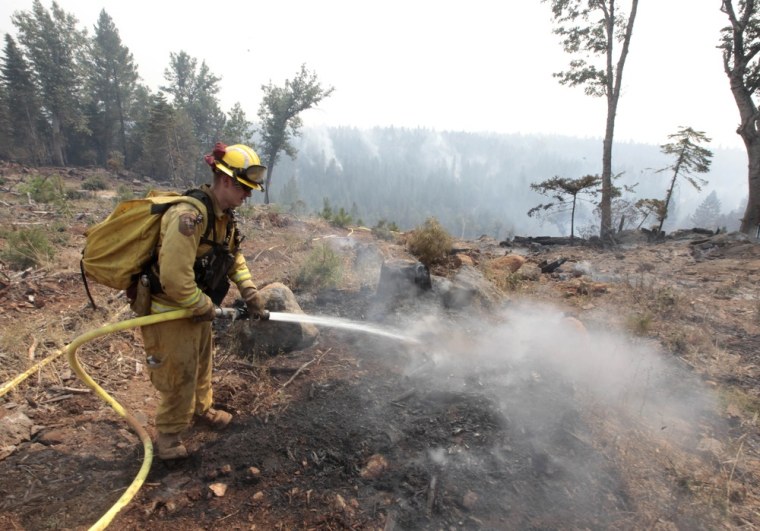 "All we can do is pray," evacuee Jerry Nottingham told reporters. 
The fire is 30 percent contained and officials say fire crews made good progress improving their lines around the fire on Monday.
Redding, Calif., remains the site of the Red Cross' evacuation site, where dozens are seeking shelter, the AP reported.
The Ponderosa fire is just one of 35 dangerous fires currently burning across 10 western states.
About 120 miles north of Sacramento, another fire burning in Plumas National Forest was 37 percent contained and threatens about 900 homes. It has engulfed 79 square miles since it began on July 29.
Idaho
The evacuated town of Featherville, Idaho, about 50 miles east of Boise, remains under threat. The fierce Trinity Ridge Fire -- visible from space -- has claimed 141 square miles in the central part of Idaho. Featherville still remains untouched by the flames, but firefighters said they're ready with a plan to slow the blaze if it comes into town.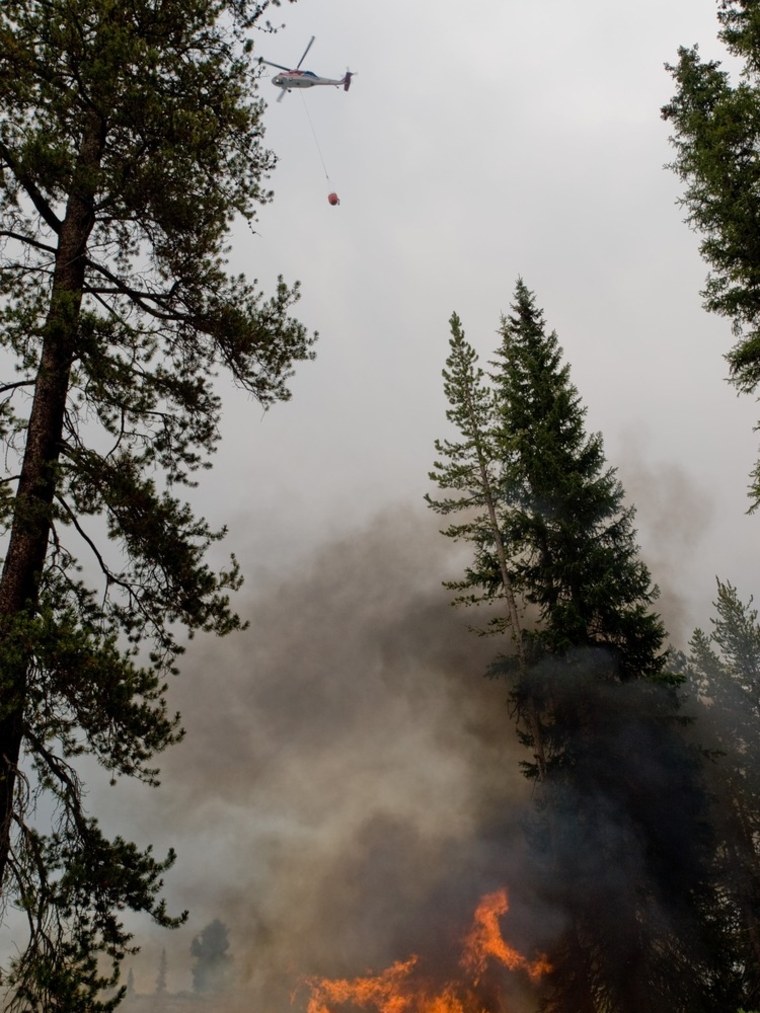 More than 100 citizen soldiers from the Idaho National Guard arrived Monday to help firefighters, Boise's NBC-affiliate KTVB reported.
"It sounds like they have got their hands full but we are here for as long as they need us," Idaho National Guard Captain Chris Harvey told KTVB. "Our primary role is for traffic control and entry points into the national forest, since they've closed the entire forest off," said Cpt. Harvey."
If Tuesday's forecast for a shift in wind direction from the northwest to the southeast is right, fire crews will be able to push fire away from developed areas, the Idaho Statesman reported.
NASA satellite images from space illustrate just how intense the smoke over Idaho is. The state's Mustang Complex Fire is only six percent contained, while the Halstead Fire, which is almost 92,000 acres, is only five percent contained, according to NASA.
Washington
Dozens of homes have fallen victim to the Taylor Bridge Wildfire raging near Cle Elum, Wash., about 75 miles east of Seattle. The fire has charred about 36 square miles of timber, sagebrush and grass in rural land, since it began a week ago at a bridge construction project, the AP reported.
At least 51 homes and cabins, as well as 26 outbuildings, are destroyed. Six homes and cabins are damaged. Officials say damage from the wildfire is already estimated at $8.3 million, Seattle's NBC-affiliate KING 5 reported.
The fire remains 57 percent contained, but fire officials expect it to be fully contained on Tuesday. Cooler, more humid conditions could help firefighters Tuesday, although possible gusts up to 35 mph could pose a concern.
Evacuee Bob Haynie told KING 5 he still checks on his home every day.
"It takes a lot of energy to be stressed out and after a while you run out of energy," Haynie said. "So you just go on and say, 'OK, let see what happens now.'"
Air quality is suffering in the Pacific Northwest from the wildfire smoke, according to "The Smog Blog" by the University of Maryland, Baltimore County.
The 2012 wildfire season has been brutal: Already, flames have consumed more than 6.9 million acres in the U.S., according to the National Interagency Fire Center.
The Associated Press, NBC's Mike Taibbi and NBC's Natalie Morales contributed to this report.
More content from NBCNews.com: