Surveillance video recorded outside a New Orleans restaurant Saturday appears to show a hit-and-run that may be connected to the fatal shooting of former New Orleans Saints player Will Smith.
The footage shows two cars — a silver SUV and and an orange Hummer — that match those driven by Smith and the suspected gunman, Cardell Hayes. The video would appear to bolster a defense lawyer's narrative of what led up to the deadly altercation around 11:30 p.m.
Related: Suspect in Death of Saints Star Will Smith Felt Threatened: Lawyer
Smith drove a Mercedes G63 SUV and Hayes drove a Hummer H2 on the night of the slaying, police said.
The video, taken from the Lower Garden District neighborhood, shows the SUV tapping the Hummer's rear. The driver of the Hummer pulls to the side of Magazine Street, but the SUV immediately swerves around onto oncoming traffic and peels away.
The Hummer then appears to follow the other car.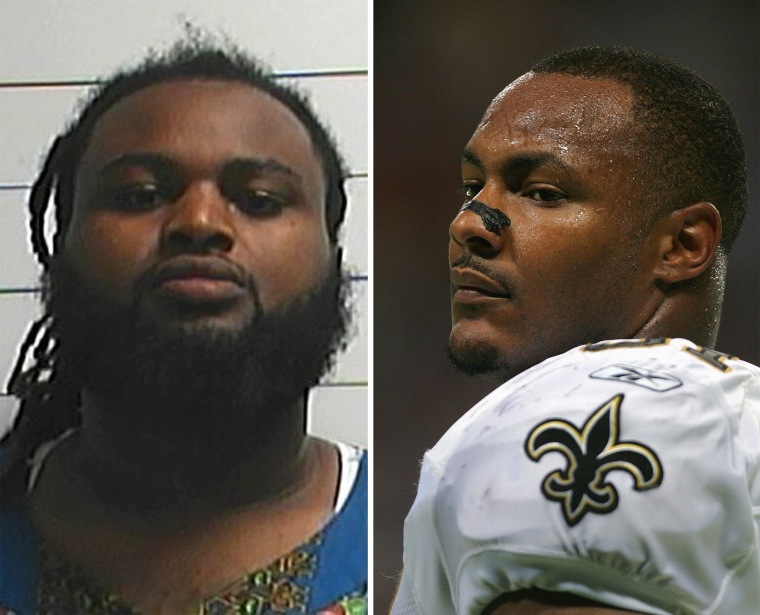 The encounter between Hayes, 38, and Smith, 34, occurred two blocks away — where the athlete's vehicle was rear-ended before he was fatally shot.
Police said in a statement that both men "exchanged words at which time the driver of the Hummer produced a handgun and shot the male victim multiple times," including in the back and side.
Smith died at the scene. His wife Racquel, a passenger in the SUV, was shot in the leg and hospitalized with non-life-threatening injuries, authorities said.
Hayes is being held on $1 million bond on suspicion of second-degree murder.
Related: Lawyer: Man Accused of Killing Saints Champ Is 'Not the Aggressor'
His attorney, John Fuller, told reporters Monday after a court hearing that Hayes himself was initially the victim of a hit-and-run, and had been trying to get the license plate information of the other driver.
According to Fuller, that resulted in a three-vehicle accident, after which "all hell broke loose, for lack of a better term."
Fuller also suggested that a second gun at the scene could play into whether his client was trying to defend himself from Smith.
Smith, a former first round pick who played 10 seasons with the Saints as a defensive end, has been mourned by family and former teammates as a loving father of three and star athlete. Funeral arrangements were still pending Tuesday.
"He had a great NFL career, and yet he was 34 years old," Saints quarterback Drew Brees said on WWL Radio. "People forget that we have our whole lives ahead of us when football ends. Some guys struggle with that transition, but Will was always a guy who had it together. He knew he was going to do great things beyond the football field."