The American South has generally not been on the forefront of the gay-rights movement — but recent cases have pushed Dixie into the spotlight as the next battleground for same-sex couples.
In the latest salvo, an Alabama man — who was denied spousal benefits after his husband's death — is challenging the same-sex marriage ban in the deepest South.
Paul Hard, 55, filed his lawsuit Thursday in federal court in Montgomery seeking to overturn Alabama's prohibitions on same-sex marriage and recognition of such unions like his that occur in states where it is legal.
The challenge comes just one day after gay marriage advocates lodged a similar appeal in Louisiana, a judge said Kentucky must recognize same-sex marriages performed in other states, and a court hearing was held challenging the ban in Texas.
On Thursday night even, a federal judge in Virginia declared that southern state's same-sex marriage ban unconstitutional.
"No one should have to leave the South in order to be treated fairly and equally."
"I think that the South is where the focus is right now in the LGBT rights movement in the United States," said David C. Dinielli, deputy legal director of the Southern Poverty Law Center, which is representing Hard. He noted that in most southern states, people could lose their jobs, homes and even children because they are gay.
"I think for a long time people thought that LGBT life happens in New York and San Francisco, and that people get their rights in places like Boston and Washington and Los Angeles but not necessarily down here," Dinielli added.
"No one should have to leave the South in order to be treated fairly and equally. We're at a critical time here in the South where people are really waking up to that reality."
Overall, 50 lawsuits have been filed in 26 states challenging laws or constitutional amendments banning same-sex marriage, the bulk coming after the Supreme Court's historic decisions in favor of gay marriage last summer. Many of the legal challenges are coming from the South, in states such as Texas, Tennessee, South Carolina and Mississippi, where many of the bans are still in force, according to Lambda Legal.
The lawsuits focus on a range of marital rights: the ability to wed, to divorce or to have spousal privilege, and recognition of marriages performed in other states.
In Hard's case, he and his husband, David Fancher, were married in Massachusetts in May 2011.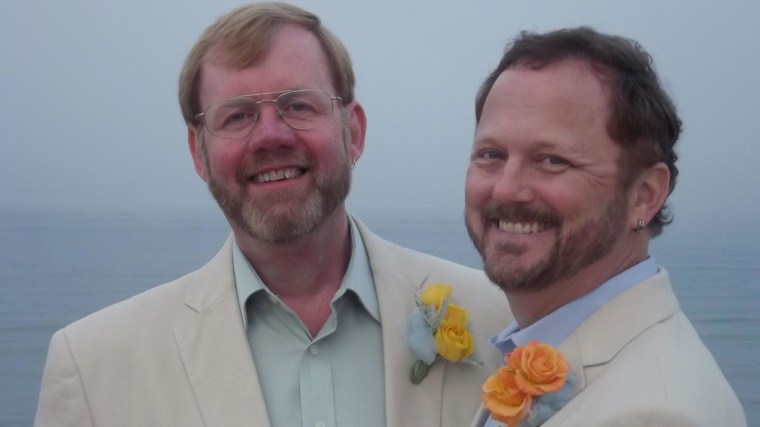 Less than three months later, Fancher, 54, collided in the dark with a large truck strewn on an Alabama highway. Hard was denied access to his husband – or to even get information about him – at the hospital treating him.
A hospital receptionist told Hard "he was not a member of Fancher's 'family'" and that gay marriages weren't recognized in Alabama, the Southern Poverty Law Center said in a statement. "After a half hour of inquiries, a hospital orderly finally told Hard, 'Well, he's dead.'"
A funeral home director also refused to list Fancher as married, citing Alabama law rejecting gay marriage. The denial of this recognition means Hard won't get spousal benefits, such as his share of the proceeds from a pending wrongful death suit against the trucking companies involved in the wreck that killed Fancher.
"Southerners are generally good-hearted people and will recognize when a person is being unfairly treated in life's worst moments," Hard, a lifelong Alabamian and former Baptist preacher, said in a statement. "Most married couples take for granted that if tragedy strikes they can proceed through the worst of times without the state saying at every turn that their marriage doesn't even exist. Marriages are significant, and my marriage is due the same respect as any other."
Today, 33 states prohibit same-sex marriages, while 17 states and the District of Columbia allow it.
Camilla Taylor, marriage project director at Lambda Legal, which is litigating against marriage bans in Virginia and West Virginia, said the South is "really the next frontier" in the fight for gays and lesbians to be allowed to wed.
"The South is where we have the most work to do," she said. "Specifically to make an affirmative change to laws that deny same-sex couples not only the freedom to marry but also vital protections and benefits for their children and each other."
Making that challenge even harder will be fighting against "very entrenched views that stigmatize" gays and transgender people, Taylor said.
A Gallup poll released in July 2013 found that 43 percent of residents in the South would vote for making gay marriage legal nationwide, while 51 percent would oppose it.
Hard said local politicians have already said they'll fight the SPLC lawsuit.
One of them, Republican Alabama House Speaker Mike Hubbard, said in a statement: "This lawsuit is part of a coordinated liberal agenda that is designed to erode the conservative Alabama values that the citizens of our state hold close to their hearts."
"This will be a fight ... The African-American civil rights movement didn't happen in a day down here. There was a lot of resistance to that."
Another challenge is coming from Alabama's chief justice Roy Moore, known for his controversial decision to put up a monument of the Ten Commandments in a judicial building in 2000 that was later removed. Moore is seeking an amendment to the U.S. Constitution to limit marriage to a man and a woman and in early February, he wrote governors of every state asking they call their legislatures to vote on such an amendment, The Associated Press reported.
And on Thursday, two U.S. Senators introduced a bill to allow states -- not the federal government -- to determine who can get married.
"This will be a fight," Dinielli said of the road ahead. "The African-American civil rights movement didn't happen in a day down here. There was a lot of resistance to that. The resistance used fire hoses and fire bombs. We're certainly hoping that we don't have those same things happen to us."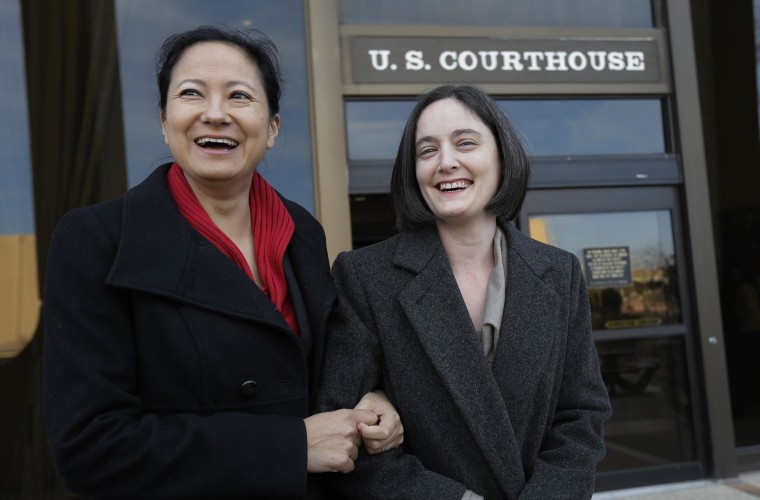 Are you a same-sex couple living in the South, fighting for rights that heterosexual couples enjoy — like the right to marry, have a child or get a divorce? Share your stories with the reporter: miranda.leitsinger@nbcuni.com