A Michigan State University dean who was Larry Nassar's boss is accused of groping and propositioning medical students and collecting nude pictures of students on his work computer.
William Strampel, who was arrested Monday, is charged with fourth-degree criminal sexual conduct, a high misdemeanor; felony official misconduct; and two counts of willful neglect of duty, according to the special prosecutor running a wide-ranging investigation of MSU.
"Strampel used his office to harass, discriminate, demean, sexually proposition and sexually assault female students in violation of his statutory duty as a public office," prosecutor Bill Forsyth said at a news conference, reading aloud from the criminal complaint.
"Strampel abused the authority of his public office, through threats and manipulation, to solicit, receive, and possess pornographic images of women who appear to be MSU students."
Dr. Nicole Eastman, a graduate of MSU's College of Osteopathic Medicine, told NBC News that she is the woman described in the complaint as Victim No. 4, who reported that Strampel grabbed her rear end at a 2010 college function.
"I was like a deer caught in the headlights," she said Tuesday. "I was in disbelief that he had actually grabbed my butt in front of his wife."
Eastman said she did not report Strampel at the time because she feared that he could ruin her medical career.
"Also, I was told in the past that everybody knew about his behavior and nothing was done," she said.
Strampel's attorney, John Dakmak, told reporters that he denies the allegations. "We look forward to our day in court," he said.
The willful neglect charges, both misdemeanors, relate to Strampel's supervision of Nassar, the gymnastics doctor accused of molesting more than 200 patients — including Olympic champions — under the guise of medical treatment.
Strampel allegedly allowed Nassar, who worked in the MSU clinic, to see patients while he was under investigation in 2014 and then failed to enforce treatment protocols after Nassar was cleared by a flawed investigation and allowed to practice again.
Authorities also noted that they found a video of Nassar performing his so-called treatment on a young female patient on Strampel's work computer, which they seized Feb. 2 after getting a credible tip about the dean.
But the new revelations in the court documents focus on Strampel's own behavior while he was dean, some of which occurred even after Nassar was arrested and the university was rocked by scandal.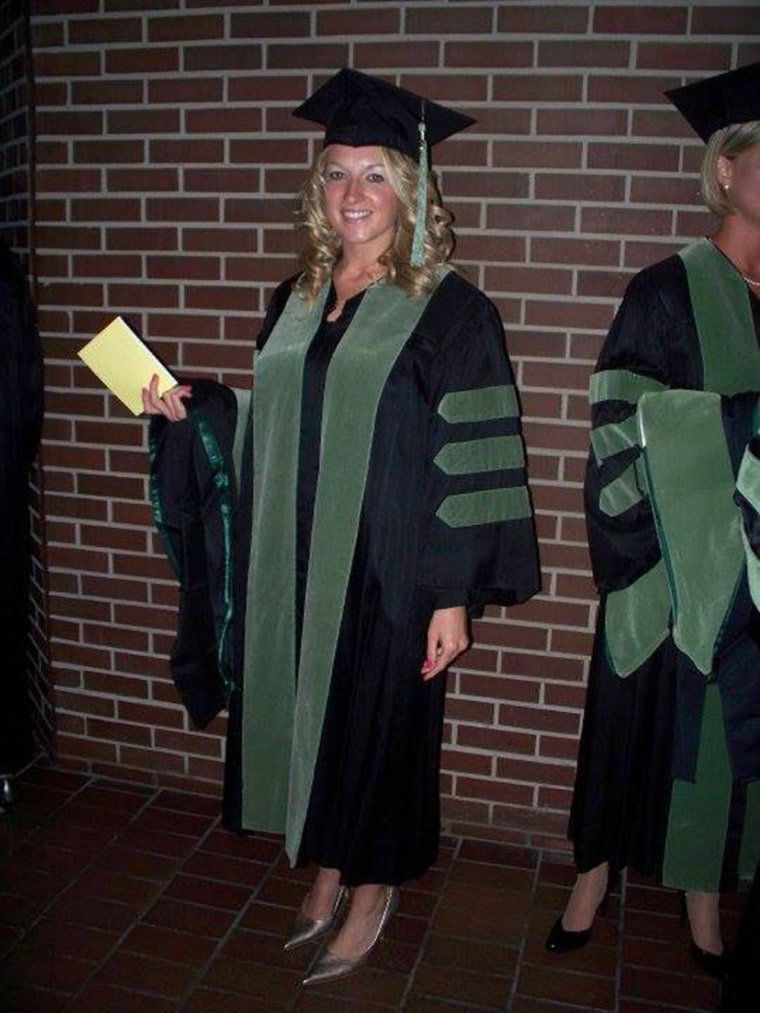 A police affidavit filed with the criminal complaint says that as recently as last June, during a meeting with a medical student over a test score, Strampel said a woman her age could "put out" for an old man and then also initiated a conversation about sending nude photos.
"[She] interpreted these statements as a request to send him nude photographs in exchange for special consideration with respect to her education at the college," the affidavit said.
Police who seized his computer in February found 50 photos of "bare vaginas, nude and semi-nude women, sex toys and pornography," they said. There were also pornographic videos and evidence that someone had tried to delete some of the material.
"Many of the photos are of what appear to be nude selfies of female MSU students, as evidenced by the MSU clothing and piercings featured in multiple photos," the affidavit says.
The affidavit cataloged complaints from three other students.
One of them said that after she was summoned by Strampel for falling asleep in class in 2011, he told her she would never make it in the profession if she didn't dress sexier. Two years later, when she met with him to discuss complaints about her residency, he allegedly had her turn around so he could look at her body and told her: "What do I have to do to teach you to be submissive and subordinate to men?"
At a scholarship dinner in 2014, as she posed for a picture with Strampel, the dean grabbed her buttock and squeezed it, she told police. A few months later at a luncheon, she asked him to stop looking at her body and he allegedly replied, "Eye candy is eye candy."
Another student said that during a 2014 meeting to discuss an exam she failed, Strampel suggested that she become a centerfold model and then agreed to let her retake it, she told police.
"In return, Strampel said, [she] would be required to do anything for him," the affidavit said. "Given the context, [she] understood that she was being asked to do anything he wanted sexually in exchange for the favor."
According to the complaint, Eastman's first run-in with Strampel was in 2006 or 2007 when she met him at a flu clinic. He told her that "it was good when women were drunk because then it was easy to have sex with them," she said.
Four years later, at a college dance, he allegedly approached her from behind and grabbed her buttock. Although there were other people around, including his wife, "nobody addressed his behavior," Eastman told NBC News.
"I was in disbelief that he had actually grabbed my butt in front of his wife."
She said she told her boyfriend what happened but didn't go beyond that because she was worried she would get tossed out of school. But after seeing Nassar's victims testify at a marathon sentencing hearing, she reached out to Rachael Denhollander, the first woman to accuse him, and Judge Rosemarie Aquilina, who heard the victim impact statements.
Then she told her story to an investigator with the Michigan State Police. She learned on Monday night that Strampel had been taken into custody.
"It was a moment that takes your breath away," she said. "I'm a very empathetic person. I'm not vindictive. But I also deeply, to my core, believe in doing what's right."
Jamie White, a Michigan attorney who represents 34 of Nassar's victims, said the Strampel charges show that MSU's previous investigations have been shoddy.
"We pleaded privately and publicly for an independent investigation in February of 2017," he said. "Those requests fell on deaf ears until the entire country was exposed to this disaster through the victim impact statements of more than 250 women."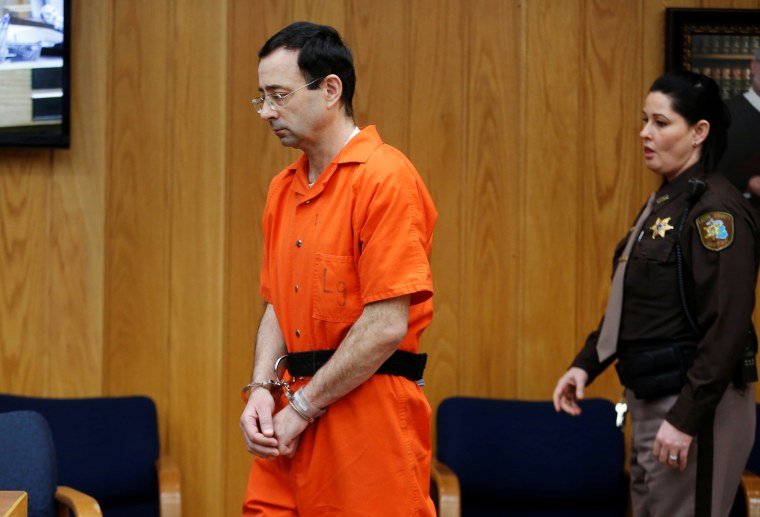 Michigan Attorney General Bill Schuette appointed Special Prosecutor Forsyth to look into MSU's handling of sexual abuse allegations against Nassar after the doctor was sentenced to effective life terms for molesting patients.
It became clear that Strampel was a target early on when the AG's office requested his files from MSU. Forsyth said that before they were handed over, they got a specific tip about Strampel and obtained a search warrant so they could seize the material.
Strampel had already resigned his managerial position at the MSU College of Osteopathic Medicine, citing health reasons. But the university has since moved to revoke his tenure so it could fire him.
"Some of the allegations about his personal conduct, especially conduct toward students, are disturbing," MSU Interim President John Engler said in a statement. "Today's charges confirm our belief that he has fallen short of what is expected and required from academic leadership. They are not in alignment with this university's values and they never have been."