Updated at 10:57 p.m. ET: Severe thunderstorms unleashed heavy rain and strong winds across parts of the Midwest and Northeast on Thursday, grounding hundreds of flights and leaving tens of thousands of people without power.

The storms spawned a tornado that touched down in Elmira, New York, damaging a mall and a local country club, the National Weather Service said.
Other towns across eastern Ohio, western Pennsylvania and upstate New York also reported downed trees.
"Emergency crews are responding to numerous calls, including reported fires and downed power lines," the Elmira Star Gazette reported. "Many streets are impassable due to fallen trees and power lines, as well as traffic signals knocked out by power outages."
As the storms sent black, menacing clouds rolling across some cities, hail ranging from the size of a dime to a quarter fell in some areas of Pennsylvania, AccuWeather.com said.

More than 51,000 customers were without power in Ohio, said American Electric Power of Ohio. New York Governor Andrew Cuomo said in a statement that the storms knocked out power for nearly 93,700 utility customers across the state.

In New Jersey, more than 10,000 customers suffered power outages.
NBC New York: Severe storms, possible tornadoes threaten Tri-State area
A tornado watch was issued through Thursday night for parts of Connecticut, Massachusetts, New York, Pennsylvania and Vermont. 
The storm activity forced the cancellation of over 900 flights on Thursday, according to FlightAware, a Texas-based company that tracks the status of flights. The highest number of cancellations was at LaGuardia Airport in New York.

Flight delays were also reported at airports in Baltimore, Boston, Chicago, New York City, Philadelphia and Washington D.C., the Federal Aviation Administration said on its website.
A severe thunderstorm watch was issued for portions of Indiana, Kentucky, Maryland, New York, Ohio, Pennsylvania and West Virginia.

The National Weather Service's Storm Prediction Center said that "hail (up) to 2 inches in diameter, thunderstorm wind gusts to 80 miles per hour and dangerous lightning are possible in these areas."

Thunderstorms that swept through Westchester County, north of New York City, toppled trees and caused power outages.

Trees fell across the tracks of the Metro North commuter rail system's Harlem Line and brought train traffic to a halt on the line north of Chappaqua, the town that is home to former U.S. President Bill Clinton and U.S. Secretary of State Hillary Clinton.
Rain was dumped on Chicago overnight, NBCChicago.com reported, and the collapse of a hangar wall at O'Hare International Airport left officials wondering if it was tied to the storm. A wind gust of 70 mph was measured in the area around the time of the collapse.
Several thousand Chicago-area customers were left without power, and additional heavy rains and winds were forecast for later Thursday.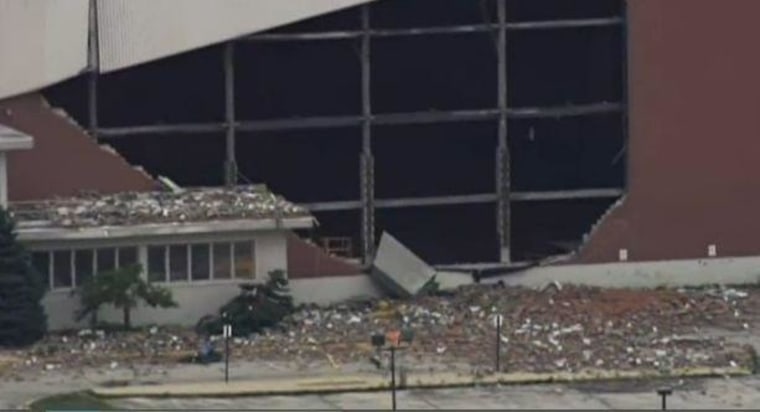 In the New York area, where daytime temperatures are in the 90s, overnight storms were being followed by a second, potentially more dangerous round of storms starting Thursday afternoon.
"Isolated tornadoes are possible in northern New Jersey and the Hudson Valley," NBCNewYork.com reported.
Consolidated Edison and its union workers announced Thursday afternoon that they had reached a deal after a prolonged lockout, paving the way for crews to be on duty for the storm.
On Thursday morning, a fire possibly caused by lightning destroyed the top floor of a Brooklyn apartment building, displacing dozens of tenants, NBCNewYork.com reported.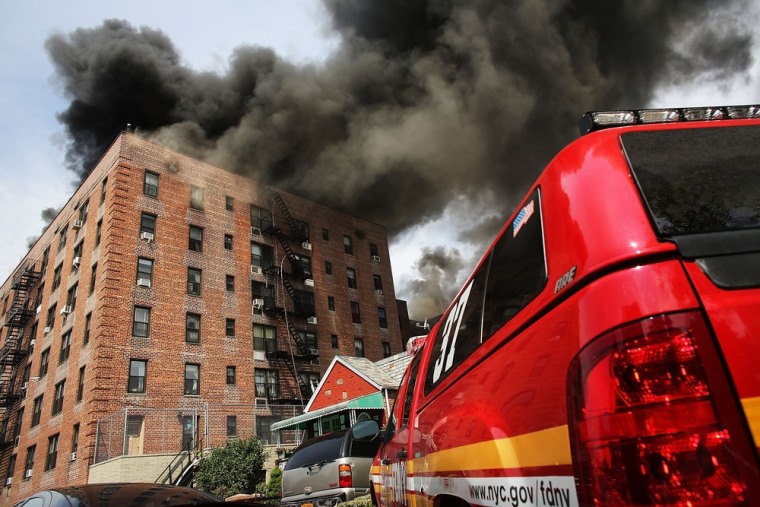 Airports in the Northeast were reporting weather delays of more than an hour, according to the FAA monitoring site.
Related story: Worst drought areas rise by 50 percent
In the Midwest, the latest rain has not done much to dent the drought because extreme heat has been quickly sucking up the moisture.
"This drought is two-pronged," Brian Fuchs, author of the U.S. Drought Monitor, said in the weekly update on Thursday. "Not only the dryness but the heat is playing a big and important role. Even areas that have picked up rain are still suffering because of the heat." 
Reuters contributed to this report.

More content from NBCNews.com: