Winners of Florida's second-ever Python Challenge can wrap their hands around some cold hard cash after bagging the biggest snake in the competition.
State wildlife officials on Saturday announced the winners of the hunt, which lured more than 600 snake slayers to the Everglades in pursuit of the invasive reptile. Some $16,000 worth of prize money was doled out in various categories.
Related: Snake Hunters Descend on Florida Everglades for Python-Killing Challenge
A team led by hunter Bill Booth won the $5,000 grand prize for killing the most Burmese pythons by removing 33 out of the total 106 snakes caught during the monthlong challenge.
In addition, his team also had the longest snake of all the ones killed and measured — it was 15 feet and nearly 125 pounds, officials said. For that feat, his team took home another $3,000.
Burmese pythons, which are native to Southeast Asia, can grow up to 26 feet and weigh a monster 200 pounds.
During the last Python Challenge in 2013, the longest snake recorded was 14 feet, 3 inches.
Booth and his hunting partner, Dusty Crum, told NBC News at the beginning of the hunt in January that they were feeling lucky. It took them just 3-1/2 hours from the hunt's opening to get their first kill — compared with seven days in the 2013 contest before they glimpsed even one.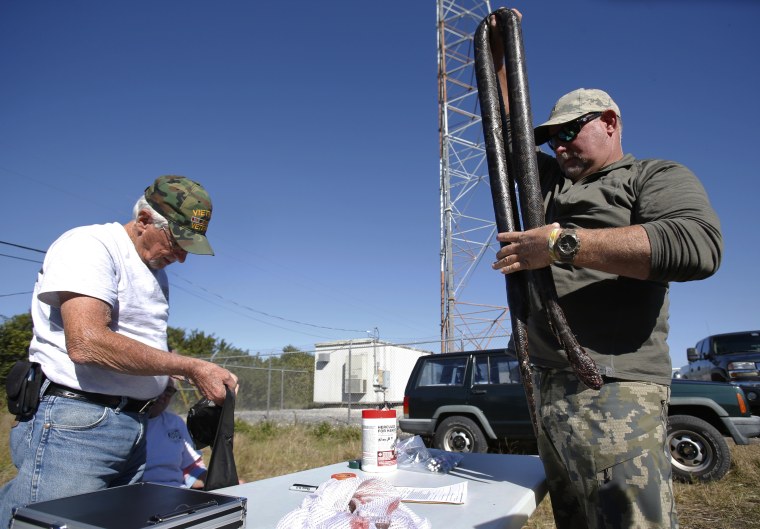 "To get this one early on is amazing," Booth had said. "I hope it's not a jinx that we're not going to see another one throughout."
Photos: 18-Foot Python Captured in Florida Everglades
Florida opened up the hunt in the heavily protected Everglades as a way to start eradicating the tens of thousands of pythons that have infiltrated the habitat and threaten certain native mammals.
While more than 2,000 pythons have been removed from the area since 2002, wildlife officials said, the lack of any real predators has allowed its population to swell to over 100,000.