A small, family-owned convenience store in central Indiana is hoping for some more luck of their own after selling Wednesday's winning $435 million Powerball ticket.
The ticket for the seventh-largest jackpot in the game's history was sold at Super Test Mini Mart, a convenience store located in Lafayette right off of a busy parkway. The odds of winning the Powerball jackpot are one in 292,201,338.
David Kenny, who took over Super Test from his uncle and father in 1983, said he is "elated" the store sold the winning ticket and that it is the first time a Super Test store has produced a jackpot winner.
The winning digits were 10, 13, 28, 52, 61, with a Powerball number of 2. Out of all 44 participating states, Indiana has had the most Powerball winners since the game's launch in 1992, according to Powerball.net.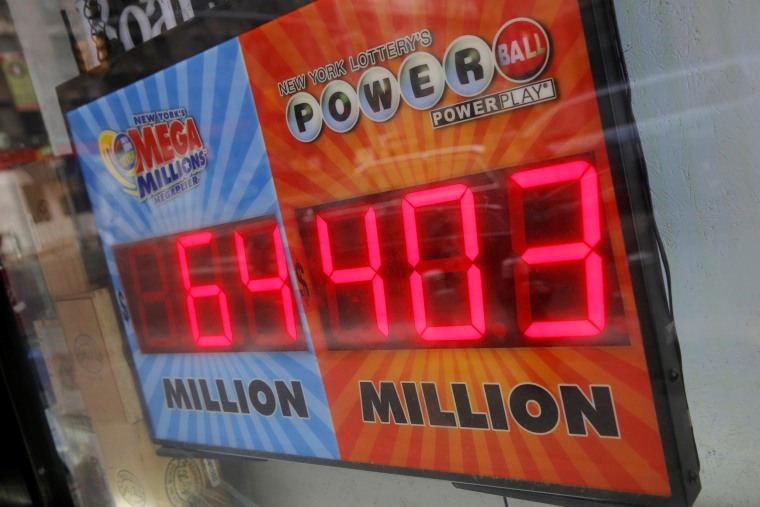 "The level of excitement around here is just crazy," store manager Melinda Carter told NBC News. "[The store] is in a really good place for people to stop by and buy tickets, so hopefully this brings us some luck."
But luck may already be on the way for the small business, which will receive $100,000 for selling the winning ticket, said Nancy McKinney, Super Test's Vice President of Operations. She said that local news stations had been flocking to the store all day.
"I hope [the winner] is local, that's for sure. Keeping the money around here would be nice," McKinney told NBC News. "I hope they spend it on everything that will help everyone. Go buy a new car and help the car company, which will then help gas companies, it just keeps going and going."
Indiana has had a string of lottery winners lately. Since Jan. 1, the state has seen 10 winners claim prizes ranging from $1,000 to upwards of $150,000.
For some winners, however, cashing in can mean giving up anonymity depending where the ticket is sold.
Only six states — Delaware, Kansas, Maryland, South Carolina, North Dakota and Ohio — allow winners to remain anonymous. Under Indiana law, a person can claim their money in a trust or limited liability corporation, or LLC, in order to avoid the publicity that comes with becoming a millionaire.
Multi-million dollar lottery winners have a number of reasons to remain anonymous, according to Jason Kurland an attorney who specializes in helping lottery winners. Some may want to prevent people from chasing a piece of the prize, while others want to ensure their safety.
"You don't want your life turned upside down more than it already will be," Kurland told NBC News. "It can be extremely overwhelming. It can be unsafe to be advertising that you have this much money."
Indiana's newest winner, who has yet to come forward, can take the $435.3 million payment as a 30-year annuity or in a one-time lump sum of $263.5 million before taxes.