Snow, rain and ice are battering parts of the country, but weather conditions are expected to calm slightly on New Year's Eve in time for people to ring in a new decade.
Northern parts of Michigan and Wisconsin were hit with heavy snow and blizzard conditions Monday with winter storm warnings in effect until midnight, according to forecasters. Some areas could see 8 or more inches of snow.
The harsh weather conditions will also make travel difficult across the northern Great Lakes and other parts of the country. By late Monday morning, more than 1,200 flight arrivals and departures had been delayed across the country and more than 200 arrivals and departures had been canceled, according to the live flight tracking site FlightAware.
Airports in Minneapolis, Philadelphia and Newark, New Jersey, reported delays. Newark Liberty International Airport said in a tweet that travelers should check with their carriers on the status of their flights.
In a tweet Monday morning, the National Weather Service in Grand Rapids urged drivers to be cautious of slick roads as temperatures cool. The agency also warned of wind gusts of 40 to 50 mph and possible power outages.
In Minneapolis, a winter weather advisory is in effect for 3 to 5 inches of snow and in Chicago, people will have to deal with windy conditions, forecasters said.
"2019 will end with a return of wintry weather," the weather service tweeted. "Expect scattered snow showers to develop today, followed by a couple rounds of light snow tonight. Windy conditions are also expected through Tuesday, but especially this evening."
In the Northeast, a storm is developing that will dump rain on parts from New York to Boston. By 8 a.m. Monday, the steadiest rain showers had moved east of New York, the weather service tweeted.
Forecasters also say freezing rain is likely to sweep across interior New England and ice storm warnings are in effect Monday for parts of New York, northwest Connecticut and western Massachusetts. More than 25 million people were under winter alerts from North Dakota to Maine, weather analysts said.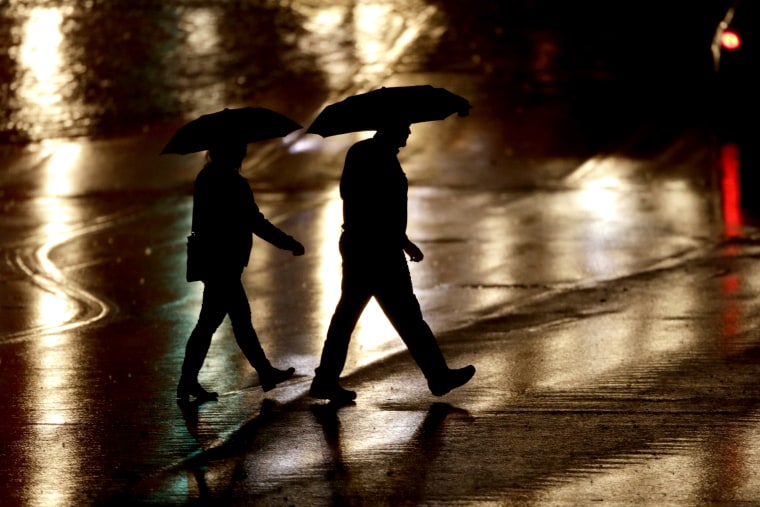 In New Jersey, Pennsylvania, Delaware and other mid-Atlantic states, strong storms were expected Monday afternoon. The weather service warned that the "primary risk" could be isolated, damaging winds.
The brutal winter storms are expected to quiet down a bit Tuesday. According to forecasters, weather across most of the country will be calm on New Year's Eve except for some scattered snow showers across the Great Lakes and rain showers in southern Texas.
The Pacific Northwest may be hit with heavy rain Tuesday while the southern half of the country will be mostly dry and sunny.
On Wednesday, most of the country will have bright and mild weather except for the Northwest and the northern Rockies, which may see rain and snow, according to weather analysts.