Massive winter storms roiled much of the Midwest and the Northeast on Friday, with snow, ice, high winds and bone-chilling temperatures affecting nearly 100 million Americans across the country.
The National Weather Service issued winter alerts from the Plains to the Northeast, including blizzard warnings in portions of Iowa, Minnesota and the Dakotas. Snow and freezing rain was expected to snarl commutes as people headed into the holiday weekend.
Nearly 700 flights were canceled Friday night at Chicago's O'Hare International Airport, which issued a full ground stop earlier in the evening because of severe snow and ice. Nationwide, more than 1,700 flights were canceled and more than 4,000 flight delayed, according to FlightAware.com.
In Iowa, state police posted video on Facebook of a trooper nearly being hit by a truck that skidded off a slick road and slammed into another vehicle.
The icy conditions were reported as early as Friday morning, prompting the Kansas City International Airport to close after a Delta flight — set to fly to Detroit with 129 passengers and crew — slid off a taxiway just before 6:30 a.m., NBC affiliate KSHB in Kansas City reported.
No one was injured, but flight arrivals and departures were halted from about 8:30 a.m. to just before noon Friday.
The AFC title game, between the Kansas City Chiefs and the Tennessee Titans, is set for 2:05 p.m. in Kansas City on Sunday, with temperatures forecast to be about 23 degrees with wind chills making it feel like 14 at kickoff, according to forecasts.
If football was to be played in Green Bay, Wisconsin, on Sunday, fans would be shivering in temperatures between 23 degrees and 8 degrees.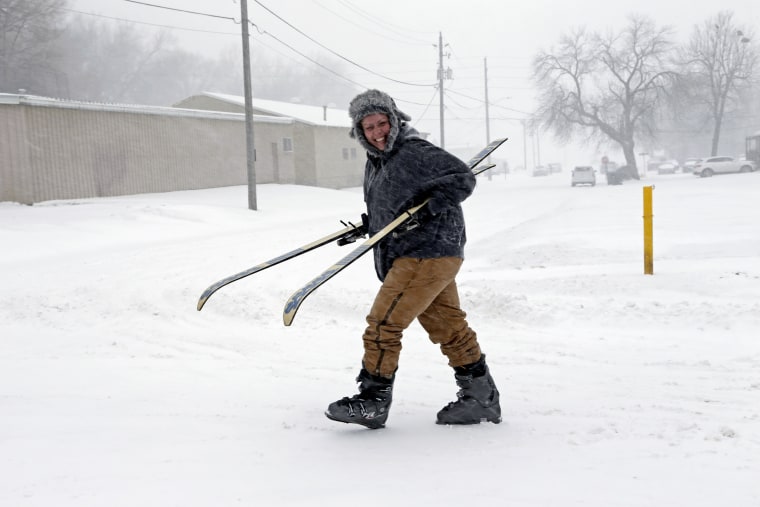 But the NFC championship game — between the Packers and the host San Francisco 49ers — is being played on the West Coast. The mercury in rain-free Santa Clara, California, is expected to hover between a comfortable 45 degrees and 61 degrees Sunday.
Blizzard warnings were issued across South Dakota, where 4 to 8 inches of snow is expected to fall on Sioux Falls — with winds gusting up to 50 mph, according to the National Weather Service.
Residents of Minneapolis also braced for a snowstorm expected to last into Saturday afternoon. Between 6 and 9 inches of snow was expected to fall on the Twin Cities.
Meanwhile at the Minneapolis–Saint Paul International Airport, it was all hands on deck as crews work to keep planes moving and passengers safe.
"I think of it as, if my family is on that plane, I want them to be safe," Jeff Mattson, duty manager for the Airside Operations Center, told NBC affiliate KARE. "And if it's a situation that is not safe, we're not going to go down that road."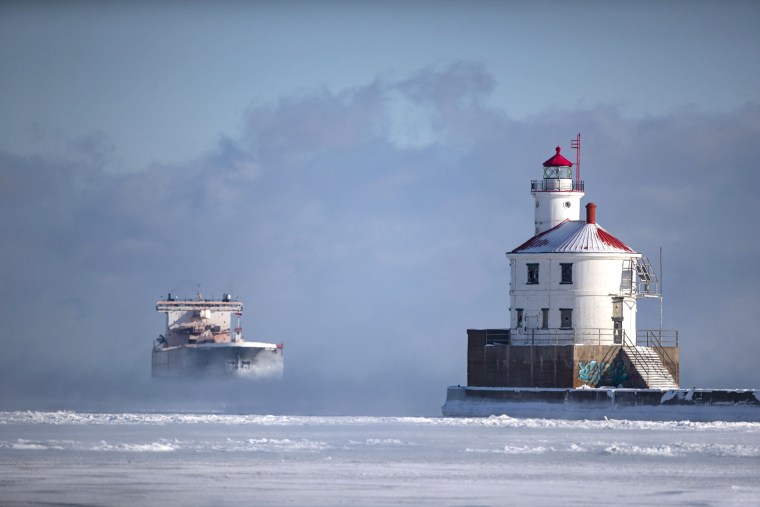 Heavy snow was also forecast for Detroit where up to 8 inches was expected to fall between Friday night and Saturday afternoon.
Between 4 to 8 inches of snow could come down in Hartford, Connecticut, between Saturday afternoon and Sunday morning. Officials warned that travel could be slippery on Interstate 95 between Washington, D.C. and Boston for much of Saturday.