A class-action lawsuit filed against embattled wholesale electricity provider Griddy seeks more than $1 billion due to the Texas company's alleged "price gouging" that caused "economic and mental anguish."
The civil complaint, filed in Harris County District Court by Mont Belvieu, Texas, resident Lisa Khoury, also wants Griddy to "fully forgive late or non-payments associated with such bills, including removing any negative credit reporting and penalties, and to refund payments already made on such bills."
Millions of Texans were left without power or clean water last week due to a winter storm that froze the state's power grid.
And those who did dodge blackouts have been hit with massive electricity bills because scarce power radically spiked prices in the Lone Star state's market-based system.
The lawsuit paints Khoury as a typical victim of the winter blast that resulted in power to bills of more than $9,000 for the retiree who lives about 30 miles east of downtown Houston.
"I mean this is life changing," Khoury told NBC Dallas-Fort Worth. "You don't just pay a $9,500 in a week."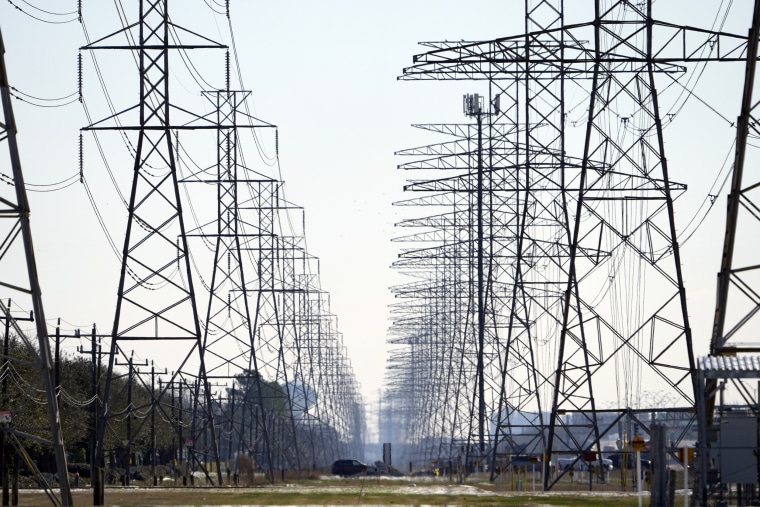 Khoury's electricity bills typically run between $200 and $250 a month, which is paid directly from her bank account in intervals of $150, according to the lawsuit.
Between Feb. 13 and 18, Griddy withdrew $150 eight times from Khoury, for $1,200, the complaint said. She put a stop payment on the withdrawals before Griddy told her on Feb. 19 that she still owed it another $8,235.
"Griddy charged Khoury in the middle of a disaster," the complaint said. "She and her husband mostly were without power in their home from Wednesday, February 17 to Thursday, February 18, 2021. At the same time, Khoury hosted her parents and in-laws, who are in their 80s, during the storm. Even then, she continued to minimize any power usage because of the high prices."
In a statement issued late Friday afternoon, Griddy said: "The lawsuit is meritless and we plan to vigorously defend against it."
Michael Webber, a professor of energy resources at University of Texas at Austin, said he's not sure civil action against Griddy will hold up in court.
"For the most part I think the risk of these variable rate plans was well-known, so it's not clear that a lawsuit will be victorious," he said Friday. "It's hard for people to go from $50 a month to $5,000 a month, but that doesn't mean the bills are illegal."
The professor holds more hope that state lawmakers could engineer a bailout that would protect people from four- or five-digit power bills now and in the future.
"I would not be surprised if the legislature intervenes to protect consumers from the price shock and then does something like regulating or prohibiting those plans in the future," Webber said.