A family member of a Massachusetts teen who took his own life after being coerced via text messages from his girlfriend wants the woman to spend decades behind bars.
Michelle Carter, 20, could be sentenced on Thursday to little or no prison time for her role in the July 2014 suicide of 18-year-old Conrad Roy III. She was convicted of involuntary manslaughter in June.
Carter faces up to 20 years in prison after prosecutors successfully painted the then 17-year-old as an attention-hungry teen, who craved playing the role of the grief-stricken girlfriend.
"I don't believe she can be helped. I don't believe she could even give one single f--- about what she's done," Roy's aunt Kim Bozzi wrote in a statement to Bristol County Juvenile Court Judge Lawrence Moniz. "I believe she should be kept far away from society. No Disney trips, graduations or proms she can bask in. Take away the spotlight that she so desperately craves. Twenty years may seem extreme but it is still twenty more than Conrad will ever have."
During the hearing, Roy's family spoke through tears, explaining how Carter's actions had impacted each of them, as they spoke before Moniz.
"Michelle Carter exploited my son's weakness and used him as a pawn ... the fact that my son was convinced to kill himself makes the pain harder. Where was her humanity? In what world was this behavior acceptable?" Conrad Roy Jr., Roy's father, told a packed courtroom on Thursday. He said Carter showed no remorse.
Prosecutors asked Moniz to sentence Carter to 7 to 12 years in prison. The defense asked for probation.
Experts say a host of mitigating factors, including a lack of specific Massachusetts laws, could work in Carter's favor as Moniz decides what punishment fits the unusual crime.
The case hinged on a slew of chilling text messages, in which Carter encouraged Roy to end his life — often chastising him when he hesitated — and others she sent to classmates ahead of Roy's suicide.
"When are you gonna do it? Stop ignoring the question????" Carter wrote in one text to Roy of his suicide.
In another, when Roy seemed to pause about taking his life, she wrote, "You're so hesitant because you keep over thinking it and keep pushing it off. You just need to do it, Conrad. The more you push it off, the more it will eat at you. You're ready and prepared."
Bozzi called this Carter's "sick plan." She said texts to Roy's mother and sister and postings to social media after his death was "very, very sick." She disputed the defense's reasoning that Roy was inevitably going to kill himself with or without Carter's encouragement.
"Although he battled depression he was working towards getting through it. There was light at the end of the tunnel but she snuffed it out. I believe with my whole heart that he'd still be with us today if it weren't for her," Bozzi wrote.
The defense has not publicly stated whether or not Carter will appeal the decision, but Nancy Gertner, a retired federal judge, said Moniz could potentially avoid the appeal entirely with a lenient sentence.
"Whether she appeals will depend on what she gets. She could get probation to 20 years. Manslaughter across the country is a unique kind of crime. … My idea would be if she doesn't get any time, she wouldn't appeal," Gertner said.
Related: Michelle Carter Sent Texts to Her Boyfriend's Grieving Mother
Attorney Joseph P. Cataldo, who is representing Carter, declined to comment on the sentencing or possibility of an appeal.
During his ruling, Moniz said that when Carter instructed Roy to return to his vehicle on the night he used a water pump to fill his black Ford F-250 with carbon monoxide, she became responsible because she knew he was entering "a toxic environment inconsistent with human life."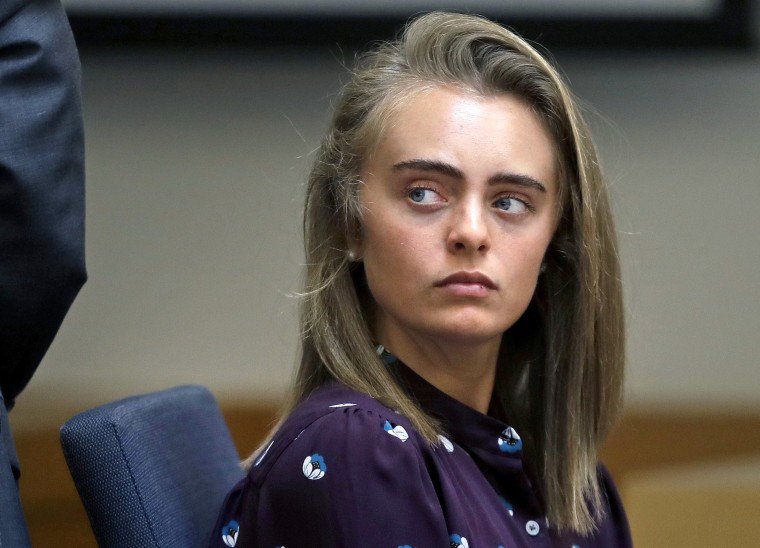 Carter was 30 miles away at the time of the suicide and did not physically force Roy to follow through with the suicide, the defense team argued during the trial.
Cataldo said during the trial that Carter was a troubled teen who was on Celexa, a treatment for depression, which can trigger side effects like irrational thinking, irritability and poor impulse control.
Carter's father also asked that Moniz go easy on his daughter, saying the medication made her unable to distinguish right from wrong. He added that she struggled with eating disorders and the loss of three grandparents over a three-year span.
"I pray to God you will take into consideration that Michelle was a troubled, vulnerable teenager in an extremely difficult situation and made a tragic mistake," David Carter wrote in a character statement to Moniz. "I am 100% sure she was only trying to do what in her mind what was right for Conrad."
He asked that she be granted counselling and probation.
"She will live forever with what she has done and I know will be a better person because of it," David Carter wrote.
Because Roy and Carter were teens at the time of Roy's death, another added layer of irrational thinking is in play, Gertner said.
"There's a substantial body of neuroscience that talks about the judgment of 17- and 18-year-olds, that suggests that whoever they are at this point is very different than who they are later on," Gertner said.
Despite her own mental health struggles, Moniz said Carter had a responsibility to take action to stop a life-threatening risk.
Gertner said Moniz's ruling is interesting because he determined Carter should have intervened knowing that Roy was in the process of suicide.
"The judge found she should have intervened, and that's also an unusual finding. What people don't realize is, we don't require people to intervene during a crime," Gertner said. "In Massachusetts … you have no legal obligation to intervene."
She added that Carter's case opens up a host of questions about the legality of assisted suicide, for which there is no statute in the state of Massachusetts.
"Assisted suicide is someone who assisted, it's never just words. In this situation, the young man set up the carbon monoxide, he bought the materials," Gertner said. "Words, usually just words, are not sufficient [to prove manslaughter]."
Related: Michelle Carter Found Guilty of Encouraging Boyfriend's Suicide With Text Messages
Following the verdict in June, the American Civil Liberties Union of Massachusetts denounced Moniz's decision in a statement released shortly after the verdict.
"This conviction exceeds the limits of our criminal laws and violates free speech protections guaranteed by the Massachusetts and U.S. Constitutions," Matthew Segal, legal director at the ACLU of Massachusetts, said. "If allowed to stand, Ms. Carter's conviction could chill important and worthwhile end-of-life discussions between loved ones across the Commonwealth."
But Gertner said the First Amendment implications are complex, and speech in the United States is not protected in all situations.
Carter had a bench trial, meaning Moniz heard the case and decided whether or not Carter was guilty — not a jury. Gertner said that the decision to have a bench trial was an opportunity for the defense to avoid a jury being swayed by emotion, but judges can also be subjected to the emotionality of a case, not just the letter of the law.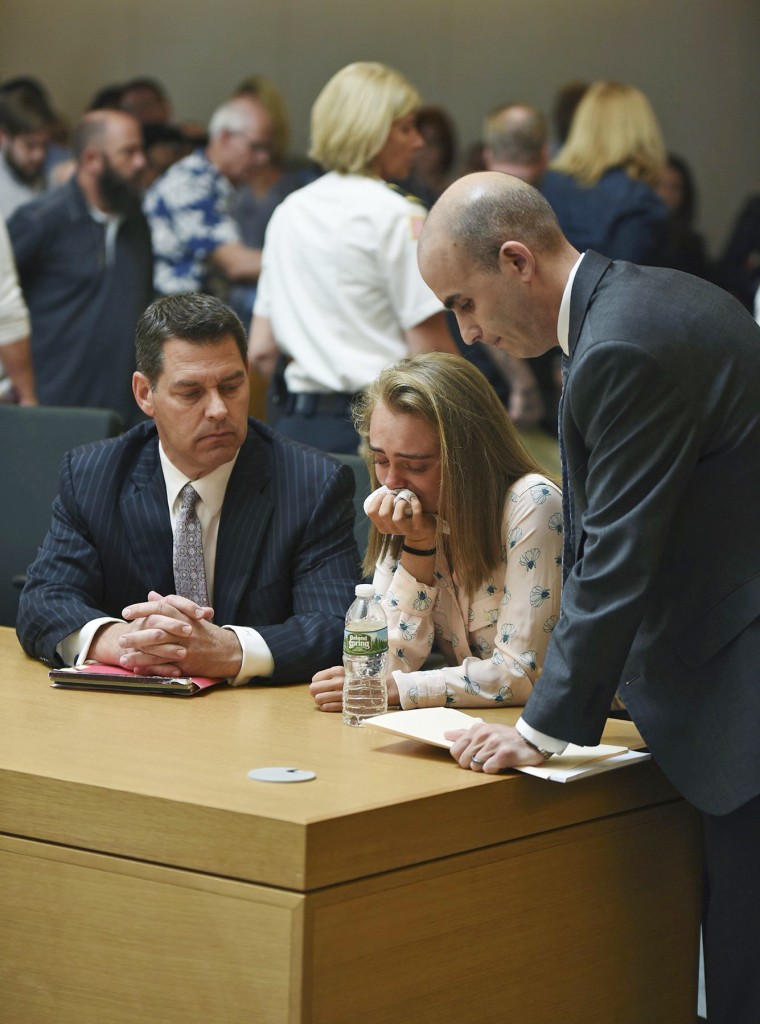 "I was a judge for 17 years, and an emotional element always plays a role," she said. "So you wonder if the starkness of the things she said in the midst of the suicide moved the judge. [The defense] wanted to minimize [the emotion] by having a judge trial, but judges are human beings."
Related: Woman Who Allegedly Goaded Boyfriend Into Suicide Panicked After Cops Took His Phone
Because the decision of both guilt and punishment ultimately falls on Moniz's shoulders, Gertner reasoned that the judge could have decided he would find Carter guilty of a crime but not punish her harshly due to the unusual circumstances.
"I don't know this judge at all, but it's like cutting the baby in half," Gertner said. "You did something wrong, but on the other hand I understand you were a troubled teen yourself and this is going to scar you for the rest of your life. We don't anticipate [Carter] will do this again, and the sentence will predict that."
The Roy family did not respond to NBC News' request for comment on Carter's sentencing.