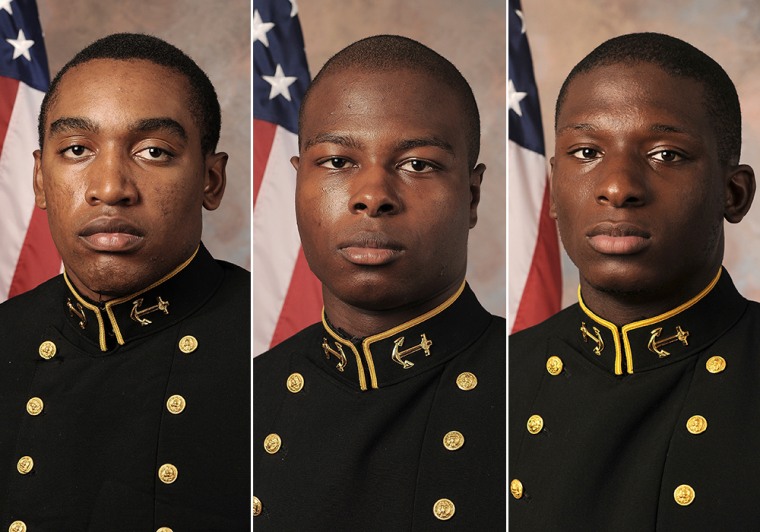 The Naval Academy midshipman who accused three men of sexually assaulting her was challenged by a defense lawyer on inconsistencies between prior assertions that the men should be convicted as rapists, and her contention during Thursday's hearing that she was not sure whether she had had sex with them.
Midshipmen Tra'ves Bush, Eric Graham and Joshua Tate, each a former member of the Academy's football team, are accused of sexually assaulting the woman after she passed out drunk on April 14, 2012 at a party at an off-campus Annapolis, Md., residence known as the Football House. At the preliminary hearing on Wednesday, the female midshipman said she remembered waking up after the party with back pain and few memories of the previous night.
On Thursday, the woman told the defense lawyer in the Article 32 hearing, Andrew Weinstein, that she was unsure "on my own accord" if the men had had sex with her, consensual or not, on the night of the alleged assault. She also told Weinstein that she would have been "almost happy if I found out nothing happened" and that she didn't consider the men "criminals."
The woman said she "didn't have any factual basis for what happened" that night because she had been drinking excessively, and therefore could not definitively say whether the men assaulted her.
But Weinstein noted that statement contradicted one the woman made during an interview with CBS, when she had said the men should be "convicted for what they are, rapists."
Despite the alleged attack occurring in April, the woman did not make her first sworn statement to the Naval Criminal Investigative Service (NCIS) until September 2012, something she addressed on Wednesday.
She said she "didn't want to make it a big deal" or disappoint her mother, but felt compelled to come forward once she heard that the NCIS was targeting people she knew had not been involved.
She said she held back information, however, and told the NCIS that she did not want to cooperate completely.
On Thursday, Weinstein pressed her further and asked her why, after months of not cooperating with the NCIS, she decided not only to move forward with the investigation in January 2013 but also participate in interviews with the media, including outlets like CNN, CBS and the New York Times.
The woman said that she "didn't have an agenda. I just wanted to tell my story," describing two particular moments that compelled her to go public: a discussion with a victim advocate as well as an encounter with another sexual abuse victim in a bathroom.
Later, in one of the most dramatic moments of the hearing so far, Weinstein played a short recording of a phone conversation between the woman and one of the men, Tate, in which the woman asked Tate to tell investigators "that nothing happened."
"I hate that I'm asking you to lie," she continued. "I don't want this to go anywhere. I really don't." She also told Tate she had not revealed his name to investigators.
In response to that, Tate asked why he needed to be involved, and told the woman, "This s**h ain't cool."
Before he had played the tape, the woman told Weinstein that neither she nor Tate wanted the investigation to go forward, which was why she asked him not to tell investigators anything.
Weinstein told the woman that she may have committed both a military and civilian federal crime in obstructing the NCIS investigation.
Weinstein also contended that the woman had given several explanations for deciding to cooperate with the investigation besides wanting to tell her story. Among those other reasons were her feeling threatened by other midshipmen (but not her alleged attackers) and her fears that the Naval Academy couldn't ensure her safety.
Weinstein also pressed the woman on social media messages she published as she learned members of the Naval Academy football team were talking to NCIS.
Some of the messages, Weinstein suggested, were prompted because the victim was "upset" that people had been talking to investigators. Some of her tweets included heated language that criticized "snitches."
"Gloves are off with these n*ggas if you haven't figured it out already," one message read. Another read: "I've never seen so many n*ggas squeal under pressure." And one last message read, "A snitch… that 'ish I don't like," quoting song lyrics and using the slang term for "sh*t."
The woman said she had since disabled her Twitter account, though she was still active on Facebook.
The woman's relationship with one of the other three accused, Eric Graham, was also discussed in further detail Thursday under cross-examination by Graham's counsel, Lt. Cmdr. Angela Tang.
The woman said Graham had visited her in her dorm in April 2012, before the alleged attack, and while they were talking, revealed he had previously been romantically interested in her. She asked him why he hadn't pursued her and invited him to move from his desk chair to her bunk bed, where she was sitting, promising to keep things platonic.
She said he declined the invitation saying "bad things would happen" if he joined her on the bed. "He may have wanted some kind of sexual interaction, I don't really know," the woman testified.
The trial recessed for the day before Tang finished her cross-examination because the woman said she was overly fatigued and felt that she was "in a haze." Her cross-examination will resume Friday morning.
Bush is 22. Graham and Tate are both 21. Few details have been made public about the 21-year-old woman accusing them.
The hearing, held at D.C.'s Navy Yard, is one of the highest-profile military sexual assault cases since President Barack Obama made his first public condemnation of such actions at the Naval Academy's commencement ceremony in May.
The results of this case, and others like it, may have policy implications for how the military deals with reports of sexual assault, which have increased exponentially in recent years. A Pentagon study estimated that unwanted sexual contact in the military jumped by 37 percent in 2012 to 26,000 cases.
NBC's Elizabeth Chuck contributed to this report.
Related content:
Woman at center of alleged Naval Academy gang rape testifies for first time