Police in Texas said Friday that they found the girl who was filmed licking a tub of ice cream and returning it to a grocery store shelf in a viral video last week.
The girl, who admitted to licking the top of Blue Bell ice cream and returning it to the freezer, is under 17, which makes her a juvenile under Texas law, according to Lufkin police, who are not identifying her.
She is from San Antonio, but was in Lufkin, about 300 miles east, because her boyfriend's family lives there, police said. Both she and her boyfriend have been "forthcoming" about their involvement in the incident, police said.
The footage — which has been viewed more than 11 million times — shows the girl running her tongue across the ice cream, then laughing as she places the violated dessert back in the freezer at a Walmart store in Lufkin.
Police said Wednesday they believed they had identified the suspect after "detectives had obtained surveillance video placing someone matching the description in the Lufkin store on June 28 around 11 p.m."
But Friday, authorities said finding the actual suspect was complicated because another person with a similar screen name was taking credit for the act on Instagram.
"What made this case difficult is that a 'catfish' with a similar screen name (within one letter of the suspect's screen name) began taking credit for it," police said in a statement.
"Yeah, I really did that. You can call it Flu Bell ice cream now 'cause I was a lil sick last week. Repost yourself doing this. Let's see if we can start an epidemic (literally)," wrote the person, who ended up not being the perpetrator, according to police.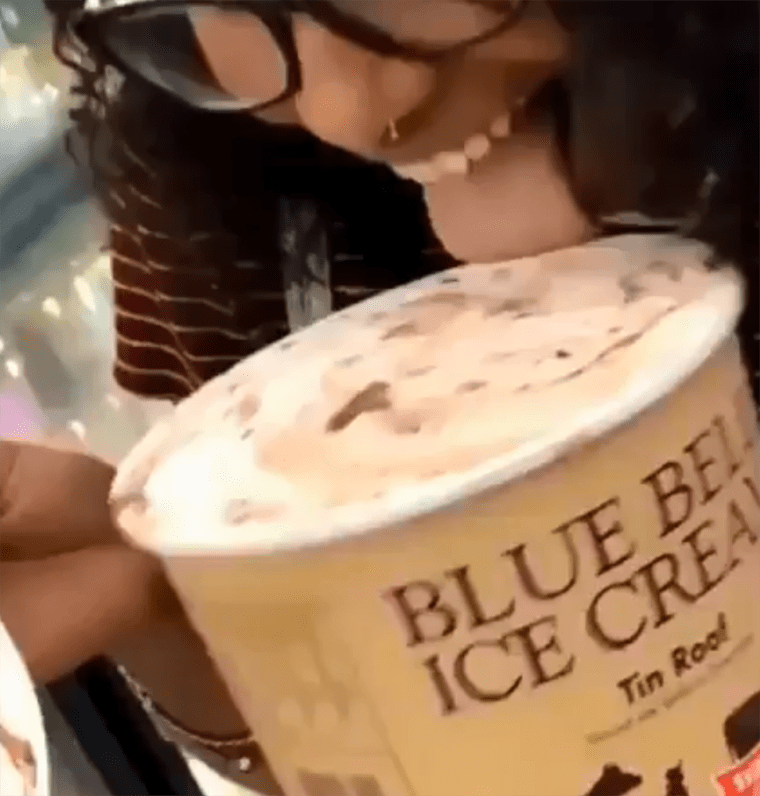 At least four women, including the person who lied about her involvement, had similar screen names and appearances, police said. Authorities had to rule each one out before finding the actual suspect.
Before police knew the girl's identity, they said she could face a second-degree felony charge of tampering with a consumer product, which comes with a two- to 20-year prison term and up to $10,000 in fines, according to Texas state penal code.
Lufkin police said Friday that if the girl faces charges related to the incident, they will be "at the discretion of the juvenile justice system."
Her boyfriend is an adult, and police said they are discussing with prosecutors charges he may face. He is thought to have filmed the incident and can be heard encouraging the girl to "lick it, lick it."
Blue Bell Creameries, the local manufacturer of the ice cream brand the woman licked, has called the incident a "malicious act of food tampering."
All tubs containing the mix of creamy vanilla ice cream with swirls of chocolate fudge and roasted peanuts covered in dark chocolate have been removed from the store's shelves as a precaution, the company said. The specific carton believed to be compromised was found among the lot.
In an earlier statement, the company explained that its cartons are frozen upside down in production, which creates a natural, tight seal by freezing the lid to the tub, meaning consumers would notice if any tampering occurred upon opening a fresh tub.