A California woman sued FedEx, where her late wife worked for 26 years, on Wednesday for refusing to pay $400,000 in spousal benefits because it would not recognize their marriage.
Lesly Taboada-Hall, who was a driver for the company, died of uterine cancer on June 20, 2013. Six days later, the Supreme Court struck down a key part of the Defense of Marriage Act (DOMA), which barred federal recognition of gay marriage.
Some companies used DOMA to determine who qualified as a legal spouse for the purposes of paying survivor benefits.
Because Taboada-Hall died before the Supreme Court ruling, FedEx determined that her wife, Stacey Schuett, was not eligible as a spouse to receive the main pension benefit, lawyers for Schuett said. It did recognize Schuett as a spouse for smaller survivor benefits.
The couple, who had earlier registered as domestic partners, wed in Taboada-Hall's hospital room on the day before she died. Gay marriage became legal in California because of a separate ruling on the day of the DOMA decision. A state judge later ruled that their marriage was valid.
Schuett's lawyers say the Supreme Court ruling should apply retroactively. They sued in federal court.
"It's not like DOMA became unconstitutional on June 26, 2013," said Nina Wasow, one of Schuett's lawyers. "The law was unconstitutional all along."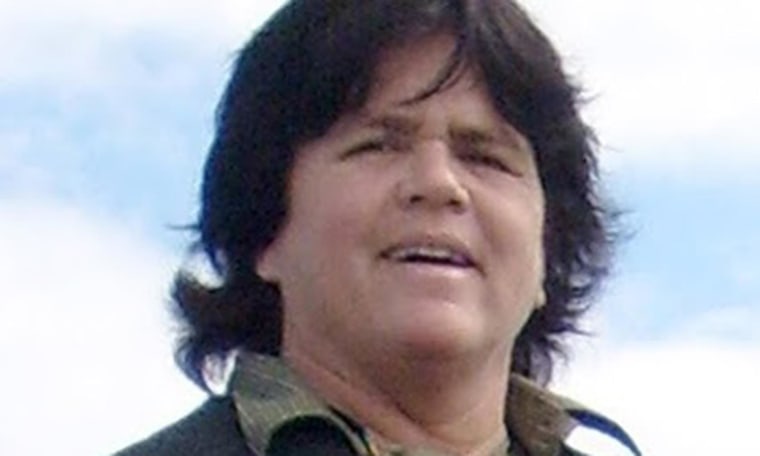 FedEx said in a statement that Taboada-Hall was a valued employee and "we are saddened by her passing."
Still, the company said, "Ms. Schuett's claim has been carefully reviewed, and while we are sympathetic to her situation, we are required by federal law to apply the pension plan rules equally to all participants."
The suit seeks the money that would have been paid since Taboada-Hall's death, plus legal fees.
Schuett, 54, said her wife liked working at FedEx and the company had treated her well as she fought cancer. The couple, parents to a daughter, now 19, and a son, 15, learned a week before Taboada-Hall's death that her family wouldn't get the money.
"To discover at the 11th hour that there was this other looming problem was pretty shocking to us," Schuett told NBC News. "She was really worried about what was going to be happening to us after she died."
She broke down as she added, "And that just made it harder."
After the DOMA ruling, the federal government decided that the same-sex spouses of public employees who died before DOMA fell were retroactively eligible for survivor benefits.
"The law was unconstitutional all along."
The Labor Department also said that, in the law that governs all benefit plans sponsored by private employers, excluding churches, the term "spouse" should include same-sex spouses, Wasow said. The IRS issued a similar rule for tax purposes.
Thirty-six states now have legal gay marriage, most of them since the DOMA ruling. But Amy Whelan of the National Center for Lesbian Rights, another of Schuett's lawyers, said many employers will now "do the right thing" and provide benefits.
"But we suspect that some employers won't do that and will continue to try and discriminate against their employee," she said. "What happened to Stacey and Leslie can very much happen now to people who are still living in states where they're still not allowed to marry."
Schuett, who had been a stay-at-home mom, said the family has had to tighten its finances because of the denied benefit.
"We kept waiting for the decision, and Lesly was hanging on but slipping away. She couldn't stay, we couldn't hold her," Schuett said. "It just seemed like that gap of time could have made a big difference in just how things worked out."