A Jewish real estate agent from Whitefish, Montana, is suing the founder of a neo-Nazi website who allegedly incited an anti-Semitic "troll storm" against the woman and her family.
The suit, filed in U.S. District Court of Montana on Tuesday, claims that The Daily Stormer blogger Andrew Anglin urged his online followers to direct hundreds of hateful messages — including death threats and references to the Holocaust — to Tanya Gersh and her husband and 12-year-old son.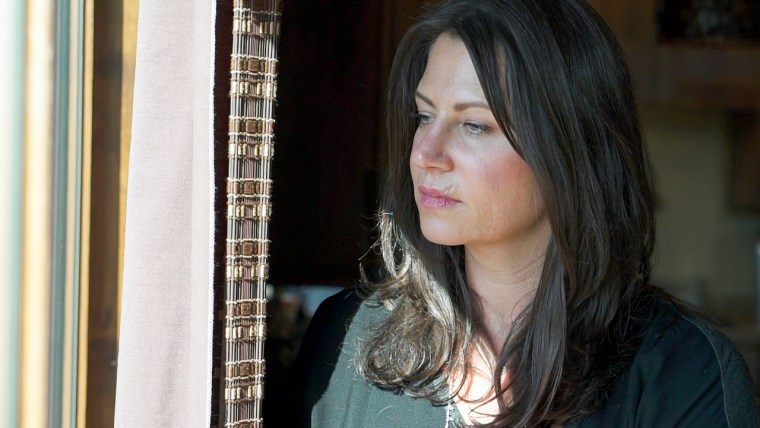 In a December blog post, Anglin wrote, "Tell them you are sickened by their Jew agenda . . . This is very important. Calling these people up and/or sending them a quick message is very easy."
The post listed Gersh's phone number and home address, along with her 12-year-old son's Twitter handle and her husband's contact information. A "tsunami of threats" ensued, according to the lawsuit.
"My friends used to joke that I was the happiest girl on the planet," Gersh told NBC News. "Overnight, my life was stolen from me. I'm in trauma therapy and the safe world I lived in inside my beautiful mountain town was changed for me."
Anglin allegedly targeted Gersh after Sherry Spencer, the mother of well-known white nationalist Richard Spencer, accused Gersh of extorting her in order to profit from a real estate transaction.
Anglin and Spencer did not respond to request for comment from NBC News.
Related: White Nationalist Richard Spencer Assailed by Ex-Classmates, Elite Texas Prep School
A Whitefish resident for 10 years, Spencer owned a commercial building in the town, the suit claims. Locals were planning on protesting outside of Sherry Spencer's building around Nov. 13, 2016, shortly after her son gained nationwide attention for a video of him giving the Nazi salute at a white nationalist meeting in Washington D.C.
The complaint claims that Spencer hired Gersh as a real estate agent after Gersh suggested Spencer sell the building and donate the profits in order to ease tensions in the town. But on Dec. 1, Spencer "began to get cold feet" and asked to continue her sale without Gersh's help, according to the lawsuit.
Two weeks later, the suit claims, Spencer penned a Medium post saying that Gersh had threatened her into selling her building.
"[Gersh] relayed to me that if I did not sell my building, 200 protesters and national media would show up outside—which would drive down the property value—until I complied," the post reads, adding that the real estate agent was looking for "financial benefits" from threats of protests.
Related: White Nationalist Richard Spencer Removed From CPAC
The post led Anglin to go on a "campaign of terror" against Gersh — with 30 Daily Stormer articles written to date urging readers to target her, according to the suit. Anglin also encouraged his readers to share a video of Richard Spencer discussing the failed real estate deal during a radio interview on The David Duke Show, the complaint added.
One Twitter user tagged Gersh's son in a tweet reading, "psst kid, there's a free Xbox One inside this oven" alongside a photo of an oven, according to the complaint. At least 700 communications were directed at the woman's family.
For Gersh, the hate directed at her son was the most difficult to endure.
"This will follow him for the rest of his life. Those images will always be on the internet. It's part of our regular conversations now to tell him that he's safe and he can still be proud of being Jewish," she said.
Anglin's harassment has led to medical issues for Gersh, the suit claims, including anxiety, weight gain, joint pain and hair loss.
Related: Protester Punches White Nationalist Richard Spencer During Interview
"Ms. Gersh has had panic attacks, goes to bed in tears, wakes up crying, startles easily, feels anxiety and discomfort in crowded places, has had trouble leaving her home, and fears answering her phone," her attorneys wrote. "Overall, she feels like an entirely different person than she did before the troll storm, as though she has been permanently altered."
Gersh deleted most of her social media accounts, but told NBC News it is devastating to "feel like I have to go into hiding."
Richard Cohen, president of the Southern Poverty Law Center, said the digital aspect of the case is what makes it unique.
"What makes this case different is it's one for the digital age," he said. "In the past, Anglin would've burned a cross on Tanya's lawn, but now, they start a troll storm online."
Gersh is being represented by the Southern Poverty Law Center and seeks an undetermined amount in damages. She is accusing Anglin of invasion of privacy, intentional infliction of emotional distress, malice and violating the Montana Anti-Discrimination Act.