Her nightmare started with a high school crush.
It was the middle of her freshman year when Theresa Flores' ever-moving family followed her father's business to a suburb just outside Detroit. As a newcomer to town, Flores said she didn't have many friends and wasn't allowed to date. But shortly after arriving, she became infatuated with a boy at her school.
"For six months he was really nice, he was really sweet, but I wasn't allowed to go out with him because I wasn't old enough," Flores said. "So one day he asked me if I needed a ride home from school, and we got into his car and he didn't take me home. Instead took me to his house and I felt really weird about it."
Flores said she agreed to come inside, but was then drugged, raped and photographed.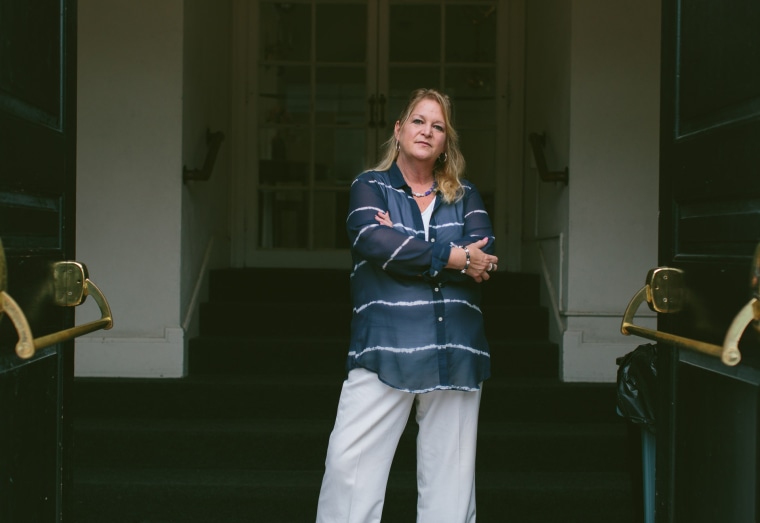 "I went home and I decided not to say anything to anybody," Flores said, fearing her religious family would be upset with her for what had just occurred.
"Unfortunately, that led to two years of being sold to men that they forced me to be with because they had pictures of it, and they blackmailed me and said, 'We're going to share these with your father and your priest.' And for two years I was stuck in this," Flores said.
Related: Human Trafficking or Human Smuggling? Why the Two Crimes Aren't Interchangeable
She was finally able to break free after police rescued her one night at a motel. Her parents learned what was happening and soon moved again when her father was relocated for work.
Flores, now 52, said some of her darkest moments came in motel bathrooms. In those bathrooms, she found herself alone, reflecting on the horrors she repeatedly suffered. It's this memory that now drives her activism to save others.
On Wednesday, she was recognized as "a women of worth" by one of the largest cosmetics companies in the world, L'Oréal Paris, for her nonprofit group, S.O.A.P., for "Save Our Adolescents from Prostitution."
Flores founded S.O.A.P. about eight years ago as an outreach program that aims to assist human trafficking victims by placing the phone number for the National Human Trafficking Hotline on the back of soap bars, which are then distributed to hotels and motels.
Since 2007, the National Human Trafficking Hotline has received 143,029 calls, according to its website. It has received nearly 14,000 calls this year alone.
Related: 84 Children Rescued, 120 Human Traffickers Arrested Across U.S., FBI Says
Flores' idea to begin S.O.A.P. came after giving a talk about trafficking in Detroit. After being hesitant to return to a place littered with memories of her own trauma, she reluctantly agreed. On the drive home, she said she got lost.
"I started seeing names of towns these guys used to take me to, and I lost it," Flores said. "I was imagining all the girls in the hotels like I was. I was thinking we have to go out and do something to help them."
Flores said she thought about the things she would have seen when she was in a grimy motel during her trafficking days.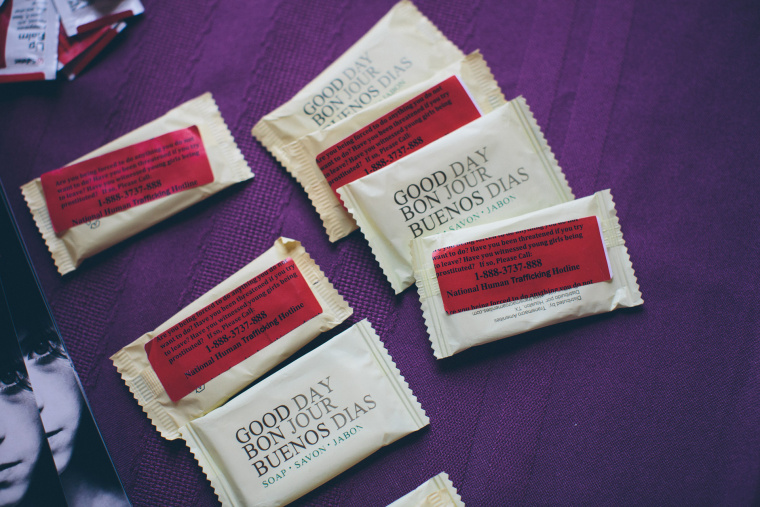 "The only time they are alone is when they're in the bathroom washing up," Flores said of the trafficking victims. "I thought, 'What would I see in the motel?' I thought it had to be the bar of soap."
With the help of volunteers and donations, she estimates her nonprofit has distributed more than 1 million bars of soap to 10,000 hotels and motels across the country since it began.
She brought the project to the last seven Super Bowls and is coordinating with organizations in Minneapolis to bring S.O.A.P. to this season's Super Bowl, which will be played in that city on Feb. 4.
Flores was recognized by Ohio Gov. John Kasich in 2012 and given the governor's Courage Medal for her work with Gracehaven House, a faith-based care and rehabilitation home for human trafficking victims. The L'Oréal honor came with $10,000 for her to continue her work, and Flores said she plans to use the money to fund a retreat for survivors.
Related: Flight Attendants Train to Spot Human Trafficking
"When I started doing this I didn't realize how many Theresas were out there, and I kept meeting woman after woman, and I thought this is crazy and a lot of them are not getting help," Flores said. "The healing is hard after you leave. I wanted to teach these women everything I've learned."