A man has been arrested and charged with murder after a 29-year-old woman and her two children were found shot to death Tuesday night at their home in Des Moines, Iowa, police said.
Officers were called to the home at around 11 p.m. where they discovered the bodies of Rossibeth Flores-Rodriguez, her 11-year-old daughter, Grecia Daniela Alvarado-Flores, and her 5-year-old son, Ever Jose Mejia-Flores, authorities said.
All three victims sustained gunshot wounds and were pronounced dead at the scene, authorities said. An autopsy will determine the cause and manner of deaths, police said.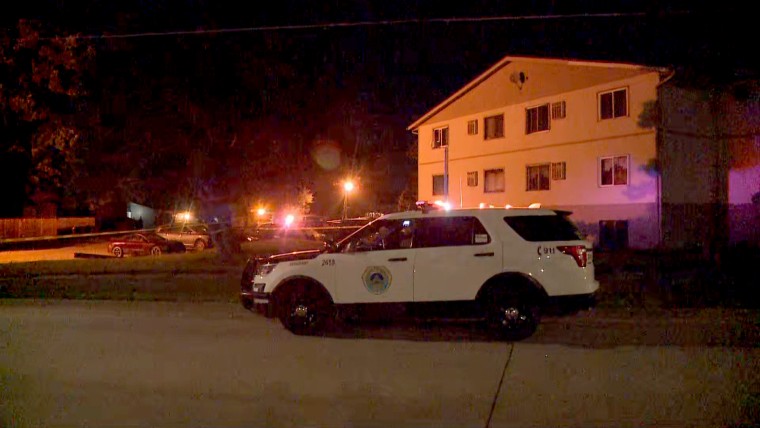 Marvin Oswaldo Esquivel-Lopez, 31, was arrested Wednesday and charged with three counts of first-degree murder, police said. Later Wednesday, a spokesman for Immigration and Customs Enforcement said the suspect gave police a false name and his real name is Marvin Oswaldo Escobar-Orellana.
ICE spokesman Shawn Neudauer said Escobar-Orellana is in the county illegally and is "a twice-removed illegal alien from Guatemala" who was deported from the United States in 2010 and 2011. He has a prior federal conviction for illegal entry into the U.S. in 2010, Neudauer said.
Escobar-Orellana is being held at the Polk County Jail under his false name, online jail records show. His bond was set at $3 million cash only.
Neudauer said ICE deportation officers have filed an immigration detainer and administrative arrest warrant.
Investigators said the suspect and his wife and children shared the house with Flores-Rodriguez and her children.
Des Moines police spokesman Paul Parizek said the victims were renting the lower portion of the duplex from the suspect and his family, according to video from NBC affiliate WHO of Des Moines.
There was a dispute before the killings, and afterward the suspect called 911, police said.
"Everybody wants to know why. The community wants to know why this happened — particularly the two precious little kids," Parizek said. "The sad part is, we may never know why."
Des Moines Public Schools said in a statement on Facebook that Grecia had just completed the 5th grade at Moulton Elementary School and Ever was about to begin kindergarten.
"Our hearts are heavy over the murder of Grecia Daniela Alvarado-Flores, Ever Jose Mejia-Flores, and their mother Rossibeth Flores-Rodriguez," the district said. "Please keep their family — along with our students, staff and teachers at Moulton — in your thoughts."